The Untold Truth Of Bubba Wallace's Girlfriend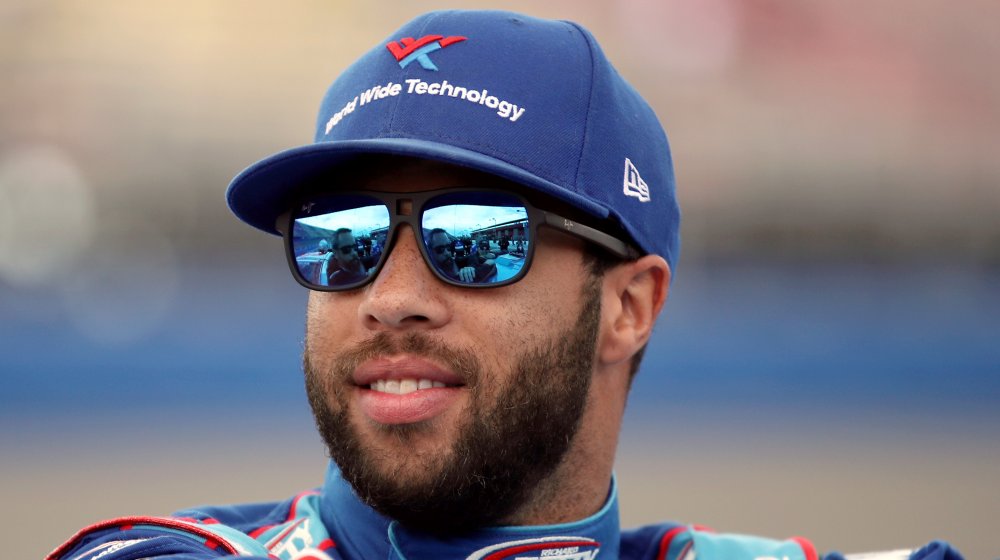 Katelyn Mulcahy/Getty Images
In June 2020, the racing world was left reeling when a noose was found hanging in NASCAR driver Bubba Wallace's stall at the Talladega Superspeedway. Wallace, who is the only full-time black driver in the stock-car circuit's elite Cup Series (according to The Washington Post), addressed the incident on Twitter, calling it a "despicable act of racism and hatred [that] leaves me incredibly saddened and serves as a painful reminder of how much further we have to go as a society."
NASCAR, who in the previous weeks made major changes in response to the Black Lives Matter movement, including banning the confederate flag at all events, responded immediately. "We are angry and outraged and cannot state strongly enough how seriously we take this heinous act," NASCAR said. "We have launched an immediate investigation and will do everything we can to identify the person(s) responsible and eliminate them from the sport."
Wallace's statement on Twitter expressed his deep disappointment about the incident as well as his commitment to the BLM movement. "Together, our sport has made a commitment to driving real change and championing a community that is accepting and welcoming of everyone," he wrote. His girlfriend has also been vocal about advocating for change. Let's take a closer look at their relationship.
Bubba Wallace's girlfriend is proud of his activism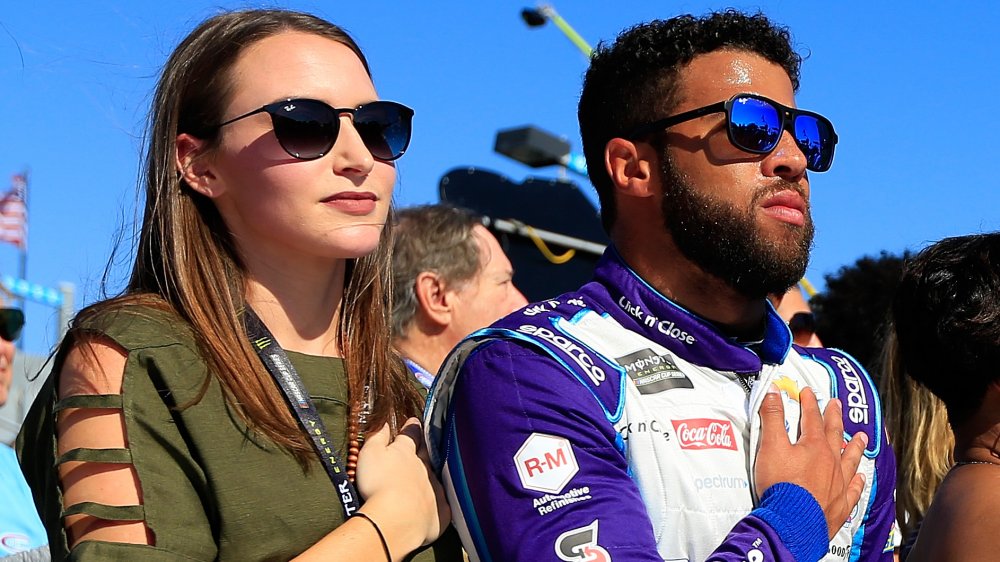 Daniel Shirey/Getty Images
Both Bubba Wallace and his girlfriend, Amanda Carter, have been vocal supporters of the Black Lives Matter movement. At a race in Virginia in May 2020, Wallace wore a shirt that said "I Can't Breathe" over his firesuit, and his car featured a Black Lives Matter paint scheme.
Carter (pictured above) posted a heartfelt message on Instagram after Wallace raced with the Black Lives Matter messaging on his car. "Wow y'all, the outpouring of support from friends, family, fans and NASCAR has been amazing to watch this week!" she said. "I am so incredibly proud of this man for standing up and helping to push real change!"
Wallace and Carter have been dating several years. According to Heavy, she is a financial analyst at Bank of America who graduated from Appalachian State University in North Carolina. The couple rarely talks publicly about the relationship, though fans were given a peek in the eight episode Facebook docu-series called Behind the Wall: Bubba Wallace. "A lot of our time spent at home we enjoy doing the same things — playing games. We are both really competitive," Amanda told Behind the Wall (via Heavy.)