The Truth About Ed Sheeran And Courteney Cox's Relationship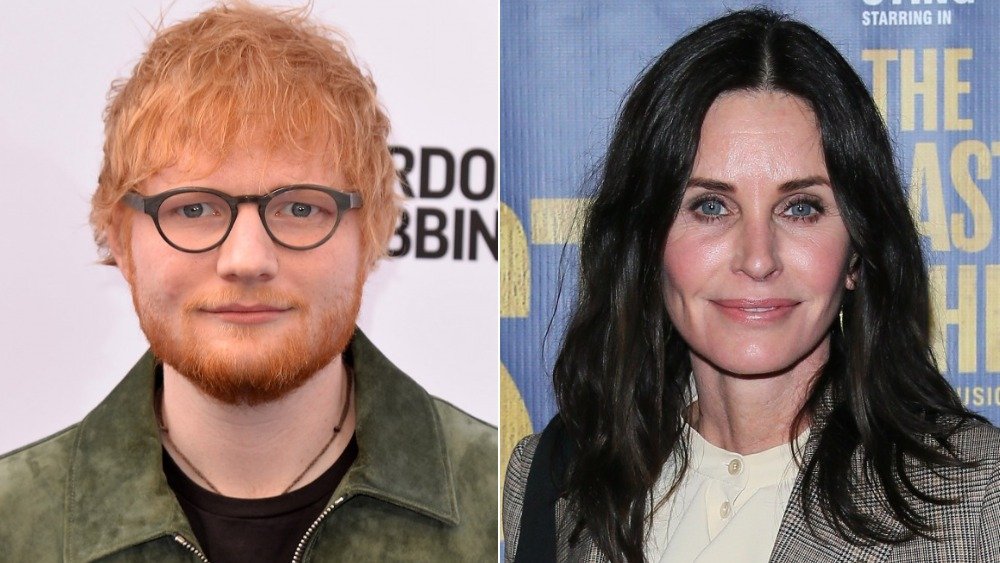 Jeff Spicer, Jean Baptiste Lacroix/Getty Images
Ed Sheeran has some really famous friends. Harry Styles, Taylor Swift and Courteney Cox, to name a few. Yes, that Courteney Cox from Friends. Before the British crooner was the bonafide superstar he is today, he was in Los Angeles doing smaller gigs and building his fame. In 2014, Sheeran told the Daily Mail that while doing a show in L.A. in 2013, TV producer Bill Lawrence and his wife, actress Christa Miller, brought their daughter to the show to meet him. 
Sheeran bumped into them again the next day. He told the Daily Mail, "Next day, I happened to be having lunch in the same restaurant and they said would I like to come to a party that night? It was at Courteney's house."
At the time, Cox was working on her show Cougar Town with Miller and Lawrence, which is why they were all so close. Sheeran showed up for the party that night, and he hit it off with Cox. They hit it off so well, in fact, that when Sheeran needed a place to crash in L.A. while he worked on his album X, which was released in 2014, Cox let him stay at her place. "Rent free, yeah, but I did make the tea," he told the Daily Mail. Sheeran even befriended Cox's Friends co-star and real-life BFF Jennifer Aniston while living in Cox's L.A. home, according to omg! UK (via Us Weekly). 
Ed Sheeran introduced Courteney Cox to boyfriend Johnny McDaid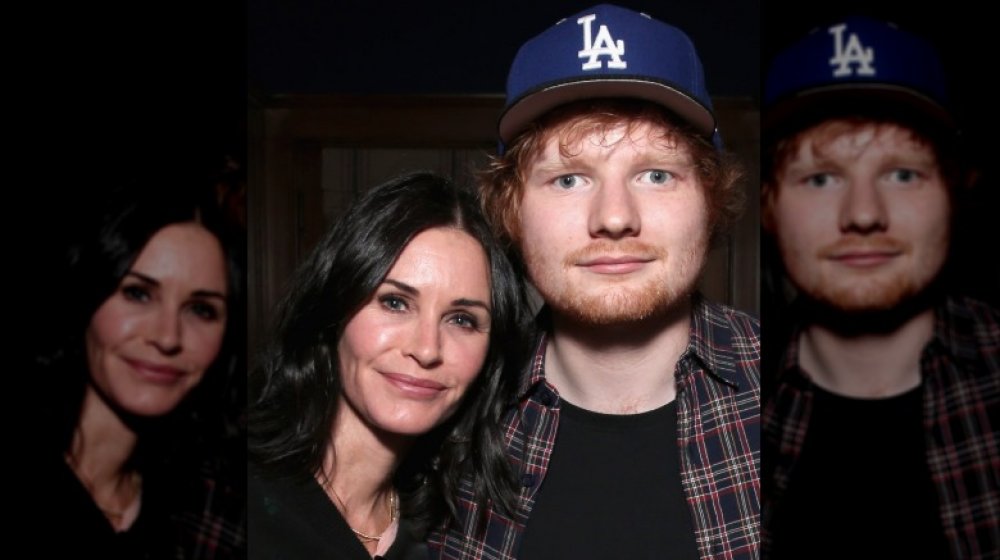 Joerg Koch/Getty Images
Courteney Cox may have introduced Ed Sheeran to some of her A-list friends, but Sheeran introduced Cox to boyfriend Johnny McDaid. The two announced their engagement in 2014, but ended up calling it off by 2015. However, as of this writing, they are still a couple.
While Sheeran was living with Cox, McDaid — whom Sheeran had previously toured with and befriended — came over to write music. Sheeran told the Daily Mail in 2014 that hooking up Cox with the Snow Patrol guitarist wasn't all his doing. "I think I did the 'Courtney meet Johnny, Johnny meet Courtney' thing, but Sacha Baron Cohen did the matchmaking. It's just two people who fell in love and I hope they're really happy." Cox hands the credit to Sheeran, though, and told The Sun in 2015, "We are certainly grateful to Ed for introducing us."
When Sheeran isn't writing music or introducing Cox to the love of her life, the two seemingly have a good time as pals. Cox even tapped Sheeran to help her with her ALS Ice Bucket Challenge in the summer of 2014, and he looked pretty thrilled to drop a bucket of ice on her head in the video. 
It's clear that the two are tight and have nothing but lovely things to say about each other and their friendship. He told the Daily Mail in 2014, "She's from Alabama, so it's bred into her, but everyone she surrounds herself with is the same. Jennifer Aniston's just as friendly. I'd only ever experienced the darker side of Hollywood and they give you faith in everything."