The Truth About Jax Taylor's Hookup With Lindsay Lohan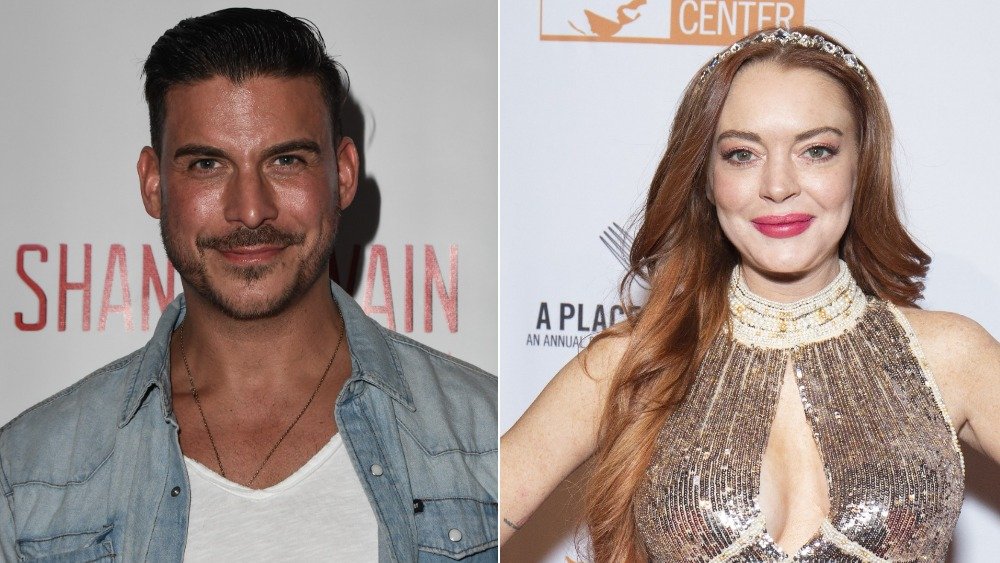 Mindy Small, Santiago Felipe/Getty Images
Back in 2004, Lindsay Lohan sang, "I'm tired of rumors starting." Who would've ever thought she could apply those lyrics to a rumored hookup with Jax Taylor? Pop culture enthusiasts have Jax's Vanderpump Rules co-star Tom Schwartz to thank for putting this out into the universe.
During a November 2015 Watch What Happens Live appearance, Andy Cohen asked Tom, "Has Jax ever hooked up with a celebrity?" At first, he kept things vague, answering, "Yeah, multiple." However, when Andy asked him to share one name, Tom lowered his voice and whispered, "Lindsay Lohan," which made Jax blush — believe it or not.
Jax said, "It was a long time ago." He also remarked, "It was just once and it was bad." Then he (sort of) clarified what he meant, saying, "It was good, but the situation was... She was great. It was a long time ago." When Andy asked what made her "great," Jax shared, "She was just very affectionate."
After that, Jax told HuffPost, "There was no relationship. I want to make it very clear. There was no relationship." He went on to clarify, "It was just a couple-hour thing," in addition to describing LiLo as "really nice." Tom chimed in to say, "I'm sorry I brought that up." Jax commented, "She probably doesn't even remember," before saying, "but I was in awe." Nice save there. 
Nevertheless, 2015 wasn't the end of the "Did they? Or didn't they hook up?" chatter. It has come up multiple times in recent years.
Lindsay Lohan denies ever even meeting Jax Taylor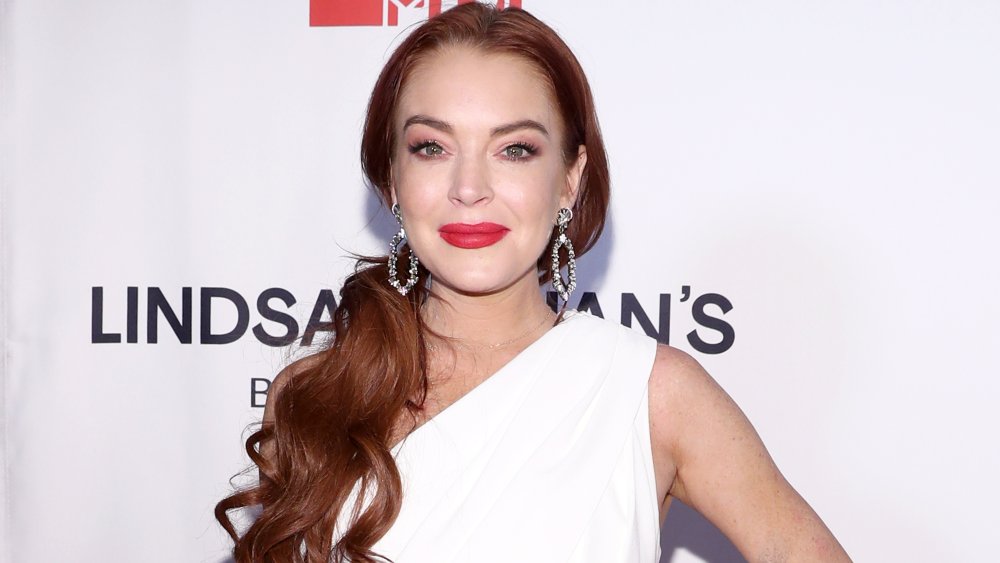 Cindy Ord/Getty Images
Jax Taylor talked to The Daily Dish about a holiday party he attended with his now-wife Brittany Cartwright and his ex-girlfriend Stassi Schroeder, which is interesting enough on its own. However, the situation was even more intriguing because Lindsay Lohan also attended the December 2017 event. Jax said, "Her table was right next to mine, and I did not recognize her at all." What a shady remark!
He seemingly backpedaled: "I mean, I really didn't recognize her. She looks great. Just a lot different." In that same video interview, Jax called their supposed hookup "ancient history," explaining, "It was so long ago, and it was one of these things where it was just a drunken night, and it didn't mean anything. It wasn't worth my time." Ouch. 
And that was the end of that... until Lohan appeared on Watch What Happens Live in January 2019. Lisa Vanderpump asked, "How would you describe Jax as a lover in three words?" The Mean Girls star took a major pivot from the question at hand, instead saying, "Lisa, I love you, but I've never even met him." Then she joked, "Maybe he met like Annie or Hallie," which are the twins she played in The Parent Trap. 
Andy Cohen asked, "You're calling Jax Taylor a liar?" And without hesitation, Lohan told him, "Yes," which prompted Andy to throw some shade, commenting, "You wouldn't be the first." And this elicited a response from the reality star.
Jax Taylor still insists the hookup happened
David Crotty/Getty Images
Evidently, Jax Taylor caught wind of Lindsay Lohan's denial on Watch What Happens Live, because he doubled down with his claims that it did happen in some now-deleted tweets. In January 2019, People reported that he posted, "Not that I care, it was over 10 years ago and I am happily engaged... but she's a liar."
Jax shared a screenshot of a text conversation about the alleged encounter, writing, "My two friends who have nothing to gain, were with me the whole night. That's all I will say on this. So you are lying darlin'." Spoiler alert: That was not all he had to say about this, but in his defense, it's not as if he was the one who kept bringing this up.
He and Brittany Cartwright appeared on Watch What Happens Live in April 2019. Andy Cohen asked if she believed Jax actually hooked up with the actress. Brittany said, "His friends were there [during] the night [in question]. They've even said it, so I kind of believe it. I mean, I believe Jax." 
When Andy asked what year this happened, Jax confirmed it was pre-Vanderpump Rules, in addition to sharing, "I think she got married the next day or got in a car accident. I can't remember." While it's odd he got a car accident and a marriage confused, she has never actually been married, but she's been in a few fender benders, which doesn't really narrow down the timeline.