The Untold Truth Of Charlie Daniels' Wife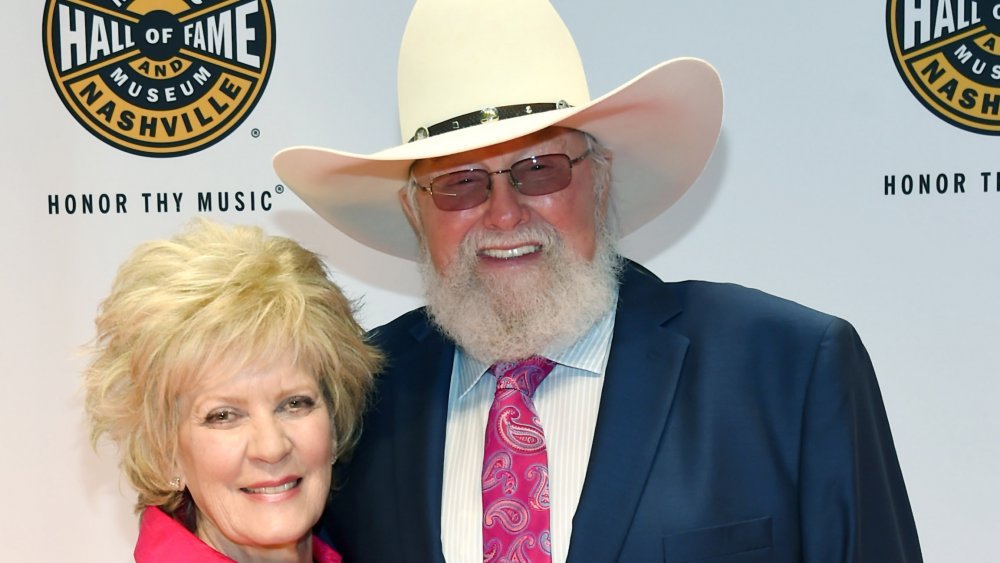 Rick Diamond/Getty Images
American music icon and country-rock star, Charlie Daniels, died on July 6, 2020, of a hemorrhagic stroke, according to The New York Times. Charlie was 83 when he died.
Charlie was primarily known for leading The Charlie Daniels Band, which is responsible for hits like "The Devil Went Down to Georgia" and "Simple Man." Charlie also collaborated with some major musicians, including Bob Dylan, Ringo Starr, and Leonard Cohen, according to the Tennessean. Throughout his life, Charlie received high honors for his contributions to the music scene, and he was even "inducted into the Country Music Hall of Fame in 2016," the outlet noted.
Not only did Charlie enjoy a renowned career, but he was also a devoted family man. The North Carolina native is survived by his son, Charles Daniels Jr., and his wife, Hazel Daniels, according to the Tennessean.
Charlie and Hazel were married for over 50 years, and the two set some serious relationship goals. Keep reading to learn more about their amazing love story.
Hazel Daniels accommodated Charlie Daniels' busy career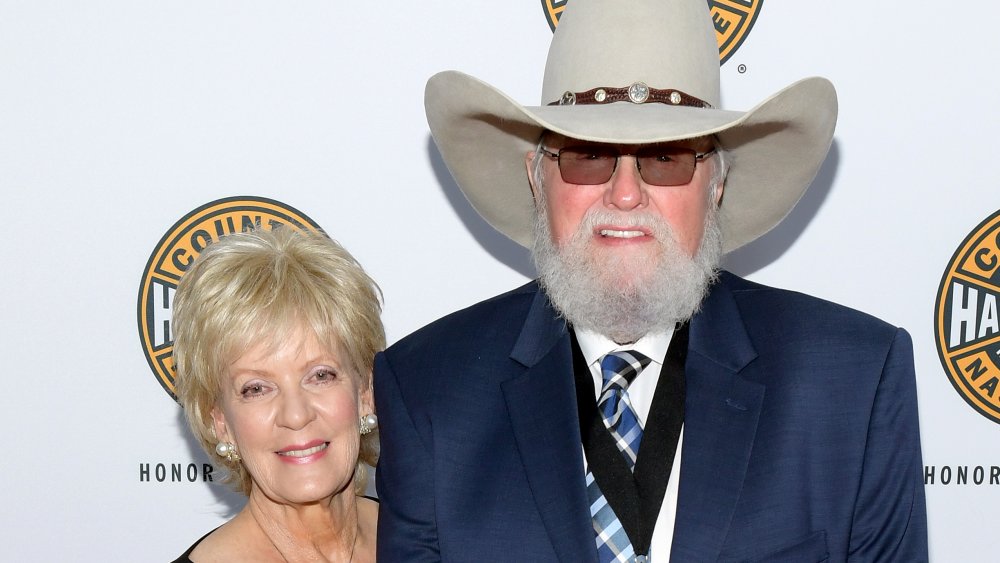 Jason Kempin/Getty Images
As it turns out, Charlie Daniels' career brought him and Hazel Daniels together. In an interview with The Oklahoman, Charlie said he was playing at the Fondalite Club in Oklahoma when Hazel first walked in, sharing, "She came with a girlfriend of hers one night. And I said, 'Hey I like that curvy little blonde over there. Hey how are you doin'?" 
When they got married, Charlie and Hazel had to squeeze their wedding in between Charlie's touring. In a 52nd anniversary tribute shared to the Charlie Daniels Band's website, Charlie recalled their nuptials, "I remember that Sunday morning in 1964 when we, Hazel's parents, my other three band members and a couple of friends walked up a flight of steps to a Justice of the Peace's office in Tulsa, Oklahoma and tied the knot." 
Charlie added that they weren't even able to have a proper honeymoon early on, admitting, "I only had Sunday off and had to be back to work at the Fondalite Club Monday night, and it would be quite a while before we would be able to take even a modest honeymoon."
The duo was able to make up for lost time later, after their only child, a son, Charlie Daniels, Jr., went off to college in 1983, The Oklahoman noted. The couple set up a tour bus so that Hazel could travel with Charlie while he was on tour, as the country crooner noted in his anniversary message.
Hazel Daniels was proud to have married Charlie Daniels
Rick Diamond/Getty Images
Although Charlie and Hazel Daniels didn't have a typical marriage due to the musician's hectic touring schedule, the couple doesn't seem to regret how things played out. Case in point: In 2016, when Charlie was being inducted into the Country Music Hall of Fame in Oklahoma, Hazel had nothing but gushing things to say about her husband in an interview with Rare Country. Hazel said of her husband, "It's an honor for me just to be married to him. He's been a great husband, and he's worked so hard to get here. He's had a long road."
Charlie shared in Hazel's happiness, telling The Oklahoman in 2014, "It's just finding somebody you truly love that you want to spend the rest of your life with...If you can't find somebody you'd like to spend the rest of your life with, don't tie the knot, because that's not gonna make ya happy." He added, "I've been blessed with finding the girl of my dreams, and here I am 50 years after without a regret in the world about marryin' my darlin' from Tulsa."
Sadly, Hazel isn't the only spouse to have lost a loved one recently — here all the celebs who've died in 2020.