The Poop In Johnny Depp's Bed Explained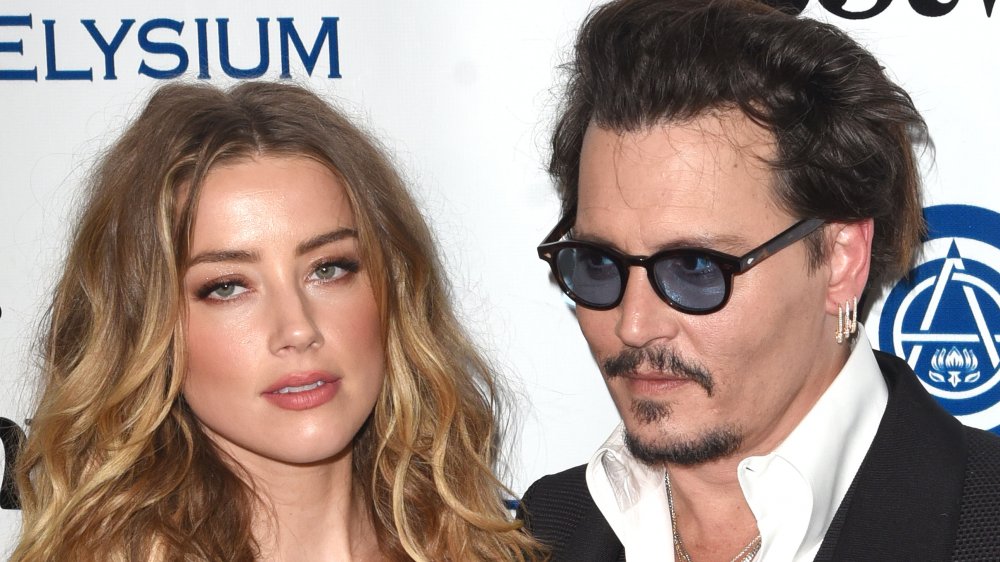 C Flanigan/Getty Images
Divorce stinks, but when it comes to the fractured relationship between Johnny Depp and Amber Heard, truer words have never been spoken. The Hollywood stars returned to court in 2020 to discuss, among other things, the mystery of who pooped in their bed.
Although the actors divorced in 2017, both returned to court on July 7, 2020 for the first day of Depp's libel case against The Sun. Depp's lawsuit claims that the UK publication inaccurately portrayed him as a "wife beater" in a 2018 article. As Depp sets out to prove he never struck his former wife, unexpected details about his marriage to Heard have surfaced. According to Depp's written statement, which was read in court, the Edward Scissorhands star alleged that Heard may have defecated in their bed as a "prank" after the pair had an argument (per the Mirror). Depp claimed the incident took place after Heard's 30th birthday party at their Los Angeles penthouse in 2016.
"I understand that the following morning [after the party], Ms. Heard — or possibly one of her friends — defecated in our shared bed," Depp said. She allegedly told their estate manager "that leaving the feces in the bed had been 'just a harmless prank,' thereby effectively acknowledging that she had been responsible, whereas she had previously sought to blame our dogs." Depp argued that their teacup Yorkshire terrier was too tiny to jump up on their bed and leave such a large amount of waste.
But that's not the only issue at stake in this case. When it comes to these exes, there's a lot to digest.
Johnny Depp claims Amber Heard tried to 'destroy' him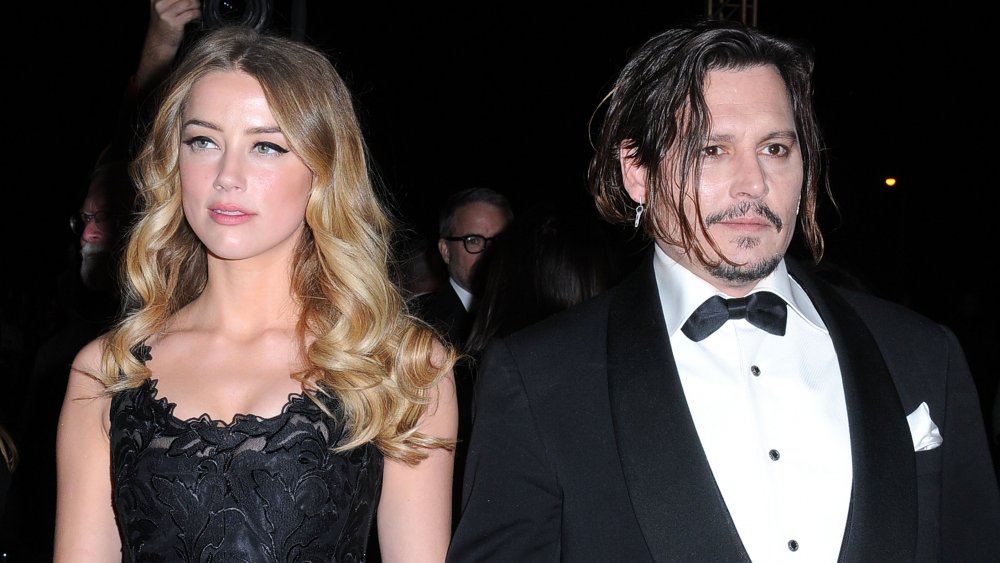 Barry King/Getty Images
As part of his testimony in his libel suit, Johnny Depp described Amber Heard as an "emotionally dishonest" and "sociopathic" individual who "came into [his] life to take from [him] anything worth taking and then destroy what remained of it," per the Mirror. 
"She presented herself as a carbon copy of me, with precisely the same interests, thoughts, favorite writers, taste in music and art as me," Depp alleged. "It was not until much later that I understood that she had an agenda, namely to get married to me in order to progress her own career and/or to benefit financially, and she knew how to bring it about." Depp claimed that at the beginning of their relationship, Heard told him she admired his films, but as time progressed, Heard allegedly admitted she'd never even seen any of his movies, making Depp feel like "an easy target." 
Depp's attorney, David Sherborne, hopes to vindicate his client. During opening remarks, Sherborne alleged that Heard "invented these stories of serious violence" and that "she was the abuser," per Deadline. 
Heard has told a very different story. In an unsent email read during the court proceedings, the Aquaman star said being married to Depp was like living with "Dr Jekyll and Mr Hyde. Half of you I love madly, and the other half scares me." According to The Sun, the defense claimed Depp was a "monster" who abused drugs, alcohol, and his wife.
"I became a public figure representing domestic abuse," Heard wrote in The Washington Post in 2019, "and I felt the full force of our culture's wrath for women who speak out."
If you or someone you know has been the victim of sexual assault, you can call the National Sexual Assault Hotline at 1-800-656-HOPE (4673) or visit RAINN.org for additional resources.