The Real Reason Jennifer Grey Is Getting Divorced
Astrid Stawiarz/Getty Images
In February 2020, actress Jennifer Grey and actor Clark Gregg guest-starred on The Conners. For their brief story arc, the real-life duo played an overly friendly married couple who recruit Laurie Metcalf's Jackie to be part of their "throuple" in an effort to spice up their own relationship. But — spoiler alert! — they ultimately revealed that the unconventional approach couldn't repair the turmoil that threatened their union.
The pair executed their roles with comedic precision, but did their on-screen split foreshadow their real-life break up? After all, on July 3, 2020, both Grey and Gregg announced their decision to divorce on Instagram.
"After 19 years together, we separated in January, knowing we'd always be a family who loves, values and cares for each other. We recently made the difficult decision to divorce, but we remain close and are deeply grateful for the life we've shared and the wonderful daughter we've raised," both Grey and Gregg wrote, adding that they were "totally crying" as they posted a photo of themselves embracing during happier times.
As they noted, the pair appears to be on good terms. In fact, Grey posted a Father's Day tribute to Gregg in June 2020. "i love you and am beyond grateful you showed up just in the nick o' time to make my dream come true," she wrote. "for continuing to show up as a devoted, loving dad and partner to raise this amazing human [daughter Stella] with. couldn't have done it without you." How sweet!
Clark Gregg liked to joke about Jennifer Grey's famous 'Dirty Dancing' lift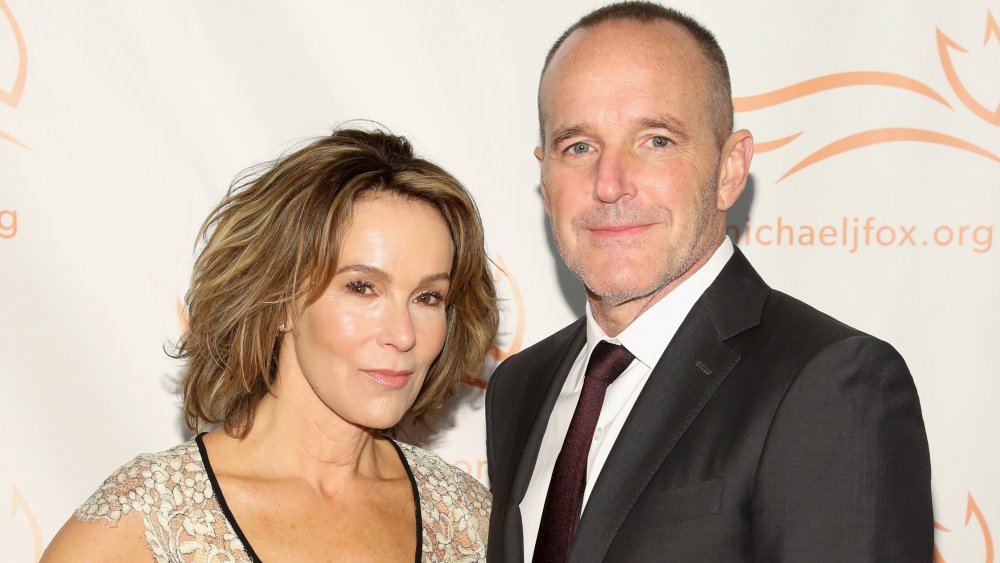 Cindy Ord/Getty Images
Although decades have passed, actress Jennifer Grey will forever be known as Baby as her iconic Dirty Dancing character continues to garner fans across the generations. Everyone who's seen the film likely recalls the famous lift during the film's final dance sequence, but after Grey married Marvel star Clark Gregg in 2001, the actor would often goof around and poke fun at the classic scene. "I basically just walk around the house with me holding her on the lift!" Gregg told Closer Weekly in 2019. "That's all we do!"
"We do it every morning," Gregg joked again with TODAY in 2014. "I brew some tea, I hold the cup, she runs and then I feed it up to her."
But all kidding aside, Gregg has always shown nothing but the utmost regard for his soon-to-be ex-wife's prior success. "There's only one man who can really do that lift and sadly he's no longer with us — the amazing Patrick [Swayze]," the Agents of S.H.I.E.L.D. star added. "I will never try it. That was one of our wedding vows."
Instead, the couple's focus on balance was likely one of the reasons their relationship lasted nearly two decades. "When we're in New York, a date night usually involves theater, sushi and maybe a salsa class if she wins or binge-watching if I win!" Gregg told Closer Weekly. 
We wish them nothing but the best!