Here's How Rumer Willis Really Felt About Ashton Kutcher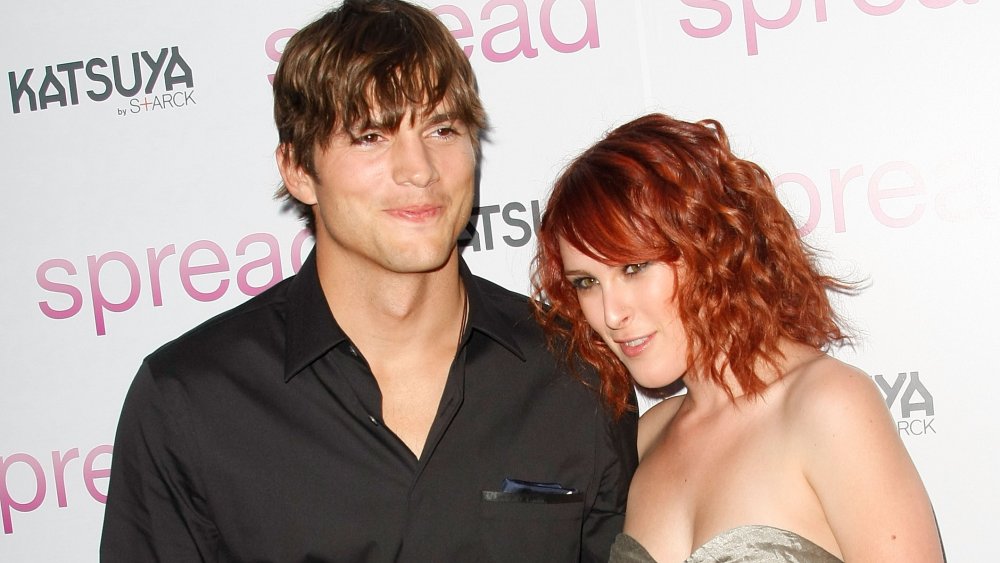 Michael Buckner/Getty Images
There's always fanfare when two celebrities couple up, but the fascination with Demi Moore and Ashton Kutcher's marriage has outlasted the relationship itself. According to The Hollywood Reporter, Moore and Kutcher finalized their divorce back in 2013, but a major part of the continued interest in this former couple is their 16-year age gap. When Kutcher and Moore got married, he became a stepfather to her three children that she shares with Bruce Willis: Tallulah, Scout, and Rumer Willis. Rumer is actually the closest in age to Kutcher with ten years between them.
In a 2008 Page Six interview (via Digital Spy), Rumer dished on the harmony between her mom, her dad, and her stepfather, who famously got along back in the day as celebrity co-parenting pioneers. Rumer said, "We all have so much fun together. I'm so lucky. My dad and Ashton get along — it's not weird. There's no jealousy or drama." In regard to Kutcher specifically, the then-19-year-old girl said, "He definitely is a father-slash-older brother figure, but at the same time I can still go out with him and have an amazing time."
In 2009, Rumer told the Daily Mail: "When Ashton came into our lives, he was just an extension of our family," adding, "He's like a friend as well as a stepdad." She revealed, "We talk about everything — auditions, boyfriends, family. He understands more than my parents sometimes because he's closer to my age." That makes sense, but the unconventional dynamic is still very interesting to pop culture enthusiasts years later.
Rumer Willis used to have a crush on Ashton Kutcher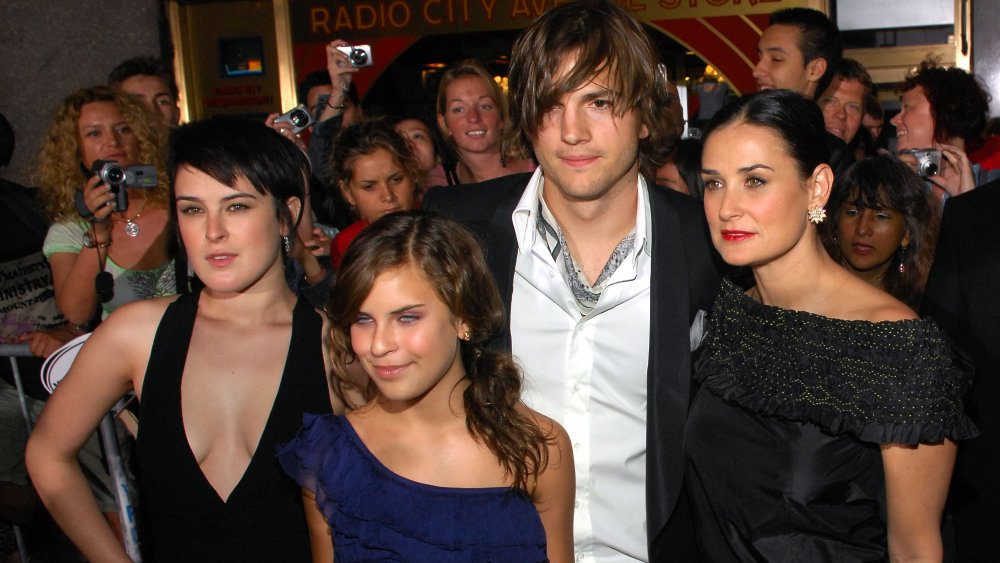 Gustavo Caballero/Getty Images
In a 2009 Daily Mail interview, Rumer Willis dished on her mom Demi Moore's marriage with Ashton Kutcher, telling the outlet, "Ash was a heart-throb, to me," admitting, "I had pictures of him on my wall at boarding school and I remember my mom saying that her new 'friend' Ashton was going to come and hang out with us. And I said, 'Whoa, wait — Ashton Kutcher?' and I kind of freaked out a little bit. I definitely blushed."
Rumer explained, "... I got over any strangeness because I'd never seen my mom happier. It was like watching two 16-year-olds who were going to the prom together and were totally in love." She also addressed the often talked about age difference between Kutcher and Moore, saying, "There was such an uproar in the media when they first started dating and I thought, 'Just leave them alone, they are really happy.'"
In a 2015 interview with Howard Stern, Rumer remarked, "It was definitely weird for a minute, but, you know, I have to commend him and he was a really great stepfather." She said "the perspective, like, shifted very quickly" when Kutcher went from being her crush from afar to her mom's husband. She even joked with her sister, "Well, gotta cross him off the list [of possible love interests]!" Rumer shared that she was "kind of impressed" when her mom got with Kutcher, recalling, "I was like 'Yeah, girl. Get it. Alright."
Rumer Willis was upset when Demi Moore and Ashton Kutcher tried to have a baby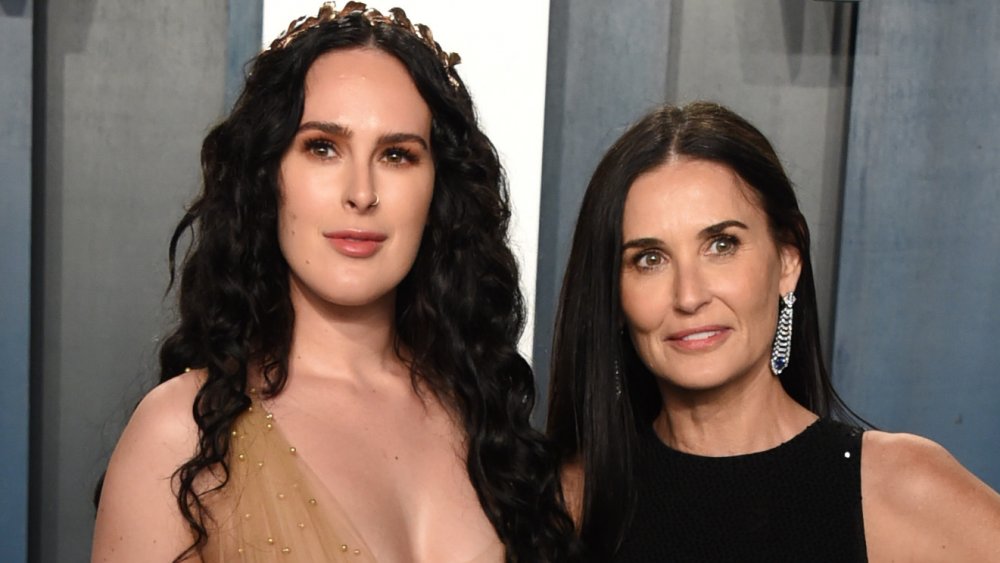 John Shearer/Getty Images
In November 2019, Rumer Willis appeared on Jada Pinkett Smith's Facebook Watch series, Red Table Talk, with mom Demi Moore and sister Tallulah Willis. During the chat, Rumer admitted, "So much of that time, especially with Ashton [Kutcher], I was so angry because I felt like something that was mine had been taken away." She explained, "When [Moore] wanted to have another baby and then it wasn't happening, and there was so much focus on that, it was like 'Oh, we're not enough.'"
Rumer told her mom, "After you had a miscarriage, I literally was just like, 'Why are you so desperate to have another kid?' I couldn't stand the idea." That being said, it doesn't seem like there are any hard feelings between Rumer and Kutcher these days, In fact, the two are still in touch.
In June 2019, People reported that Rumer and Kutcher reunited at a Los Angeles bar. In February 2020, USA Today reported that Kutcher gave an update on his current relationship with Bruce Willis and Moore's daughters on the WTF with Marc Maron podcast. The Punk'd alum said he makes a "conscious effort to stay in touch with the girls."
Although it's not common for a stepdad and stepdaughter to be that close in age, it seems like that was part of the reason why Rumer and Kutcher formed such a close bond during his relationship with Moore. It appears that they've always had a special relationship and will continue to do so.