Lindsay Lohan Makes Outrageous Demands To Appear On Russian TV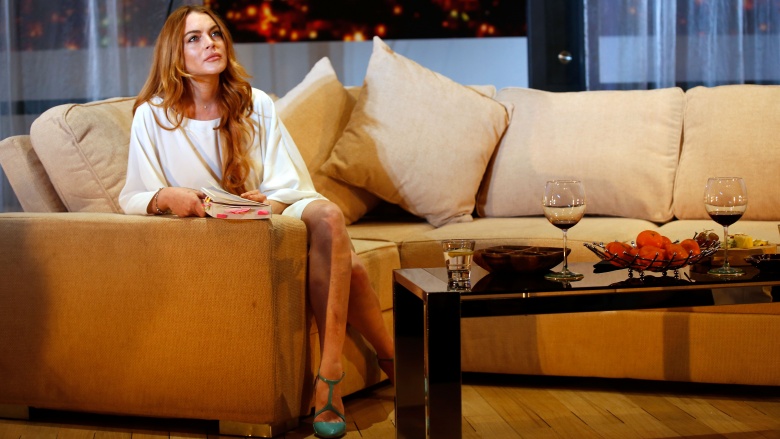 Getty Images
Lindsay Lohan has allegedly agreed to appear on a popular Russian talk show, provided the show complies with her lengthy list of demands.
TMZ reported on Aug. 21, 2016 that the troubled Mean Girls star is currently negotiating plans to appear on Russia's top talk show, Pust govoryat, to discuss her tumultuous relationship with Russian heir Egor Tarabasov, but in order for the appearance to happen, sources say the show will have to abide by requests that range from typical diva asks to flat-out wacky desires. Lohan's alleged list includes: a private jet, a one-year Russian visa with an extension, 500,000 British pounds. a penthouse suite at the Ritz-Carlton, and a photo-op with Russian President Vladimir Putin. TMZ said some of the demands have reportedly already been met, but it did not specify which ones.
This is just the latest wacky twist in what has been a drama-filled summer for Lohan. As Nicki Swift reported in July 2016, she and Tarabasov got into a heated argument at Lohan's London home that prompted neighbors to call police. In the midst of the drama, Lohan accused Tarabasov of cheating on her and alluded that she might be pregnant on her various social media accounts. A few weeks later, a video emerged showing Tarabasov getting physical with Lohan during an alleged argument on a beach in Greece.
Lohan addressed both incidents during an August 2016 interview with the Daily Mail. "Egor drank too much and he went crazy," Lohan said about the beach debacle. Of the fight in London, she said: "When we got home I went to bed and Egor went out. A few hours later he came back and when I woke up he was standing over me. He wasn't himself, he was being very aggressive and he attacked me."
"I realise now you can't stay in a relationship just for love,' she added. "No woman can be hit and stay with that person if that person isn't prepared to say sorry."
Lohan and Tarabasov's current status remains unclear. At the end of July 2016, it was reported that the volatile couple had ended their engagement. However, in a post published to her Instagram account on Aug. 21, 2016, she was once again seen wearing her engagement ring.