The Truth About Ivanka Trump And Karlie Kloss' Relationship
Larry French, Pascal Le Segretain/Getty Images
We may receive a commission on purchases made from links.
According to Vogue, in the 2016 presidential election, supermodel Karlie Kloss "voted as a Democrat ... and plans to do the same in 2020." Back in 2016, Kloss used her platform to show support for Hillary Clinton, utilizing the hashtag "#ImWithHer" on Instagram and encouraging her followers to vote. All that being said, Kloss' political life might not be so easy in her family environment. She just so happens to be married to Joshua Kushner, who just so happens to be the younger brother to Jared Kushner, who's married to Ivanka Trump, who just so happens to be the daughter of ... you get the idea.
That must make for one eventful Thanksgiving dinner! Thankfully for her, Kloss and her husband seem to share similar political views. In 2017, Joshua revealed that he did not vote for Donald Trump in the 2016 election either, per Forbes. However, he did state that Jared is not only his brother, but his best friend. So naturally, there's going to be some expectation that the brothers would want their families to hang out. (To this point, Jared and Ivanka were, of course, guests at Kloss and Joshua's wedding, per the Daily Mail.)
While the two ladies clearly share a similar taste in men, are the sisters-in-law close? We've got the scoop.
Did Karlie Kloss ignore Ivanka Trump on social media?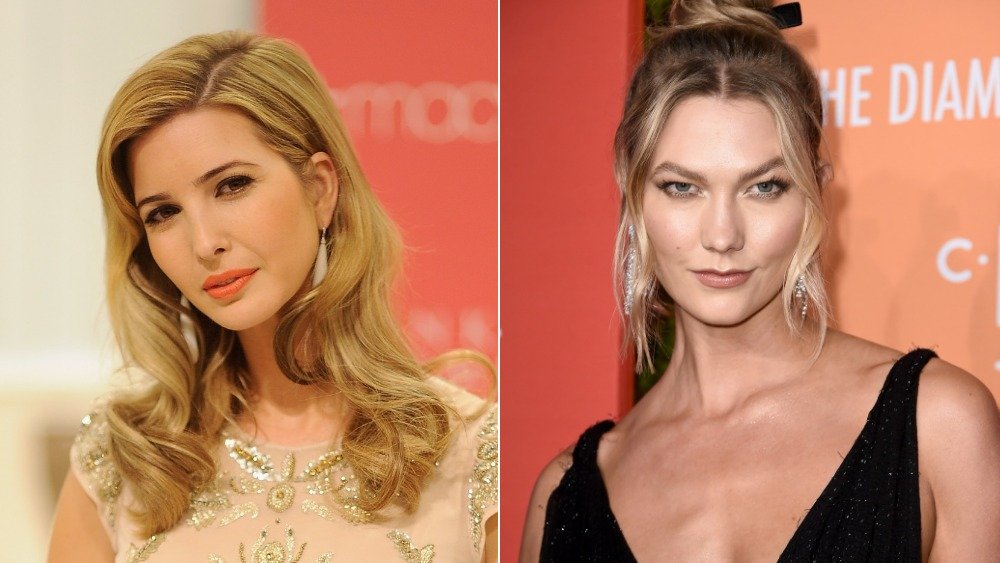 Dimitrios Kambouris & Steven Ferdman
Karlie Kloss spoke with Vogue U.K. in 2019 about the political differences in her extended family saying, "It's been hard." The model added: "But I choose to focus on the values that I share with my husband, and those are the same liberal values that I was raised with and that have guided me throughout my life."
Despite their differing political views, it seems like Ivanka Trump does try to place nice. In 2018, following Kloss' engagement to Joshua Kushner, Trump reached out to her sister-in-law on social media. Kloss took to Instagram to share the news, and Trump commented: "So, so happy for you and Josh! I feel blessed to have you as a sister (!!!) Karlie and look forward to the decades of happy memories we will create together as a family!" (via Harper's Bazaar).
In March 2019, Trump shared a video of herself on Twitter watching Kloss host Project Runway and cheering her on, saying, "Gosh Karlie, it's happening! Amazing. Project Runway. Karlie is host. Epic." 
However, despite Trump's kind words, according to the U.K.'s Express, Kloss "didn't respond to the video whatsoever" — at least, not publicly. Also, as of this writing, Kloss doesn't follow the first daughter on Instagram or Twitter. Awkward! 
The Kushners liked Ivanka Trump way more than Karlie Kloss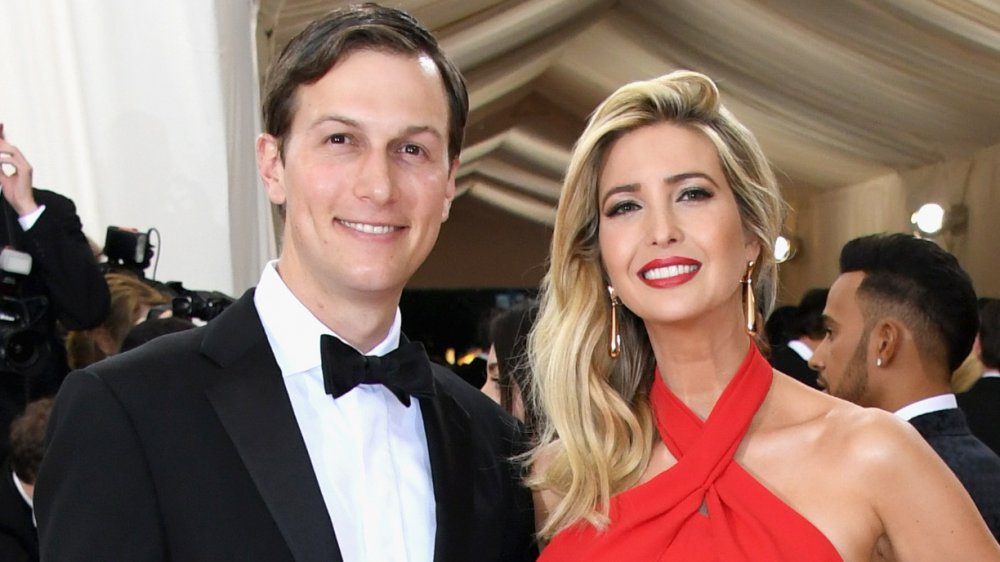 Larry Busacca/Getty Images
Political differences aside, there seems to be another reason for the potential tension between Karlie Kloss and Ivanka Trump that has to do with the Kushner family. According to Vicky Ward's book Kushner, Inc. (via Town & Country), Joshua and Jared's parents were against the younger Kushner's romance with Kloss. They were reportedly so opposed to the relationship that "they refused to even meet her" for six years, per Ward's book.
According to The New Yorker, the Kushners are deeply committed to the Jewish faith, so part of the issue was that Kloss was not Jewish. To be fair, neither was Trump when she started dating Jared, but she converted to Judaism before they married, according to the outlet. The Kushner family reportedly preferred Trump's pedigree, too, as Ward writes (via Town & Country): "[Ivanka] was a Trump. She was also, like Jared, real estate royalty. And she'd attended an Ivy League school, the University of Pennsylvania." 
It wasn't until it was clear that Joshua and Kloss were going to get married that the Kushner family finally welcomed her in. (It might have helped that Kloss also converted to the Jewish faith prior to their wedding, per Vogue U.K.)
While this is, of course, bad behavior on the part of the Kushners rather than Trump, being pitted against your sister-in-law definitely isn't a warm welcome into a new family!