Demi Moore's Bizarre Bathroom Explained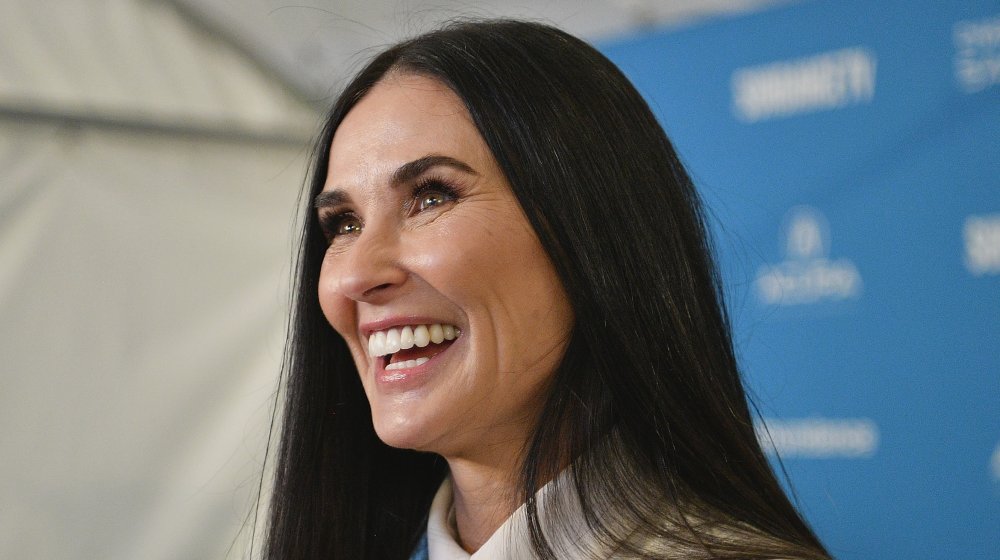 Dia Dipasupil/Getty Images
Fans were shook after catching a glimpse of A-list actress Demi Moore's bizarre bathroom inside her Hailey, Idaho home. In an effort to promote her new podcast series, Dirty Diana, Moore took to Instagram on July 8, 2020 to share two photos of herself hard at work on said podcast... on an old floral couch... inside her carpeted bathroom. "Excited to finally share what I've been working on! First episode of #DirtyDiana drops Monday, July 13. Trailer in bio," Moore gushed.
It appears, however, that Moore's new podcast was quickly overshadowed by the odd decor and furnishings in the actress's lavatory. Truthfully, if it weren't for the toilet bowl in the corner of the first photo, the makeshift workspace might have gone completely unnoticed (not many people have couches and carpet in their bathrooms). Alas, here we are. 
Once Moore hit the share button, Twitter lit up like a Christmas tree in Rockefeller center with critics wasting zero time analyzing the aesthetics of Moore's bathroom, per Daily Mail. Read on to learn just how poorly the bathroom was received, by fans and foes alike.
Demi Moore's bathroom has baffled the masses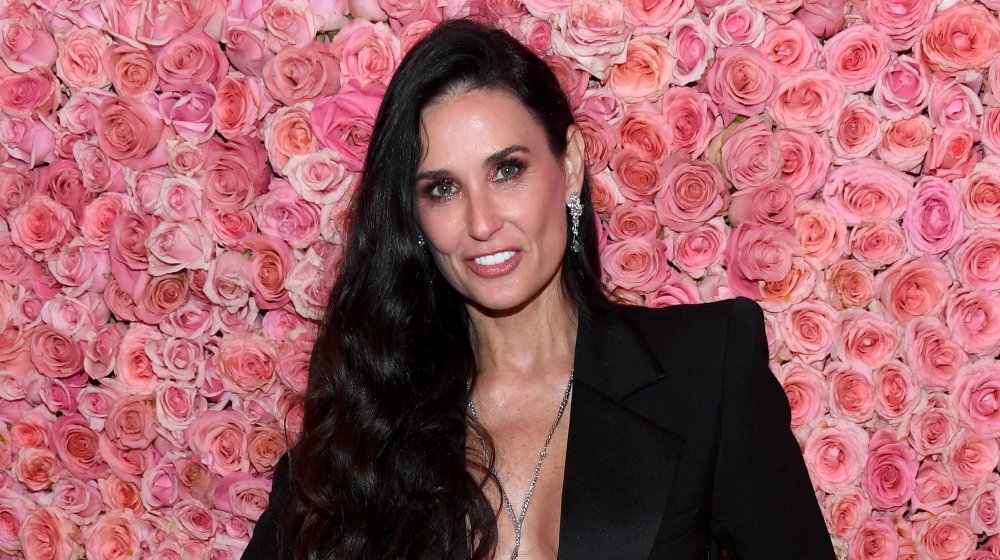 Kevin Mazur/mg19/Getty Images
In the first of Demi Moore's ever-so-controversial bathroom photos, the actress is proudly perched on a cream sofa with a floral print, in a room covered with wall-to-wall brown carpet. And off in the corner? Just your average, basic white toilet bowl butted up against a stone wall. The second photo shows that Moore's couch is sitting in front of a white tiled tub. 
The longer you look at these photos, the more odd details — and questions — reveal themselves. The tub appears to have a statue of a person in a suit of armor perched beside it. There's a tiny monkey sitting in the wall by the toilet. The countertops on the bathroom vanity can barely be seen for all the various beauty products strewn about on top. 
Twitter user Alexis Wilson (@sassyblackdiva) shared the photos on Twitter, writing, "Starting a slack channel for the sole purpose [of] discussing why Demi Moore has both carpet and a couch in her bathroom." 
With that, a viral discourse took off. Per US Weekly, one user tweeted, "There wasn't a chapter about this in her memoir and I feel disturbed." Another said, "This is peak 'pictures you can smell' because y'all know exactly what it smells like." One person added, "This has disturbed my soul in ways I never knew possible."
See how Moore addressed all the uproar over her bathroom below.
Demi Moore is taking it all in stride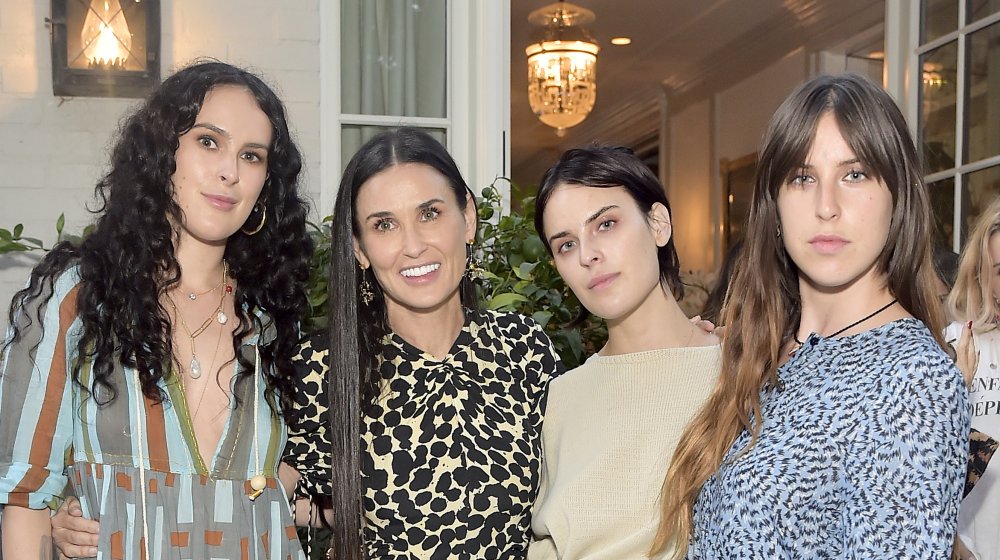 Stefanie Keenan/Getty Images
It didn't take long before Demi Moore was well aware that people found her bathroom to be fascinating — or in their own words, per Daily Mail, "bone-chilling" and "horrifying." But Moore took it all in stride and even joined in on the fun herself.
According to US Weekly, Moore responded three days later to the productive and not-so-productive criticisms of her master bath. "This thread has our whole family howling!" Moore tweeted. Even Moore's daughter, Rumer Willis, couldn't help but egg the Twitter users on. In response to Twitter user Alexis Wilson's announcement that she was starting a Slack channel to discuss the logistics of the unusual bathroom, Willis thanked her for her "magic."
There you have it, folks. While we may never know why Moore chose to record her new podcast in her bathroom (or why she chose to cover it in wall-to-wall "ground beef" carpet, as another clever Twitter user put it), what we do know is that she's not above laughing about it along with the rest of the world. Here's hoping that the actress turned podcast host can conduct all sorts of successful business in there.