What T.I. Thinks About Kanye West's Controversial Comments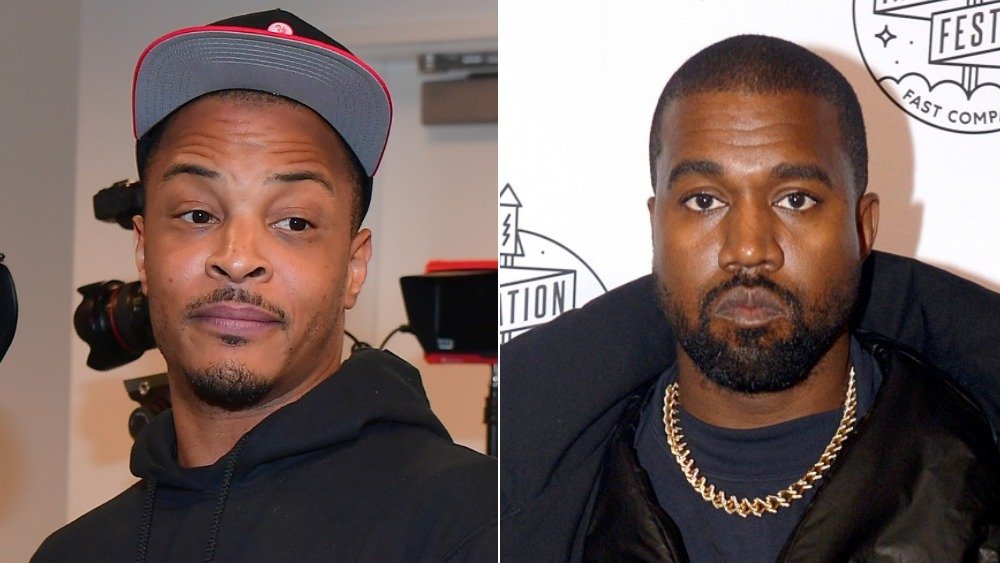 Prince Williams, Brad Barket/Getty Images
As rapper Kanye West pursues his bid for the White House, the presidential hopeful's first campaign rally was chock full of sound bites that have enraged and perplexed voters across the spectrum. When Kanye took the podium in North Charleston, S.C. on July 19, 2020, the candidate's speech didn't sustain any sort of focus. In fact, Kanye seemingly spoke about "whatever came to his mind," per XXL. From religion and abortion, to politics and wealth, Kanye's stream-of-conscious left audience members scratching their heads.
However, it was his controversial comments about famed abolitionist Harriet Tubman that earned Kanye major criticism. Kanye seemingly halted mid-sentence and said (via XXL): "Well, Harriet Tubman never actually freed the slaves. She just had the slaves go work for other White people." Clips from the event illustrate the initial shock that washed over the crowd, as spectators went silent. One attendee let out an audible "What?" into the void. But, of course, this isn't Kanye's first foray into controversy since he announced his run for president on July 4, 2020.
In an interview with Forbes that was published just days after his announcement, Kanye shunned Planned Parenthood and abortion despite the fact that such health resources can be critical for Black women's sexual and reproductive health. Kanye claimed Planned Parenthood locations "have been placed inside cities by white supremacists to do the Devil's work," adding that he's "pro-life because [he's] following the word of the Bible." 
With such remarks now on the record, the rap community has rallied together to condemn Kanye's controversial views, while also promoting his mental health.
T.I. won't let Kanye West 'discredit the contributions' Harriet Tubman made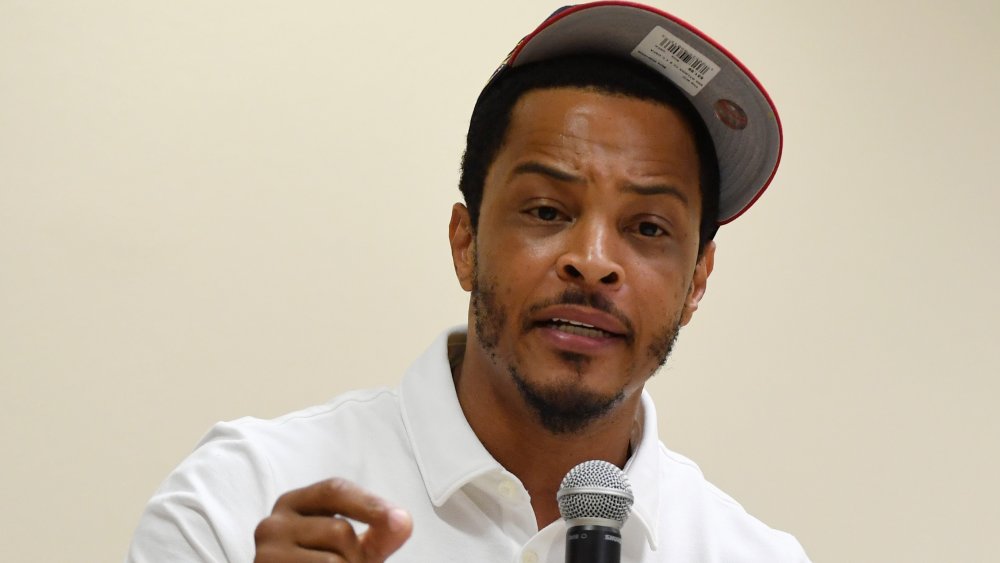 Ethan Miller/Getty Images
On July 15, 2020, it was confirmed that Kanye West had officially made his way onto the Oklahoma state presidential ballot, per USA Today. As the rapper – who's running under the Birthday Party – continues to work towards being a viable candidate, his fellow musicians and collaborators have taken to social media to criticize his controversial remarks and distance themselves from his unusual campaign. (Some sources claim that wife Kim Kardashian's even worried about the impact his run will have on their children.)
"Kanye is a prime example of not having enough ppl around him that care enough to tell him the truth," rapper Reason tweeted. "This s**t is sad and I feel for him. Prayers up, hopefully he gets the help he needs." "Let's completely disregard politics," singer Finneas added. "Kanye is going through an episode and needs love and care from his friends and family."
Rapper T.I. specifically called out Kanye's claims against Harriet Tubman. "Nahhhh WE Can't let you do that Ye'," he captioned an image of Tubman on Instagram. "What WE NOT gon do is slander nor disrespect the legacy of our heroic Queen Harriet Tubman by telling falsities in an attempt to discredit the contributions she made to LIBERATE OUR PEOPLE !! Cuzz U BUGGIN !! THIS IS ABSOLUTELY TOO FAR !!" He added: "I truly hope you either have a logical explanation for all this ... or get the medical attention you so desperately need Bro. I say this with love and sincerity." Hopefully this concern will help guide the rapper toward the best future for his family.
T.I. has challenged Kanye West's political views before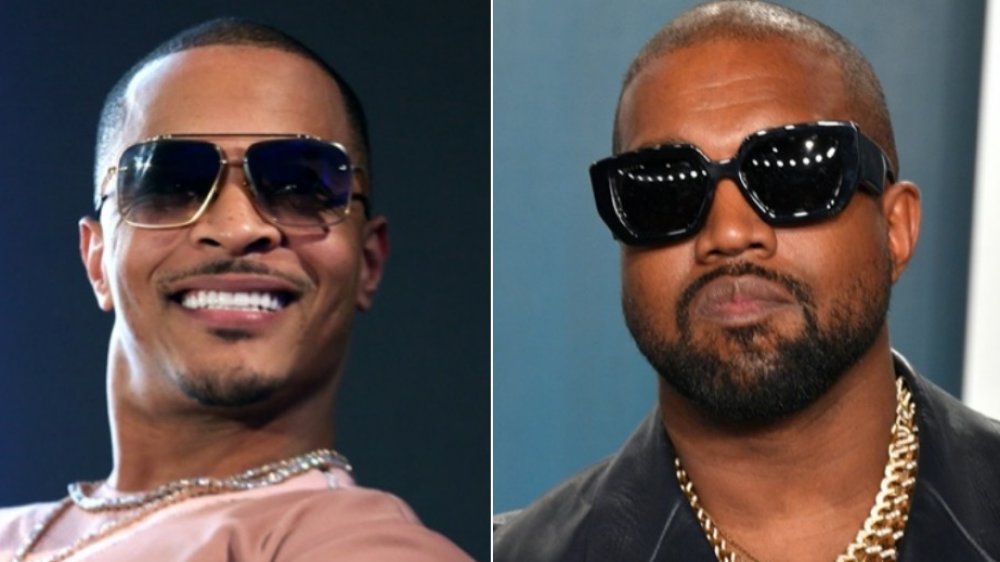 Robin L Marshall, George Pimentel/Getty Images
As it turns out, rapper T.I. confronted Kanye West about his political opinions before the Harriet Tubman debacle ever took place. Both collaborated on "Ye vs. the People" in 2018, which allowed T.I. to address Kanye's previous support for President Donald Trump and his controversial "Make America Great Again" campaign.
Although T.I.'s lines represented the thoughts of "the People" — "You wore a dusty a** hat to represent the same views as white supremacy / Man, we expect better from you" — Kanye used the track as a chance to defend his support for Trump — "Make America Great Again had a negative reception / I took it, wore it, rocked it, gave it a new direction." However, it was Kanye's behind-the-scenes video, which got removed from YouTube, that gave T.I. the platform to express his views in greater detail.
"When you have lives lost, as artists that gives us an obligation to stand up against all of that kind of s**t," T.I. argued, per Rolling Stone. Kanye claimed he didn't agree with much of Trump's policies, but that he appreciated his "ability to do what no one said you could do." Hmm.
Now it appears Trump's example has empowered Kanye to pursue the presidency himself. So will he and the Kardashian crew ever make it to the White House? That's TBD.