Body Language Expert Reveals There Were Warning Signs About Danica Patrick And Aaron Rodgers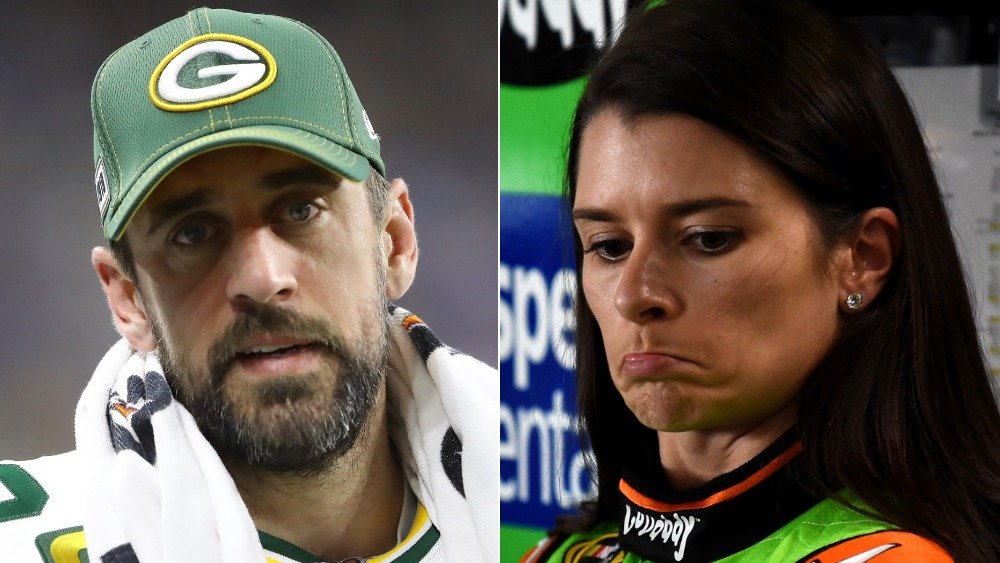 Rey Del Rio, Patrick Smith/Getty Images
When Danica Patrick and Aaron Rodgers broke up in July 2020 after two years together, fans were surprised by the seemingly sudden split. The former professional NASCAR driver and NFL quarterback appeared to have a lot in common, and there was no doubt they were head over heels for each other. However, there may have been warning signs that hinted at other aspects of their relationship that were more complicated than we realized.
Patrick shared some cryptic quotes on social media after the breakup, but neither she nor the football star have been forthcoming about the reasons for their split. However, you're in luck because Margaret King, the director of the Center for Cultural Studies & Analysis — a think tank that studies human behavior and its effects on thinking, behaving, and decision making — was willing to give Nicki Swift some insight into the stars' relationship based on their body language. King's reading may reveal what was really going on with this famous pair.
Aaron Rodgers may have felt an 'obligation' to Danica Patrick
Danica Patrick and Aaron Rodgers were a relatively private couple during their relationship, so it makes sense that they haven't shared intimate details about their breakup. However, body language expert Margaret King noticed a few things about the duo during an interview Rodgers did in November 2019 (before the split) for Patrick's Pretty Intense podcast (that episode was released in March 2020.)
King, the director of the Center for Cultural Studies & Analysis, notes that Rodgers' eye contact with Patrick is "quite loose" at the beginning of the interview, meaning that "his focus goes back to her face only intermittently." What does that tell us about how he was feeling about his girlfriend at the time? "This is a sign of obligation focusing," King told Nicki Swift, "because Aaron feels he needs to, not because he's compelled to."
That certainly makes things seem a little awkward in retrospect, especially since that analysis differs from the way Rogers said he felt the year prior, in October 2018. "We're just two people who enjoy being around each other and love each other. We're really into each other," he told Artful Living at the time. 
Patrick and Rodgers may have been eager to be together back then, but in the aforementioned Pretty Intense interview, King noticed something else that may explain how and why things changed between the stars.
Was there an issue that Aaron Rodgers was avoiding?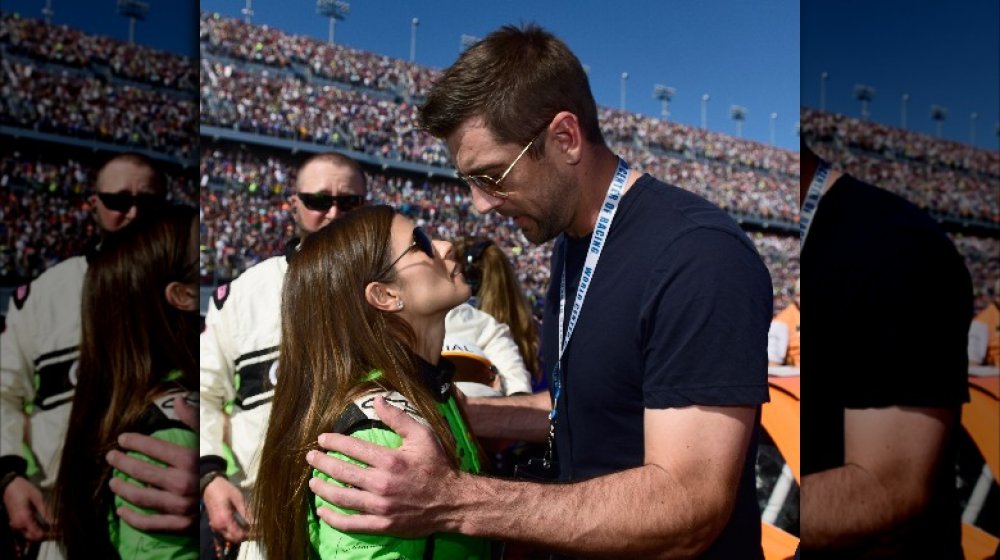 Jared C. Tilton/Getty Images
Danica Patrick and Aaron Rodgers used to be one of the sports world's hottest couples, but body language expert Margaret King offered Nicki Swift a clue as to why things cooled off between the athletic A-listers. 
When Rodgers and Patrick sat down for her Pretty Intense podcast prior to their split, King "caught some downward gazing" from Rodgers, as if he was "ducking some interpersonal issue." Uh oh. Was there trouble brewing behind the scenes that the NFL star was hoping to avoid?
King, who serves as the director of the Center for Cultural Studies & Analysis, said Patrick's body language was harder to decipher. "I'm not so certain about Danica's gaze on Aaron. He seems to be performing, which he might be, since there is a camera and interview involved," she told Nicki Swift. That's understandable to a degree, but it's still noteworthy that Rodgers may not have felt like he could truly be himself even when speaking one-on-one with Patrick on her own podcast.
King would "like to see a more intimate, less mediated encounter" to possibly get a better read on what was happening between the two. Alas, Patrick and Rogers didn't chat in front of the cameras very often while they were together. Now, that they've split, we may have to rely on these body language clues to try to understand what went wrong.