How Trump Really Feels About Kanye West's Presidential Campaign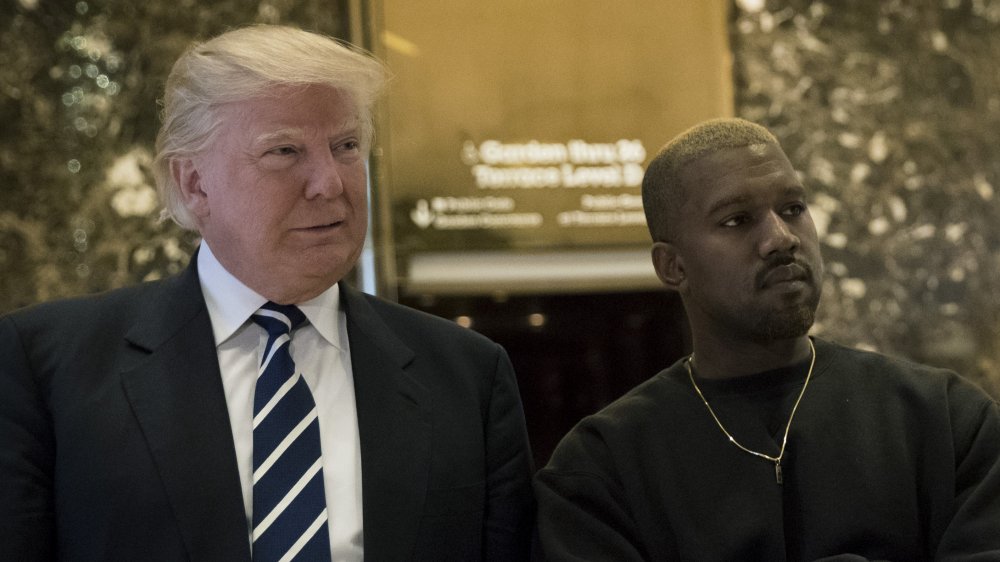 Drew Angerer/Getty Images
President Donald Trump has spoken up about Kanye West's campaign for president, sharing his thoughts a few weeks after the "Stronger" rapper took to Twitter on July 4, 2020, to announce his 2020 White House bid. West tweeted at the time, "We must now realize the promise of America by trusting God, unifying our vision and building our future." Although some doubted West's bid as he had missed the filing deadline in many states, he held a shocking campaign rally on July 19 in South Carolina, gaining more concern than support from fans and loved ones, including his wife, Kim Kardashian.
During the speech in question, in which he wore a vest that read "security" and sported "2020" shaved into his head, West made a few comments that gained attention. He surprised the audience when he claimed that abolitionist Harriet Tubman "never freed the slaves" and also disclosed that he and Kardashian considered abortion in 2013 when they found out they were expecting their first child, North West, according to USA Today.
Needless to say, Kanye's interesting presidential campaign has caught the attention of Trump, who is no stranger to controversy himself. The 45th president and the rapper aren't necessarily strangers — they have an unlikely and public friendship. West visited Trump Tower in 2016, and in 2018, Georgia native stopped by the White House in a MAGA hat, according to Business Insider. 
So what did Trump have to say about Kanye West's presidential run?
Donald Trump believes Kanye West is on his side
Pool/Getty Images
As it turns out, Donald Trump is not put off by Kanye West's political campaign. In an interview with Fox News' Sean Hannity on July 9, 2020, the president spoke about the potential competition. "[Kanye] is always going to be for us, and his wife is going to be for us," Trump said, according to The Hill. Perhaps Trump missed the memo that Kim Kardashian supported Hillary Clinton in the 2016 presidential election?
"[He's a] very good guy. He is a person that I get along with very well," Trump continued. "At the end I think he would support us over anyone else, we have to stop the radical left from taking over our country."
However, West told Forbes on July 8, 2020, that he's running as an Independent and not a Republican. During the phone interview, which was four hours long, West also said he is getting help from friend Elon Musk for his run, called his independent party "The Birthday Party," and announced that he no longer supports Trump. "I am taking the red hat off, with this interview," he said.
West's family is reportedly concerned for him amid what they believe could be a bipolar episode. "Kanye has been doing well for a long time," a source told People on July 20. "In the past, he has suffered both manic and depressive episodes related to his bipolar disorder. Right now, he is struggling again."