The Truth About Regis Philbin And Donald Trump's Relationship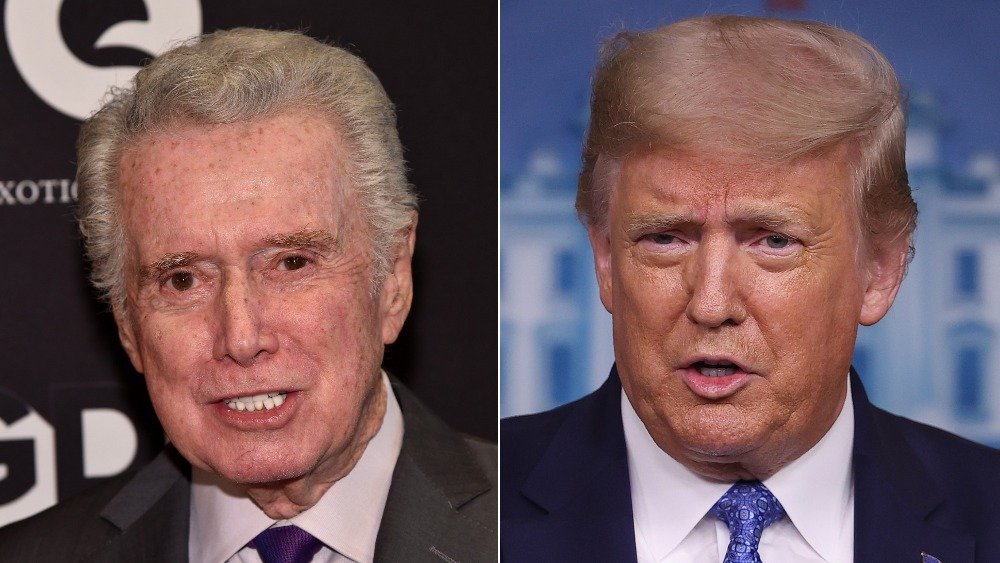 Bryan Bedder, Chip Somodevilla/Getty Images
There are a lot of seemingly random friendships in showbiz, which is especially true for President Donald Trump, who has been friendly with Basketball Hall of Famer Dennis Rodman to new Tampa Bay Buccaneers quarterback Tom Brady.
But one Trump's longest friendships was with television legend Regis Philbin. Philbin, who hosted Live with Regis and Kelly and the first three seasons of Who Wants to Be a Millionaire?, was supposedly close to the mogul up until his death on July 24, 2020, at 88.
Trump paid tribute to Philbin on Twitter the next day, writing, "One of the greats in the history of television, Regis Philbin has passed on to even greater airwaves, at 88. He was a fantastic person, and my friend. He kept telling me to run for President. Holds the record for 'most live television,' and he did it well. Regis, we love you...."
Of course, Trump doesn't have a great track record when it comes to telling the truth. So was Philbin as close to the president as he claimed in his tweet? Let's explore their connection below.
Regis Philbin and Donald Trump shared a long friendship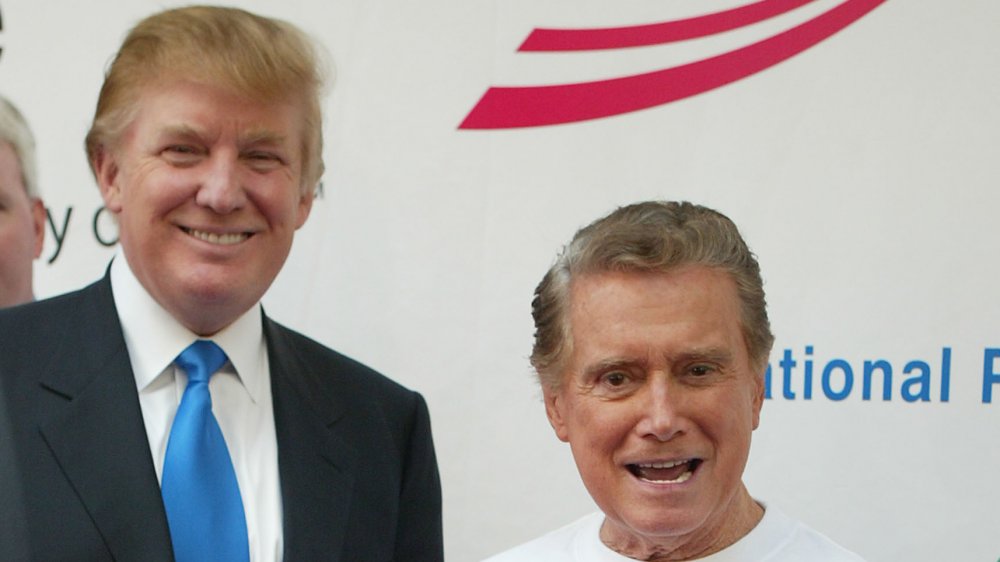 Peter Kramer/Getty Images
Regis Philbin met President Donald Trump met in 1983 when the star was co-hosting The Morning Show in New York with Cyndy Garvey, a precursor to what would later become Live. In a 2016 interview with Newsday, Philbin recalled how their first meeting went.
"I thought it was going to be three and a half minutes. It ended up being 45 minutes," Philbin said. "We just became friends and we've been seeing each other ever since. I think he's a great guy."
Trump would later become a frequent guest on Philbin's shows. Philbin's charming style and banter allowed him to enjoy a 28-year career on Live. Philbin left the show in November 2011.
"I think he's a great interviewer," Trump told The New York Times. "He always gets you to speak something you didn't intend to because he makes you so comfortable."
Philbin and Trump even recorded a rendition of "Rudolph the Red-Nosed Reindeer" for Philbin's 2005 Christmas album and performed it on The Late Show with David Letterman.
Philbin was supportive of Trump's presidential run, telling Newsday, "he's a good guy. He means well. ... I think he could be a great president if he gets the chance."
Once Trump was in office, Philbin's support continued, telling TMZ in 2017, "Well, so far I think he's done quite well, don't you? He's getting things done that were never done before."