This Is Why Meghan Markle Denied Kate Middleton's Peace Offering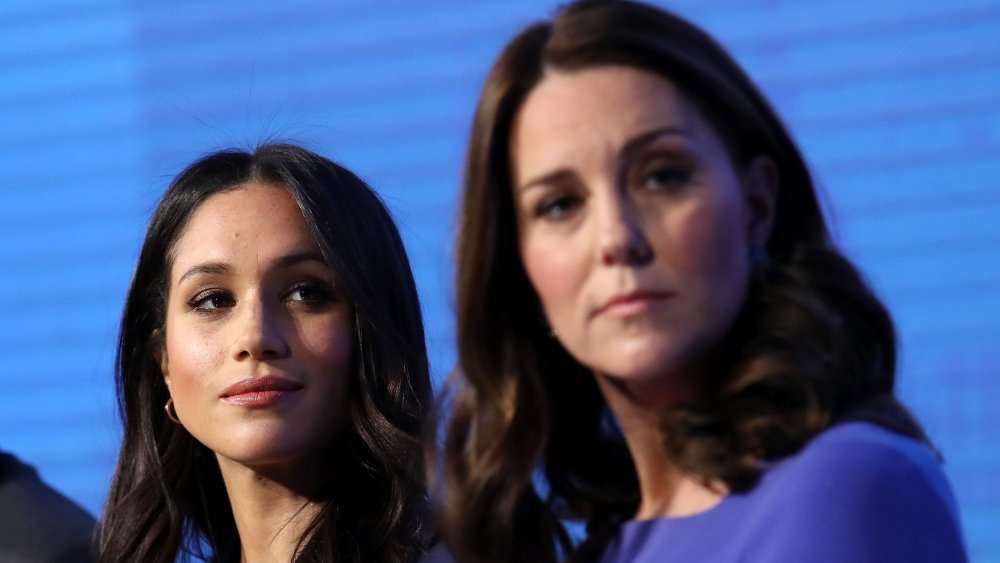 Chris Jackson/Getty Images
Tales of palace feuds between Kate Middleton and Meghan Markle are nothing new. From the start, tabloids have seemingly delighted in circulating rumors that the two don't mesh well. Now, new information has surfaced that indicates the rumors might have been true after all. 
The biography Finding Freedom: Harry, Meghan and the Making of a Modern Royal Family – penned by royal reporters Carolyn Durand and Omid Scobie — is bursting with details about the relationship between the two royal women. According to the biography (via the Independent) it wasn't that Meghan and Kate disliked each other. Initially, the problem was that they "just didn't know each other that well" and had nothing in common besides marrying Prince William and Prince Harry.
There were, of course, rumors of a rift involving Meghan and Harry's wedding. Most notably, Kate wasn't asked to be one of Meghan's bridesmaids, however, there was good reason for the apparent snub that had nothing to do with bad blood. Ahead of the wedding, royal expert Marlene Koenig told Town & Country that "[m]ost royal brides do not have adult bridesmaids." Additionally, there was speculation that Kate and Queen Elizabeth had a plan to control Meghan. However, that clearly wasn't going to work as Meghan had her own opinions about the downside of being a part of the royal family.
All that being said, as Finding Freedom explains, there was one specific moment where Kate offered her sister-in-law a peace offering and Meghan flat out refused it.
Meghan Markle tells Kate Middleton that her peace offering is 'not enough'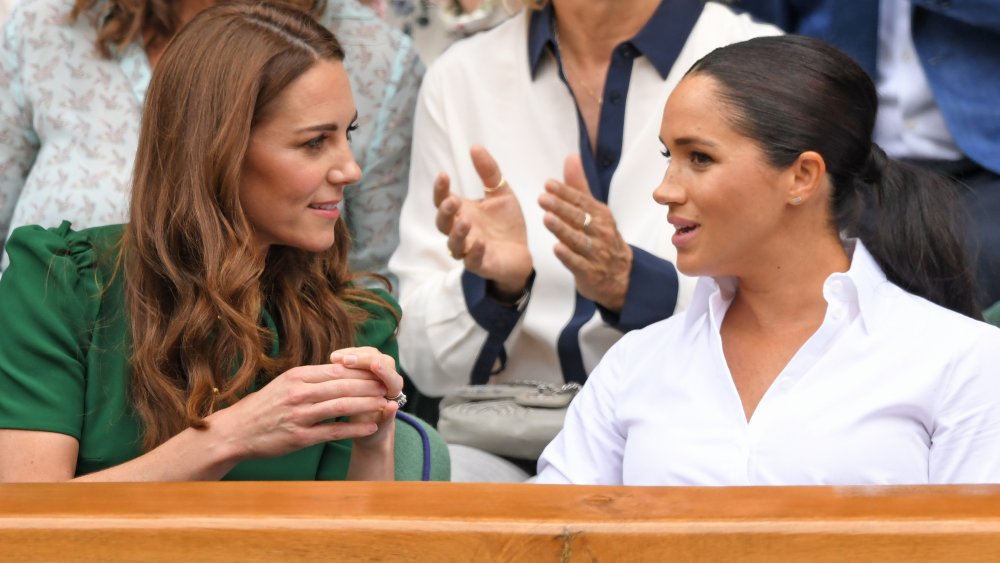 Karwai Tang/Getty Images
Finding Freedom: Harry, Meghan and the Making of a Modern Royal Family by Omid Scobie and Carolyn Durant details the ruptures that led to Prince Harry and Meghan Markle's decision to step down as senior royals and start a new life in Los Angeles, according to the Daily Mail.
One of the fracturing events was the fact that Prince William and Kate Middleton never went to visit Harry and Meghan at Frogmore House, per the biography (via Vanity Fair). Scobie and Durant also note that Kate didn't reach out as much as Meghan was hoping and didn't "show her the ropes" of royal life. To be fair, when Meghan was first making her way into the royal family, Kate was pregnant with Prince Louis. Per ABC News, Kate suffered from "severe morning sickness during her three pregnancies," so she was likely not feeling up for lots of socializing.
However, according to Vanity Fair, at one point, Kate reportedly "[took] flowers to Meghan" as a peace offering in hopes of smoothing things over, but Meghan "told Kate in no uncertain terms that flowers were not enough." Meghan was particularly "disappointed" that "Kate never reached out to her or visited," according to the Daily Mail.
Now, not only is there an emotional distance between the two couples, but there's the physical distance of living in two different countries.
Finding Freedom will be available for purchase on Aug. 11, 2020.