The Shady Side Of Hope Solo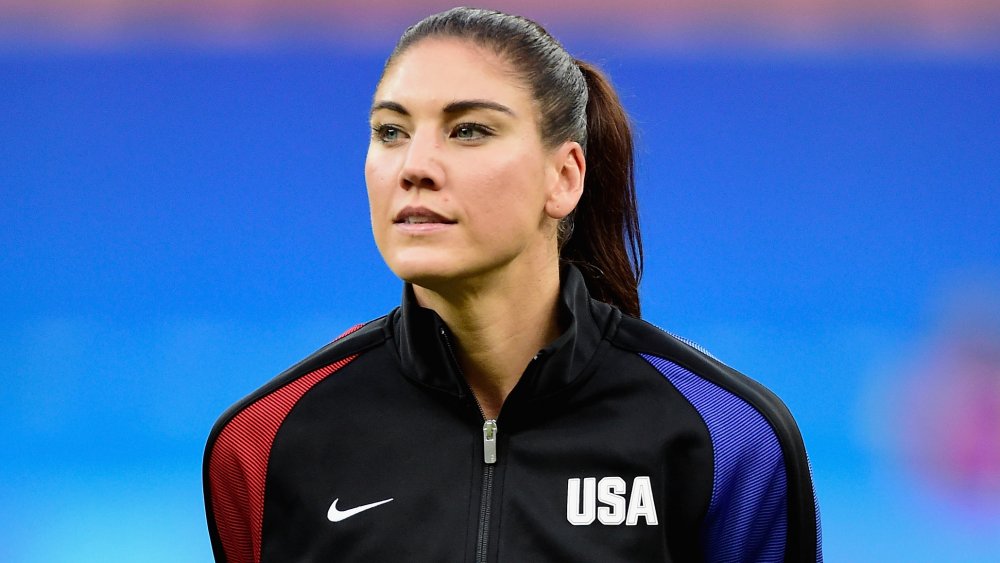 Bruno Zanardo/Getty Images
We may receive a commission on purchases made from links.
Over the course of her lengthy and dazzling soccer career, goalkeeper Hope Solo has made the news not just for her on-field skills, but also for her long history of highly controversial moments. From assault charges to some seriously bad sportsmanship, Solo has a penchant for sketchy doings that land her in hot water.
The bad girl of the backfield has such a shady rap sheet that she's even been suspended multiple times, fined, arrested, and ultimately booted from the U.S. Soccer team and banned for six months after she lost her temper — again — following the team's loss to Sweden during the 2016 Olympics.  
Granted, we're talking about a top-level athlete, so passion and competitiveness come with that package, but all of the other stuff? That's where the problem lies. Let's take a look at how even off the field, life has handed her a whole bunch of yellow cards. This is the shady side of Hope Solo.
Hope Solo shaded her own teammates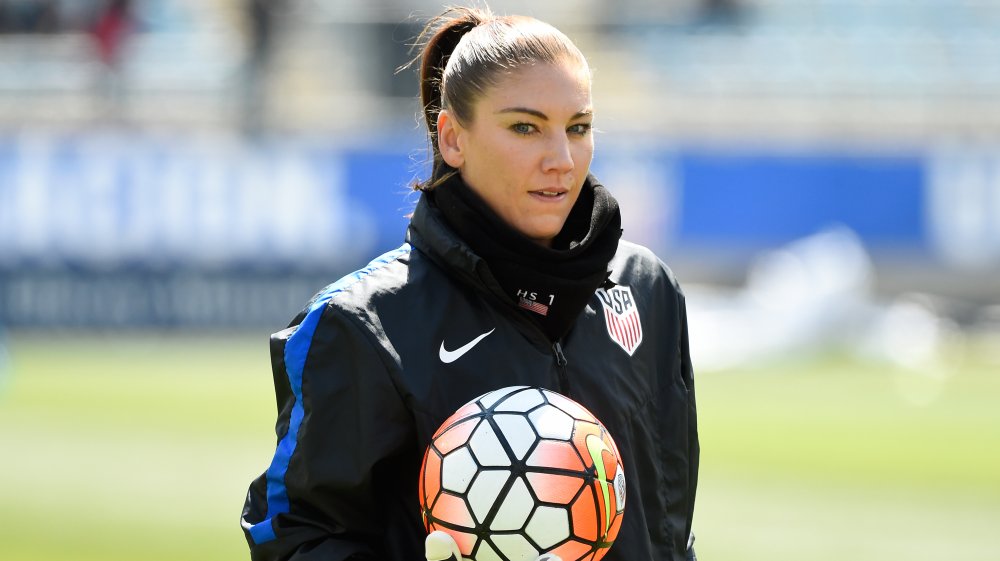 Rich Barnes/Getty Images
During a U.S. team match with Brazil in 2007, the American coach started veteran goalie Briana Scurry instead of Hope Solo. Scurry had a bad match, and Brazil ran away with the game in a 4-0 win over the United States. Solo was unable to keep her frustration under wraps, and launched a tirade against the coach and her teammate. 
"There's no doubt in my mind I would have made those saves," she said. "And the fact of the matter is, it's not 2004 anymore ... It's 2007, and I think you have to live in the present. And you can't live by big names. You can't live in the past. It doesn't matter what somebody did in an Olympic gold-medal game in the Olympics three years ago." 
Solo's verbal attack on her coach and former Olympian Scurry earned her a temporary suspension from the team. Her teammates even shunned her from the flight home, but Solo stood by her comments nearly a year later when talking about the incident with The New York Times. She said part of the issue was that she was also dealing with the recent passing of her father, who died three months earlier. "My emotions were in a place I never experienced before, that hurt, pain, anger," Solo said, adding, "I'm not saying it was right, but I know it was something I had to do at the time."
Trouble in under 280 characters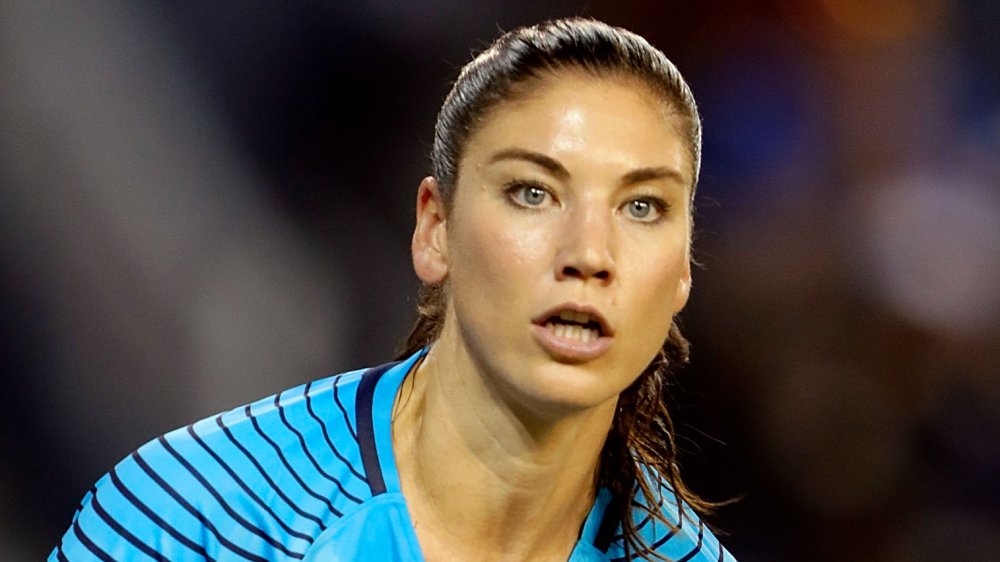 Jamie Squire/Getty Images
Hope Solo apparently didn't learn her lesson after the 2007 incident with Briana Scurry. Following a playoff loss against the Washington Freedom women's pro soccer team in September 2010, Solo took to social media and laid down a blistering Twitter attack directed at the referees and the league itself. 
"It's official, the refs are straight bad," she said (via The Washington Post). "It's clear the league wanted [DC] in [the] playoffs. I have truly never seen anything like this. It's sad. I am done playing in a league where the game is no longer in control of the players." 
According to The Washington Post, those comments (among others in her tirade) earned her a $2,500 fine, eight hours of community service, and a one-game suspension from her team, the Atlanta Beat. It wouldn't be the last time Solo got herself into trouble in just 280 characters or less, but more on that in a minute.
Hope certainly doesn't party... solo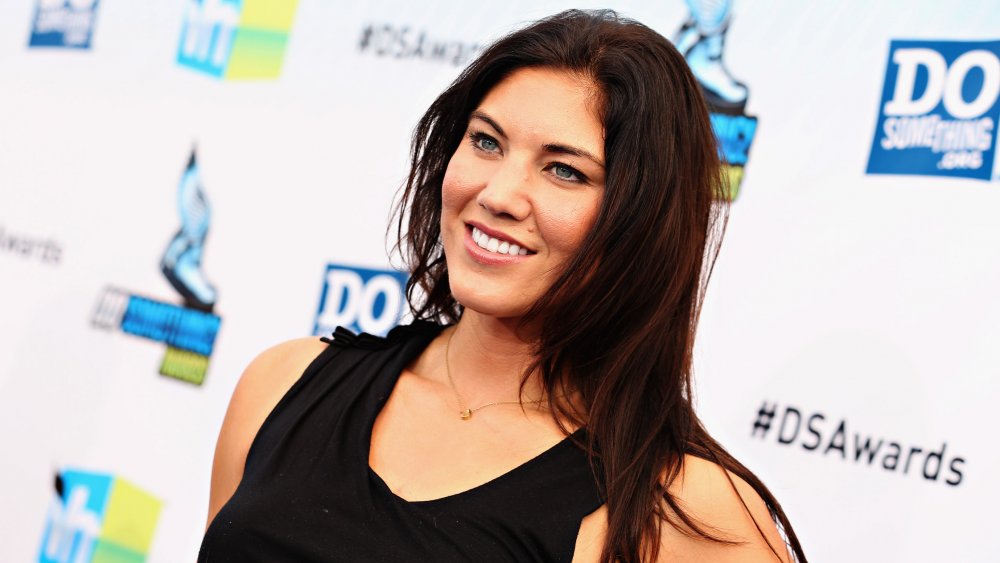 Christopher Polk/Getty Images
During the 2012 summer Olympics in London, Hope Solo raised eyebrows when she went on the record about the sex, drinking, and other debauchery that happens inside the Olympic Village. She told quite the wild tale to ESPN magazine: "I've seen people having sex right out in the open. On the grass, between buildings, people are getting down and dirty." 
Solo also admitted to sneaking celebrities and other non-Olympians into the Village after-hours and to going on live TV still drunk from the night before. "When we were done partying, we got out of our nice dresses, got back into our stadium coats and, at 7 a.m. with no sleep, went on the Today show drunk. Needless to say, we looked like hell." 
The Olympic Village shenanigans weren't Solo's first taste of the wild life. In her memoir, Solo: A Memoir of Hope, she wrote that during a six-month training camp in California in 2006, she routinely drove to Vegas where she would "party all night, and come back to training without having slept." She added, "And I dated dozens of men, often several at a time." Alrighty. 
​Goin' to the chapel and we're gonna get arrested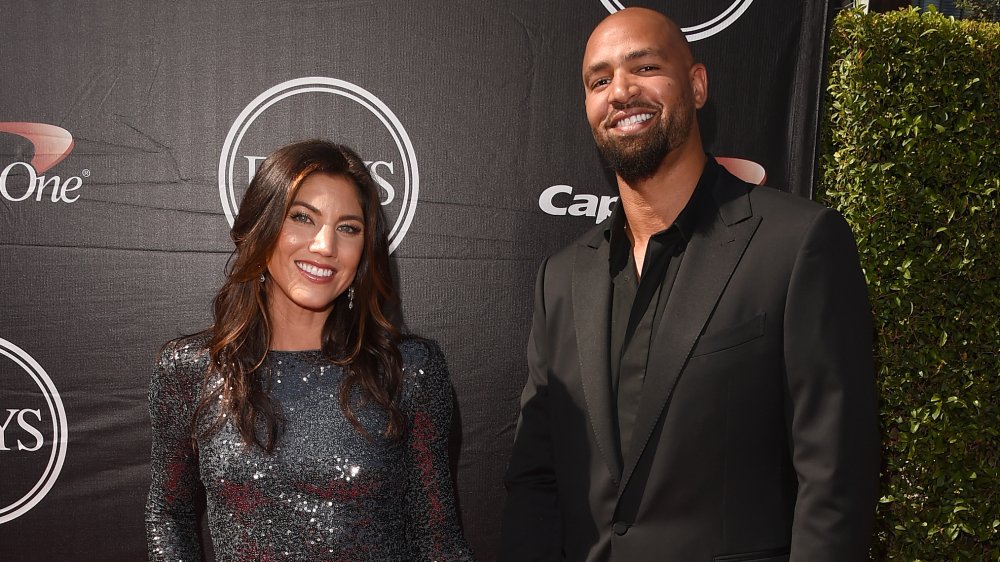 Jason Merritt/Getty Images
Apparently, Hope Solo can't even get married without some sort of incident. Early on the morning of her wedding day on Nov. 12, 2012, Solo, her brother Marcus Solo, and her then-husband-to-be, former Seattle Seahawks tight end Jerramy Stevens, were involved in an alleged drunken altercation during a soiree at her home. 
Around 3 a.m., Marcus called 911 to request medical assistance resulting from a brawl involving a stun gun. According to KOMO News in Seattle, a female houseguest suffered injuries to her hip, Hope had a bloody elbow, Marcus had blood on his forehead and knees, and police said Stevens "appeared to be hiding" between the bed and the wall of the master bedroom. 
Authorities believed Stevens caused Hope's injuries and arrested him for domestic violence assault, reported ABC News. The pair wed later that same day, and police reportedly dropped the charges when the alleged victims refused to cooperate.
Hope Solo's frightening family fracas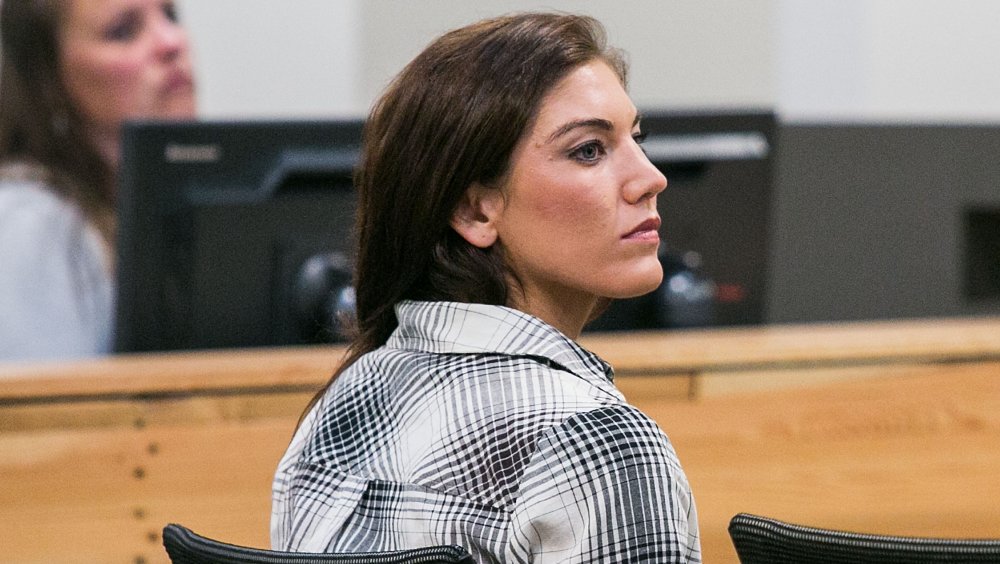 Suzi Pratt/Getty Images
Perhaps the most widely-publicized shady moment of Hope's career was her 2014 arrest on domestic violence charges stemming from a drunken brawl with her nephew and half-sister. According to ESPN, Solo verbally lashed out at her teenage nephew, calling him too "fat, unathletic and crazy" to be an athlete, before physically attacking him and her half-sister.
At the police station, while cops were trying to book her into jail, ESPN said Solo "was so combative that she had to be forced to the ground, prompting her to yell at one officer, "You're such a b***h. You're scared of me because you know that if the handcuffs were off, I'd kick your a**." When asked by an officer to remove a necklace, Solo reportedly "told the officer that the piece of jewelry was worth more than he made in a year."
In a subsequent interview with Good Morning America, Solo portrayed herself as the victim of domestic violence. The case was dismissed on procedural grounds in January 2015, but that decision was successfully appealed and charges were reinstated in October 2015.  Cut to 2018 and TMZ reports that prosecutors once again dropped the case after "key witnesses stopped cooperating." But Solo didn't leave it there, vowing to "explore any and all legal remedies to hold those with no regard for the truth, fully accountable." She also slammed prosecutors as negligent and claimed they had "errant motivations" from the outset of the case. 
The time Hope Solo blew of some serious training camp steam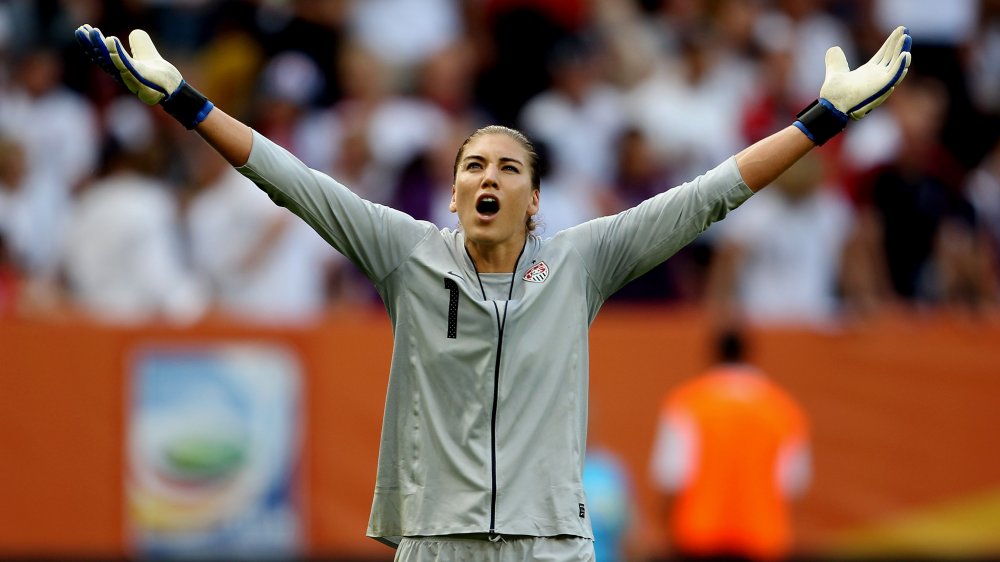 Scott Heavey/Getty Images
During training camp for the U.S. women's national team in 2015, Solo reportedly slipped away from the facilities in a U.S. soccer team van for a rendezvous with her husband. Allegedly, hubby Jerramy Stevens was too sloshed to be driving, and the pair was pulled over by police in Manhattan Beach, Calif. Stevens was arrested for suspicion of driving under the influence, reported ESPN. 
Solo wasn't arrested, but the run-in with cops was embarrassing to the national team and coaches, particularly because they didn't learn about the incident until it was reported on TMZ. As a result, Solo found herself serving yet another 30-day suspension from the national team. 
In response to her suspension, Solo showed a rare side of obedience by apologizing to her teammates as well as the U.S. Soccer Federation. On Facebook, she wrote, "I think it's best for me to take a break, decompress from the stress of the last several months, and come back mentally and physically ready to positively contribute to the team."
Did Hope Solo's dirty tricks work both ways?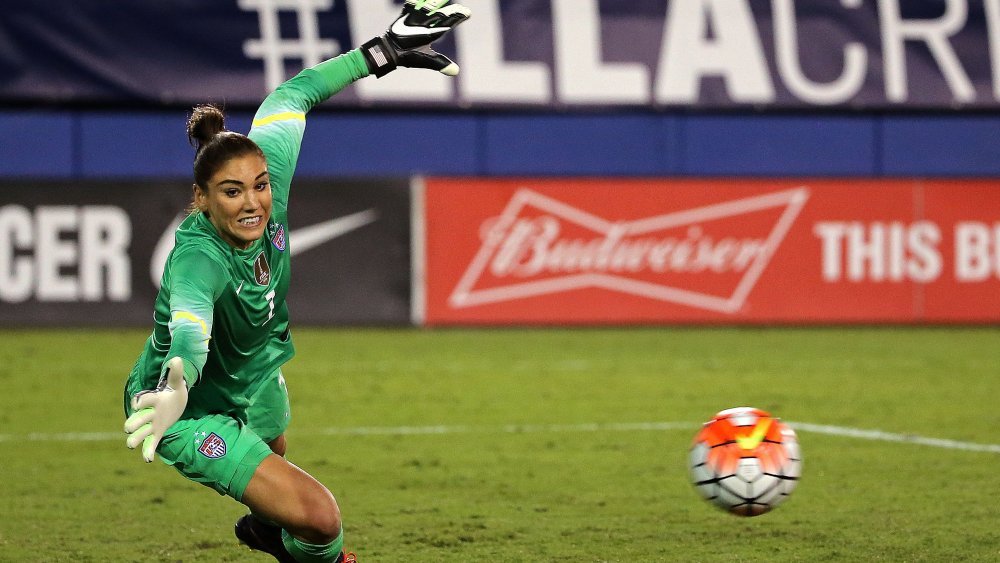 Mike Ehrmann/Getty Images
Hope Solo loves to play mind games with players on the opposing team, especially during penalty kicks. While any goalkeeper tries their best to get into the head of the kicker, Solo admits to sometimes stalling the kick as long as possible — almost to the point of impropriety. 
In one incident during a 2015 match between the United States and Germany, Solo wasted a lot of time pointing to the referees and her teammates, then taking a long drink of water and even pouring some down her neck. The tactic worked: the kicker pulled the shot wide, giving the Americans a shut-out.
This is actually not an uncommon practice, and according to WFAA 8, Solo attempted the maneuver again during the U.S. team's stunning loss to Sweden at the Rio Olympics in 2016. This time, her move was to call a time out and request a new pair of gloves, a blatant attempt to ice the penalty kicker, but the tactic failed and the United States women's national team lost in a defeat that marked "the earliest exit it had ever made in a major tournament — spanning back seven World Cups and six Olympics." 
The loss had to sting, particularly for the ultra-competitive Solo, who later responded to Sweden's gameplay in the tournament in terms that would ultimately derail her career.
A ruckus in Rio got Hope Solo banned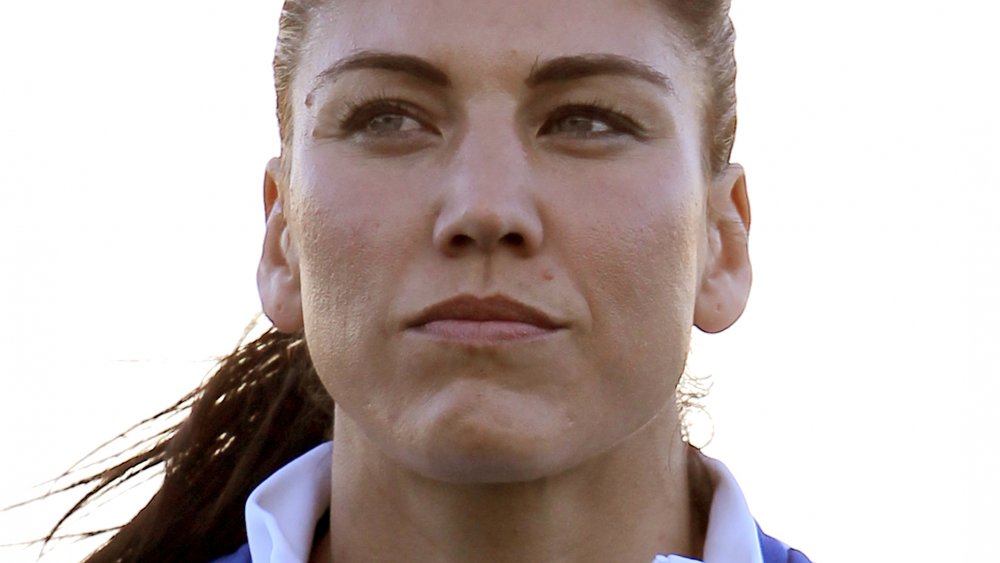 Mb Media/Getty Images
At the 2016 Summer Olympics in Rio, Hope Solo found herself at the center of two controversies that angered many soccer fans around the world. 
First, she became the target of offended Brazilians after she posted pictures on Twitter of her mosquito net and an arsenal of bug repellent, with the hashtag #zikaproof. Brazilian soccer fans responded by hounding Solo during the U.S. team's matches at the Olympics. Each time Solo touched the ball, they chanted "Zika!" at the top of their lungs.
Later during the Olympics, Solo made even bigger waves when she displayed poor sportsmanship following the United States' loss to Sweden. After the match, Solo said, "[I] think we played a bunch of cowards. The best team did not win today, I strongly, firmly believe that." Those comments sparked outrage from athletes, coaches, and fans around the world, and the U.S. team responded by terminating her contract and banning her for six months.
Solo was so distraught by the decision that she also quit the Seattle Reign, the National Women's Soccer League team on which she played for three years. On Twitter, Solo wrote that her contract termination from the U.S. team was "devastating" and that she was "not there yet mentally" to be able to play for the Reign.
Another twitter tirade: Solo v. Chastain edition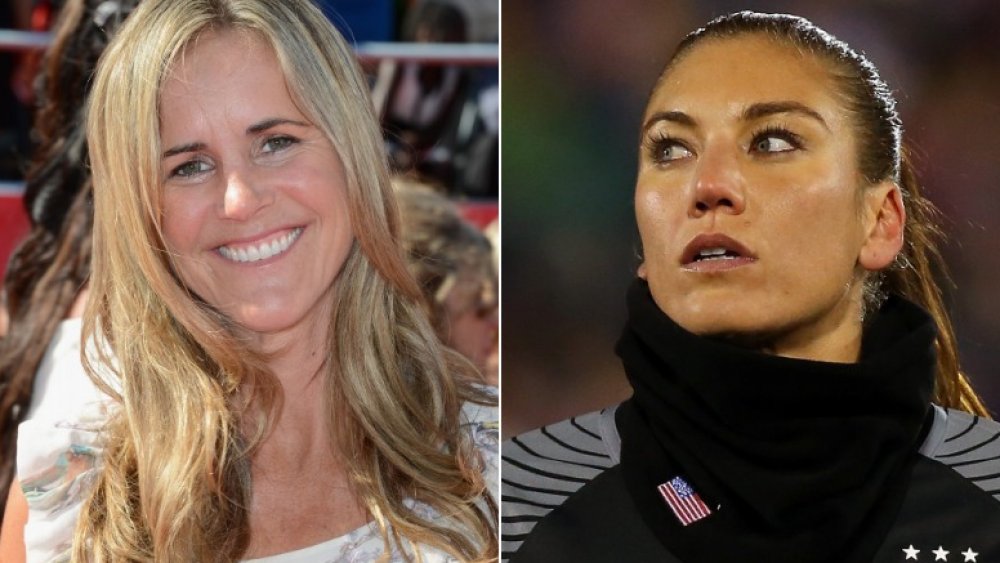 Frazer Harrison, Jim Rogash/Getty Images
In 2012, Hope Solo took to her preferred insult battleground, Twitter, to take former Olympian turned commentator Brandi Chastain to task. At issue was Chastain's rather light criticism of Solo's teammate, Rachel Buehler, during an Olympic match between the United States and Columbia. 
"As a defender, your responsibilities are to defend ... win the ball, and then keep possession. And that's something that Rachel Buehler actually needs to improve on in this tournament," Chastain said during the broadcast of the game.
Solo hit back with a remarkably vicious response, tweeting, "Lay off commentating about defending and gking until you get more educated @brandichastain the game has changed from a decade ago." And she didn't stop there. A half hour later, she fired off a second tweet, seemingly accusing Chastain of dampening the "spirit of the Olympics" with her commentary.
Chastain's official response was "no comment," but Solo continued to chastise Chastain a few weeks later when she told the New York Daily News, "I think analysts and commentators should bring energy and excitement and passion for the game, and a lot of knowledge, and I think it's important to help build the game, and I don't think Brandi has that."
Chastain's single, tempered response to Solo's barrage of attacks was when she told Us Weekly, "My only comment is I am in London to cover women's soccer for NBC in an honest and objective fashion, and that is what I have done, and will continue to do for the rest of the tournament."
Hope Solo's memoir was full of shady spilled tea
Jamie Mccarthy/Getty Images
Hope Solo shocked the world with many revelations in her memoir, Solo: A Memoir of Hope. On top of continuing to publicly drag her former teammates, Solo also called out former U.S. National Women's Team Coach Greg Ryan. Not only did she call him essentially incompetent, she also said he "pushed her" during the argument over his decision to bench her during the aforementioned 2007 World Cup match with Brazil. Ryan denied the accusation.
Solo also accused her Dancing with the Stars partner, Maksim Chmerkovskiy, of being physically abusive during practice sessions for the popular reality TV competition, which Solo claims was rigged. She alleges Chmerkovskiy smacked her stomach so hard once that it left "a red handprint there for the rest of the day." On another occasion, which Solo claims was recorded on video, she said Chmerkovskiy slapped her across the face in order to keep her head "in a specific position."
After the alleged slap, Solo claims network management approached her about getting a new partner, which she declined because she claims she didn't want to "end Maks's career." She also said the tape of the incident disappeared. Chmerkovskiy denied all the allegations and later called Solo "just a sh***ty person" and "literally the only person that I could dislike from my past, present or future."