Kris Allen: What Happened To The American Idol Star Who Beat Adam Lambert?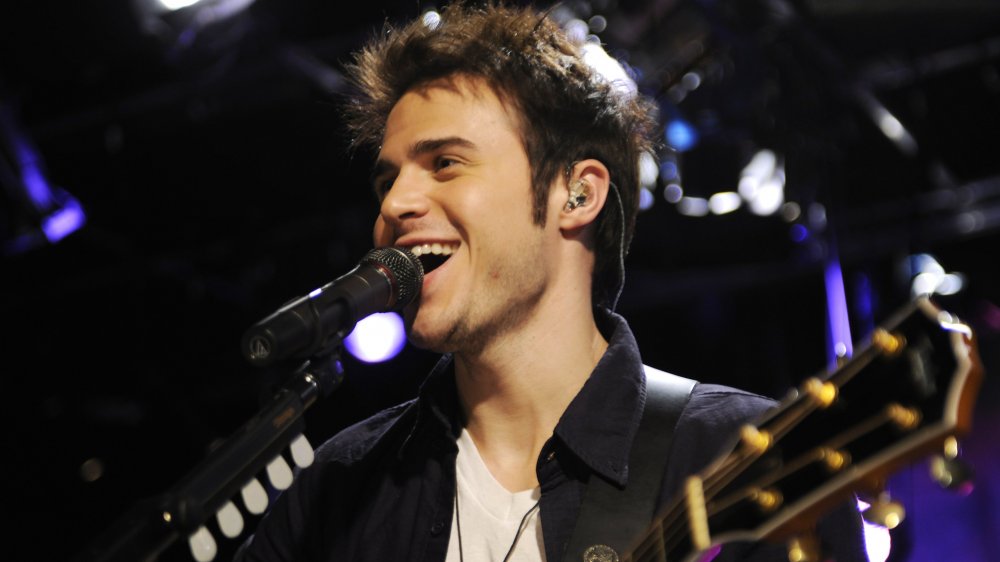 Statia Photography/Getty Images
Kris Allen's surprise victory over Adam Lambert was one of American Idol's most unforgettable upsets. In the reality competition's eighth season, which aired in 2009, the acoustic crooner quietly edged out vocal powerhouse Lambert – Queen's current frontman — who, to many viewers, was the obvious frontrunner.
Lambert blew the judges away time and time again with show-stopping vocal performances and anthemic classic rock renditions. But with charm, humility, and sultry guitar covers of popular songs like "Heartless" by Kanye West, Allen snuck up on judges and fans alike, strumming his way to the top. 100 million votes were cast during the finale, according to The Hollywood Reporter, and the singer, who is from Arkansas, became the show's sixth winner from the south (out of eight), Today reported at the time.
Kris Allen made good on his victory, performing at the NBA Finals the same year, per Billboard. Five months after his win, Allen released his self-titled album. It spent 18 weeks on the Billboard 200 and the upbeat and uplifting lead single, "Live Like We're Dying," went platinum, per Entertainment Weekly. Things were looking good. But success is the sweetest revenge, and years later, runner-up Lambert has made a much bigger mark. In 2015, the Queen moonlighter and pop star was declared Idol's highest-earning alum, bringing home $10 million pre-tax, per Forbes. 
So where is Kris Allen now, and what happened with his music career? Let's take a look.
Kris Allen started a family and suffered a potentially career-ending injury
What has Kris Allen been up to since his win and subsequent hit album? In 2011, he sang "God Bless the USA" at the National Memorial Day Concert in Washington, D.C., per PBS, and in 2012, his sophomore album, Thank You Camellia, came and went, peaking at #25 on the Billboard 200. In 2013, Allen had a rollercoaster of a year. He became a father, welcoming the first of his three children with wife and high school sweetheart Katy O'Connell, per the Daily Mail. He also suffered a tough injury. 
According to Yahoo! Entertainment, Allen "shattered his wrist in a head-on car crash." After the crash, Allen had to undergo "multiple wrist-fusion operations," which left him with "a limited range of motion." 
"I remember the first time I looked at [my wrist], I said, 'I'll probably never be able to play again,'" Allen told the outlet. "But after three surgeries and playing with a cast on, over and over again, I figured it out," he said, adding "I'm glad that I'm still able to do that and write songs."
Since the injury, Allen has rebounded and put out a few more albums — as of this writing, the most recent dropped in 2019 — along with charming singles like 2014's "Lost." He also started touring with his new band, The Dames. Plus, he's done a lot of charity work, including teaming up with the music education program Little Kids Rock. So while Kris Allen may not be the biggest Idol name, he's staying busy and doing his title proud.