Craziest Moments At The 2016 VMAs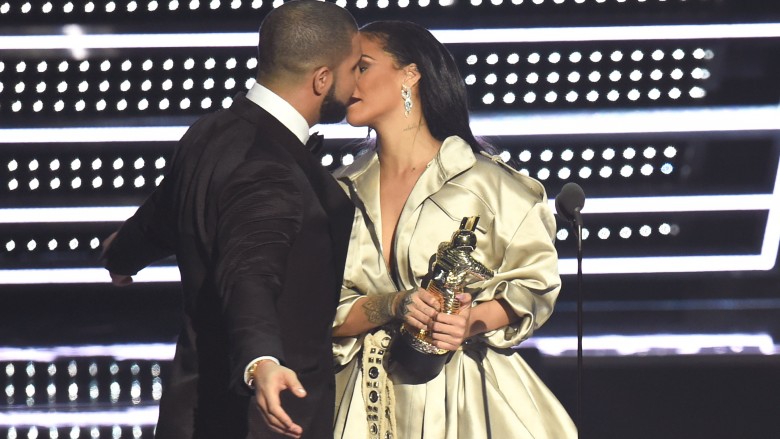 Getty Images
The MTV Video Music Awards are full of iconic moments: Britney Spears' performing "I'm A Slave 4 U" with a snake in 2001, Taylor Swift's big interruption in 2009, Miley Cyrus' infamous twerking in 2013. The biggest moments of 2016 weren't quite as insane as the aforementioned classics, but they were still a big deal...especially for the Bey Hive.
Beyoncé's entire existence
Beyoncé delivered a bold yet silent statement on the red carpet when she arrived holding hands with the mothers of Trayvon Martin, Eric Garner, and Michael Brown—as well as Blue Ivy, who wore an $11,000 dress. Halfway through the show, Serena Williams introduced Beyoncé for a surprise Lemonade medley performance, and the Queen kept her crown, taking home eight Moon Men and eclipsing Madonna for the most VMAs ever, including video of the year for "Formation." Yes, she slays. All day.
Britney Spears' big comeback
Britney Spears delivered a solid performance of her new single, "Make Me...(Ooh)" with G Eazy, and a bit of "Me, Myself & I." Spears and the rapper didn't exude a ton of chemistry, and she clearly performed to a backing track, but it's important to remember two things: Spears has never been famous as vocalist, but as a performer, and this particular performance was light years better than her 2007 disaster. She's come a long way and has a lot more sparkle in her eyes than she did the last time we saw her take the very same stage. It's Britney, b**th, and she's back.
Kanye West being Kanye West
MTV gave Kanye West four minutes to do whatever the heck he wanted onstage. Because he's Yeezus, he used seven minutes, delivering one heck of a monologue before presenting his new video for "Fade."
He opened his speech by poking fun at himself. "I am Kanye West, and that feels especially great to say this year," he said. "I came here to present my new video, but before I do that, I'mma talk. Now, later tonight, 'Famous' might lose to Beyoncé, but I can't be mad. I'm always wishing for Beyoncé to win." (We see what you did there, 'Ye!)
He continued talking about "Famous," saying, "The audacity to put Anna Wintour right next to Donald Trump. I mean, like, I put Ray J in it, bro. This is fame, bro! Like, I see you Amber [Rose]..." He then spoke about violence in Chicago and inner cities before making his monologue all about him again, noting, "My role models are artists, merchants. There's less than ten that I can name in history. Truman. Ford. Hughes. Disney. Jobs. West...I'm standing in front of my idol, Puff Daddy. I'm standing in front of my wife, Kim Kardashian West. I'm standing in front of the future: Chance the Rapper, 2 Chainz, Jaden Smith. Bro, we are undeniably the influence, the thought leaders." No need to praise Yeezus. He'll do it himself.
Calvin Harris' subtle shade toward Taylor Swift
Calvin Harris had a performance in the UK the night of the VMAs, so in a prerecorded message, he accepted his best male video Moon Man for "This Is What You Came For." In it, he said, "I need to thank Rihanna from the bottom of my heart. You're a superstar, every time we work together you bring something so magical to the project. Emil Narva, the director, you're a legend. You're my favorite man on Earth. Thank you for everything you've done for me. Everybody who supported this song, who watched the video, thank you. This is amazing. I love you. Thank you MTV!"
Not on that list? Taylor Swift, who co-wrote the song, requested she be listed under a pseudonym in the credits, then went public with her credits after the couple broke up. We see you, Calvin!
Alicia Keys' moving speech
A makeup-free Alicia Keys announced onstage that it was the 53rd anniversary of Dr. Martin Luther King's "I Have A Dream" speech. She recited a poem in his honor, then broke out into a ballad, singing with no accompaniment other than the roaring crowd. "Maybe we could love somebody," she belted. "Maybe we can care a little more. Maybe we can love somebody, instead of polishing the bombs of holy war."
Nick Jonas' diner delivery
Nick Jonas' song "Bacon" isn't that memorable, but his performance of it was. The singer performed in Midtown's famous Tick Tock Diner, serving up breakfast and odd facial expressions to brother Joe's band, DNCE, and several web celebrities in attendance. Whether or not you dug the song, chances are it made you hungry.
Ariana Grande's awkward charm
Ariana Grande took the stage with Nicki Minaj to perform "Side to Side," and it was somewhat awkward. The bicycles, the hot pink leotards, and the choreography that seemed out of Grande's element provided for some somewhat secondhand embarassment. However, it did display Grande's outstanding live vocals, especially considering she was one of the few artists of the night to actually employ them.
Drake falls all over Rihanna
Drake surprised audiences at the VMAs when he presented Rihanna, his on-again off-again love interest, with the Michael Jackson Video Vanguard Award. "What's most impressive isn't the endlessness of stats, awards and accomplishments," he said about Rihanna. "What's most impressive is the person. She succeeds by being something in which no one in this industry does which is by being herself—the same girl from Barbados surrounded by the same friends. We love the videos which change their artistic vision from year to year. But most of all we love the woman who hasn't changed from day one...She's someone I've been in love with since I was 22 years old," he gushed. "She's one of my best friends in the world. She's a living breathing legend in our industry."
Drizzy then went in for a smooch, and Rihanna swerved to turn it into a kiss on her cheek. Still, hope isn't lost for him: Us Weekly reports that the pair hit afterparties together hand-in-hand.