The Necklace That Got Meghan Markle In Trouble With Royal Staffers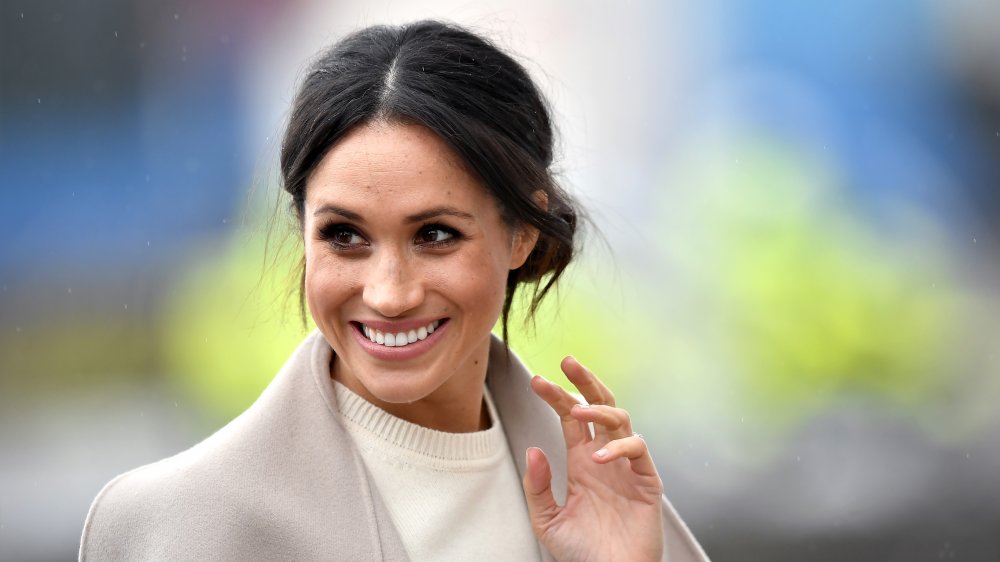 Charles Mcquillan/Getty Images
We may receive a commission on purchases made from links.
Meghan Markle supposedly landed herself in hot water with palace aides early in her romance with Prince Harry due to her choice of jewelry. Yep. The drama got outlined in the tell-all book, Finding Freedom: Harry and Meghan and the Making of a Modern Royal Family, authored by journalists Omid Scobie and Carolyn Durand. The authors' account details how in December 2016 — when Markle and Prince Harry's relationship was blossoming — the actor and future Duchess of Sussex stepped out in a $300 14-carat gold chain bearing the initials "H" and "M." As Scobie and Durand claim in a book excerpt obtained by People, the piece was too much of a statement for staff at Kensington Palace. An uncomfortable phone call supposedly ensued.
"She was advised that wearing such a necklace only served to encourage the photographers to keep pursuing such images — and new headlines," Scobie and Durand wrote, per the excerpt published by People.
A spokesperson released a statement on behalf of the royal couple, saying they took no part in the scintillating read. "The Duke and Duchess of Sussex were not interviewed and did not contribute to Finding Freedom," their spokesperson said, according to the BBC. "This book is based on the authors' own experiences as members of the royal press corps and their own independent reporting." 
Either way, here's how Meghan Markle allegedly took the necklace backlash at the time (hint: not well) and other details about the awkward royal scolding.
Meghan Markle was 'frustrated' about the siutation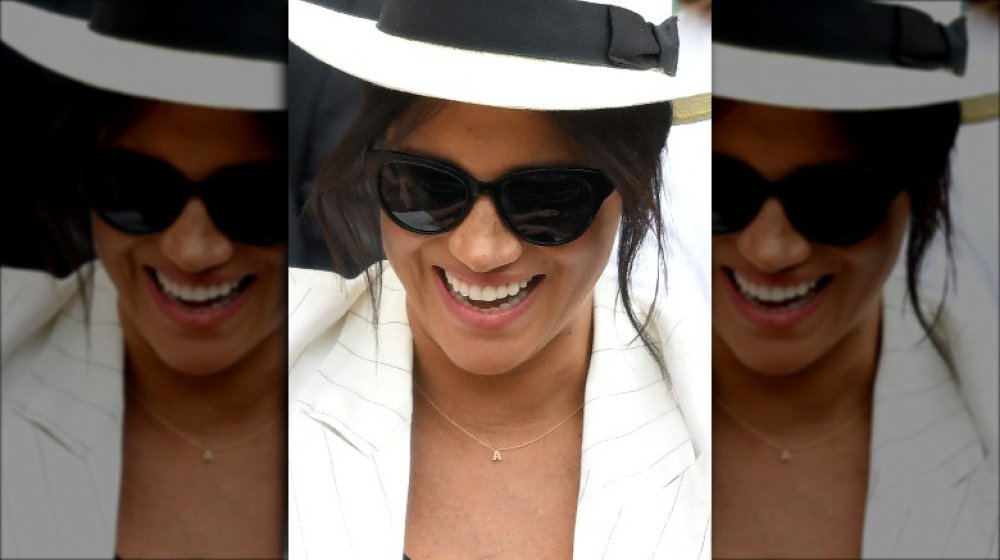 Karwai Tang/Getty Images
Supposedly, Meghan Markle didn't have a great reaction to the call about her necklace. Meghan allegedly "said little during the call, choosing instead to simply listen to the counsel," authors Omid Scobie and Carolyn Durand wrote in their book, per the excerpt in People. "But after hanging up, she felt frustrated and emotional. While she knew the aide had good intentions, the surreal experience of having someone from her boyfriend's office tell her what kind of jewelry to wear or not to smile at a photographer was too much."
According to the page-turner, Markle — who in March 2020 stepped down as senior a member of the royal family alongside Harry, moving to Los Angeles with son Archie — proceeded to call a friend, feeling defeated. "I can't win," the book claims Markle said. "They make out like I'm to blame for these pictures, that it looks like I'm encouraging them, that me even acknowledging the cameras may not be sending the right message. I don't know what to say." Markle, the authors continued, felt "felt damned if she did and damned if she didn't."
As fans might have already noticed, Markle is no stranger to sentimental jewelry. In April 2020, the royal wore a necklace with her and Harry's zodiac signs, and, at the 2019 US Open, Markle donned a necklace featuring dog tags initialed "H" for Harry and "A" for Archie, according to Insider. Take that, palace staff!
Finding Freedom debuts on Aug. 11, 2020.