Drake And Rihanna Keep The Romance Rumors Going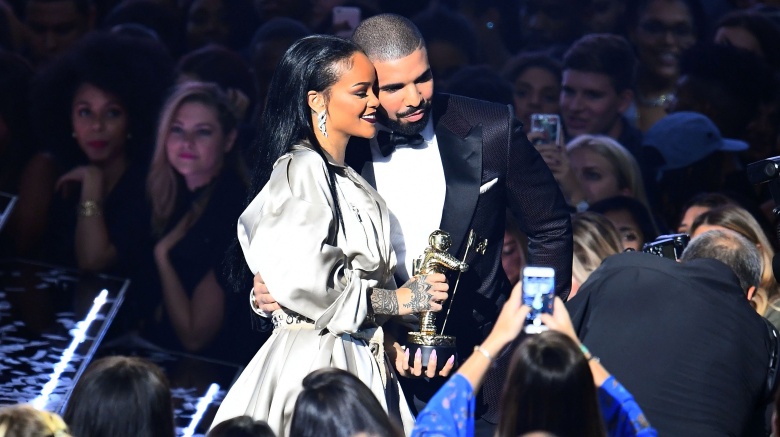 Getty Images
It's hard to tell what Drake and Rihanna love more: media attention or one another.
Drizzy, 29, was on hand to present RiRi with her Michael Jackson Video Vanguard Award at the 2016 MTV Video Music Awards on Aug. 28, 2016. "What's most impressive isn't the endlessness of stats, awards and accomplishments. What's most impressive is the person," he gushed. "...But most of all we love the woman who hasn't changed from day one...She's someone I've been in love with since I was 22 years old."
Tell us how you really feel, Drake!
Of course, Rihanna, 28, wasn't going to make it easy on the poor guy. When Drake went in for a kiss, she dodged and giggled.
It's not that Rihanna doesn't dig Drake. It just seems like she wants to keep their romance a bit more private because she was reportedly much more affectionate after the show when cameras weren't rolling. A witness told People the pair partied all night after the show, and that Drake was doting on RiRi. "They walked in a little after 3 a.m. [at Up & Down nightclub]. Rihanna had a section by the deejay that was dedicated to her and Drake had one for him, but when they got in they chose to go into his section which was all the way in the back and much more private," the spy said. "They never left each other's side. He was literally shadowing her every movement and was just so affectionate and adoring the entire night...The club usually clears out around 4 a.m. but they were late getting there so they stayed around after it closed and shut it down. And they left together. He was really adoring and cute."
Earlier this week, Rihanna posted a photo on Instagram of a billboard that her maybe-beau purchased in her honor, and after the awards show, Drake posted a photo of him kissing Rihanna on the cheek.