The True Story Behind JoJo Siwa And Bhad Bhabie's Feud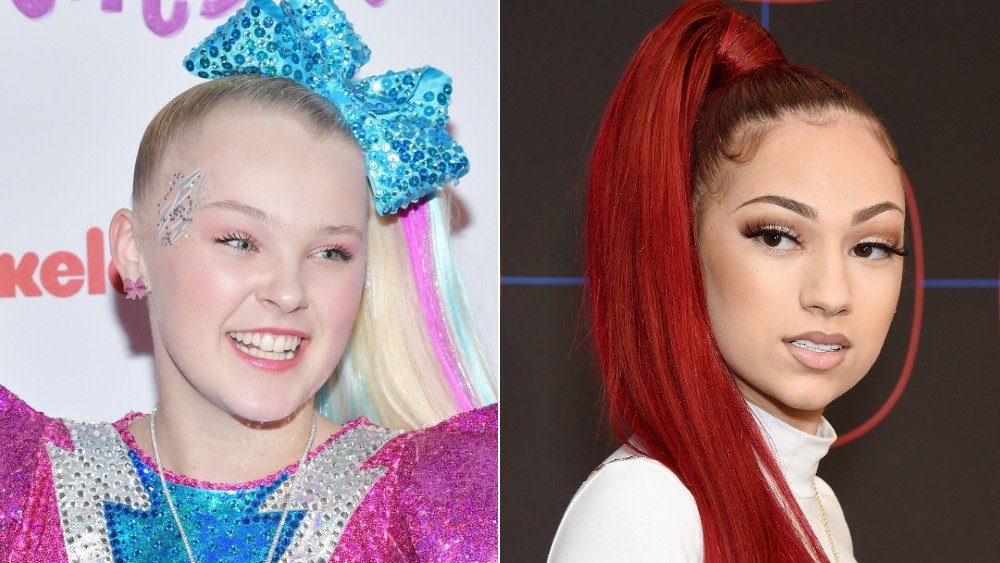 Amy Sussman, Gregg Deguire/Getty Images
The internet has a way of creating celebrities out of thin air and giving them a platform to build a sizable career. The virality of Danielle Bregoli is a testament to that. She first appeared on an episode of Dr. Phil in 2016 as a rowdy, unruly teenager. During the episode, Bregoli attempted to bait an audience member into a fight, which led to her catchphrase/meme moment "Cash me ousside, how 'bout dah?" Bregoli turned her 15 minutes of fame on a talk show into a rap career with the stage name Bhad Bhabie.
While many people seem to love the "Bestie" rapper — or, at the very least, are entertained by her antics – she's the complete opposite of another viral sensation: former Dance Moms star and YouTube personality JoJo Siwa (full name Joelle Joanie Siwa). The teens are pretty much on opposite sides of the Gen-Z spectrum. Bregoli seemingly prides herself on her tough girl persona, while Siwa is all glitter, giggles, rainbows, and bows. 
That being said, somehow their paths crossed on the interweb and the two are not fans of each other — here's why.
JoJo Siwa threw Twitter shade at Bhad Bhabie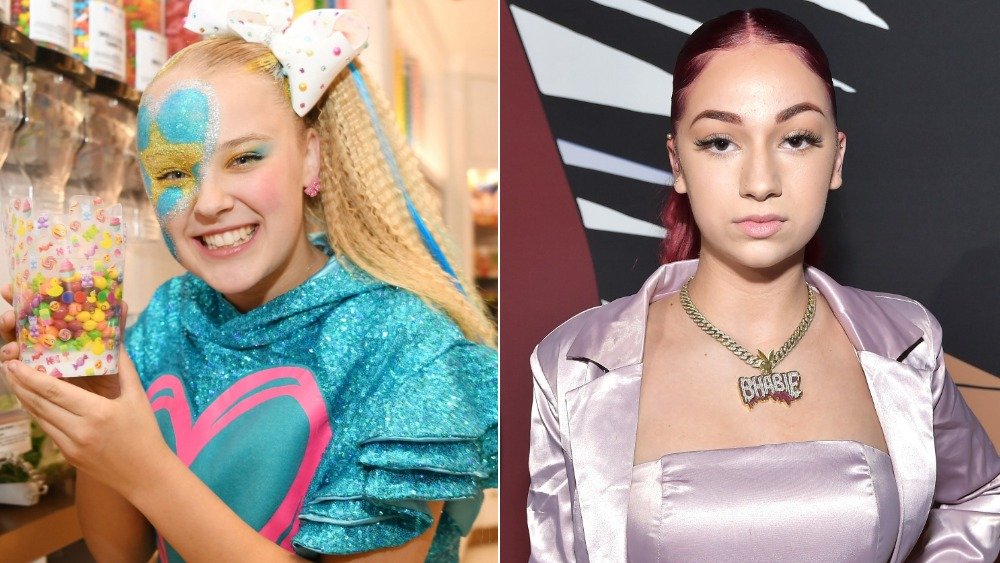 Denise Truscello, Stefanie Keenan/Getty Images
JoJo Siwa and Danielle Bregoli (a.k.a Bhad Bhabie) have entirely different fan bases, and one proud mom made the terrible decision of pointing that out. According to In Touch Weekly, in 2018, a mother of one of Siwa's fans posted about the dancer on Facebook and praised her for being a role model for young girls in comparison to Bregoli.
"I would much rather have girls love JoJo than 'Bhad Bhabie,'" the post noted. Siwa posted a screenshot of the Facebook post on her Twitter with the celebratory caption, in part, saying, "I love being a positive role model and I want everyone to know it's ok to be a kid and to not worry about growing up so fast!" 
Well, the rapper didn't take too kindly to the shade-adjacent caption. Bregoli retweeted the post, adding, "Suck my d**k." It didn't take long for Siwa to respond with: "Exactly my point." The two didn't exchange any further discourse and, as of this writing, it doesn't seem like the Gen Zers have interacted since. It's probably for the best.