The Sketchy Ways Justin Timberlake Used Britney Spears For Fame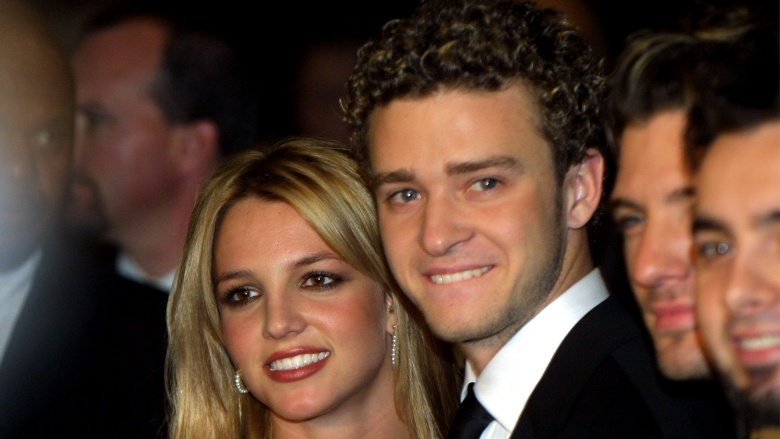 Getty Images
Justin Timberlake has an impeccable reputation as a class act, a great showman, and an all-around Hollywood Renaissance man. He also has a reputation as a player (earning the nickname "Mr. Trouser Snake") and, in the case of his most infamous ex, Britney Spears, he can be kind of a bully. Here are a few of the times JT used her name (or alluded to it) to further his own solo efforts.
The press tour
The most common narrative about Spears and Timberlake's breakup in 2002 is that her alleged romp with choreographer Wade Robson caused the split. Us Weekly's report (along with many others) painted Timberlake as a heartbroken victim. Some outlets, including Rolling Stone, said the affair was exposed when Timberlake found a note from Robson in Spears' dressing room before a performance on Saturday Night Live.
Timberlake addressed the rumors in a plethora of interviews while simultaneously promoting his new solo project. Though sometimes he acted like he didn't want to answer questions about their relationship, he continued to do so again, and again, and again.
For her part, Spears did not diss Timberlake in interviews, instead focusing on her own heartbreak. After months of silence, she told The Sun (via the Daily Mail), "I'm still hurting but I am trying to see it as an experience. The worst thing is everyone wants to talk to me about it."
His 20/20 interview
In a 2002 interview with Barbara Walters on 20/20, Timberlake talked openly about his breakup with his childhood sweetheart. "I remember when we decided that we were going to go our separate ways we sat down and I said to her...'If there is ever a moment where you ever need me you can rest assured that I will be there because I love you, as a person, and I will always love you.' But I'd also said, 'Look, no matter what we say at this point people are going to speculate things'...And I promised to her that I wouldn't say specifically why we broke up."
That sounds like a wonderful plan, but when Walters asked Timberlake if Spears cheated, he wasn't cagey at all, telling her, "Honestly, I mean, you know, we're not perfect. I don't judge anybody. I think that it's just a situation of it's just young love. It's a very intense relationship, that's for sure." Okay, so that answer wasn't specific, but it certainly stoked the fires of speculation and kept everybody talking.
Timberlake also claimed all his lyrics on his post-breakup album, Justified, came from his own experience, yet said none of them were written for Spears, which is hard to believe.
The Cry Me a River video
Timberlake claimed the Spears doppleganger in his smash "Cry Me a River" video in 2002 was not his idea. According to MTV News, JT told TRL that the video's director, Francis Lawrence, came up with the premise, which features Timberlake stalking a cheating ex who just so happens to be a blonde who accessorizes exactly like Spears and owns a fairy sculpture that resembles Spears' fairy tattoo.
A pal of Spears told Us Weekly (via MTV News) that Timberlake pulled the video stunt deliberately to drum up publicity for his album, which, prior to the video controversy, wasn't performing as well as expected. When asked what she thought of her supposed twin, Spears told MTV's TRL, "Boys will be boys."
His reactions to Spears at the 2003 MTV VMAs
When Spears and Madonna kissed at the 2003 MTV Video Music Awards, the world went nuts, but Timberlake just got salty. "There was so much drama over the kissing on stage," he griped on The Sharon Osbourne Show. "Not that I was upset about it, I just wasn't impressed...I would've liked to see some tongue...Lick her face...That's hot lesbian action." (Fun fact: There actually was tongue, but maybe he couldn't see it from his seat.)
His 2006 GQ interview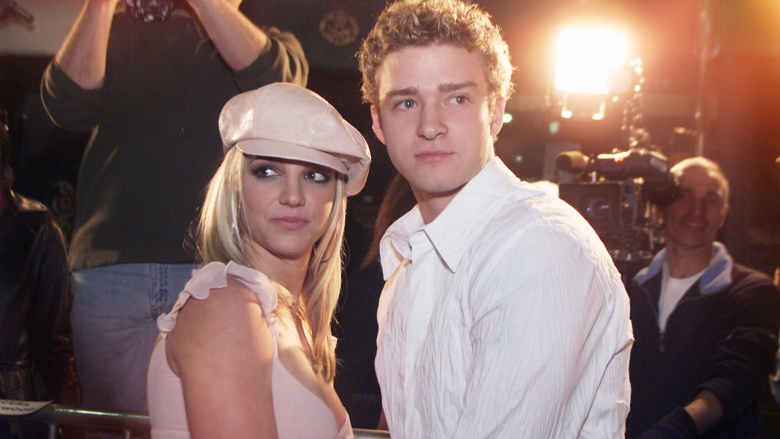 Getty Images
Even journalists know that Timberlake is an excellent public relations artist. A writer for GQ UK called him a "master of manipulation" with "undeniable powers of persuasion" in a 2006 profile piece. The magazine notes his infamous Hot 97 interview—in which he went into great detail about his intimate relationship with Spears—and credits that kind of calculated dirty talk with helping JT escape "the boy-band wreckage at the start of the millennium" and transform into a solo artist lots of folks considered "cool."
But the media manipulation didn't end there. Timberlake dissed Spears further in a Stateside GQ story (via CBS News), saying she should have defended him after their split. Wait, what? "I felt like she had a couple of opportunities to just sort of stick up for me, and she didn't. Which is fine," he said. "But at that time, you know, I fought back, and that's the way I fought back. I used my mind. I came up with ['Cry Me A River']."
Inducting Madonna into the Rock and Roll Hall of Fame
Timberlake took a jab at his ex when he inducted Madonna into the Rock and Roll Hall of Fame in 2008. "The world has always been full of Madonna wannabes," he said, "and I might have even dated a couple." Perhaps JT forgot that he dissed both ladies back in 2003 for not delivering enough "hot lesbian action" during a collaboration at the MTV Video Music Awards.
He inserted Spears into Timbaland's True Hollywood Story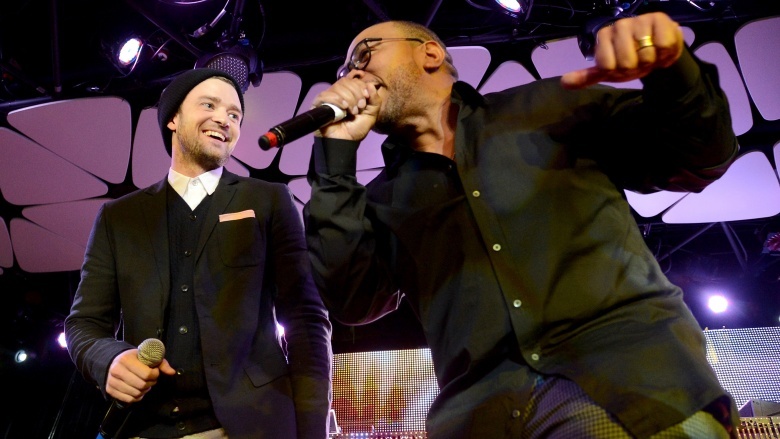 Getty Images
In Timbaland's E! True Hollywood Story, which aired in 2011, Timberlake manages to insert his relationship with Spears into the episode. During the segment, Timbaland recalls talking Timberlake through a tense moment with Spears.
Timbaland says, "[Timberlake] went to a concert and saw Britney, and Britney talked about him in the show and he was pissed."
Timberlake adds, "I was on a phone call that was not the most enjoyable phone call. I walked into the studio and [Timbaland] could tell I was visibly angry."
Timbaland continues, "I was like, 'Man, don't worry about it...' and he was like, 'I can't believe she did that to me,' and he was like, 'You were my sun, you were my earth...'" Those words became lyrics in JT's Grammy-winning "Cry Me a River," which featured Timbaland, so there is a connection. Even so, for Spears, that song has got to feel like the diss that keeps on giving.
He allegedly called her the B-word in 2013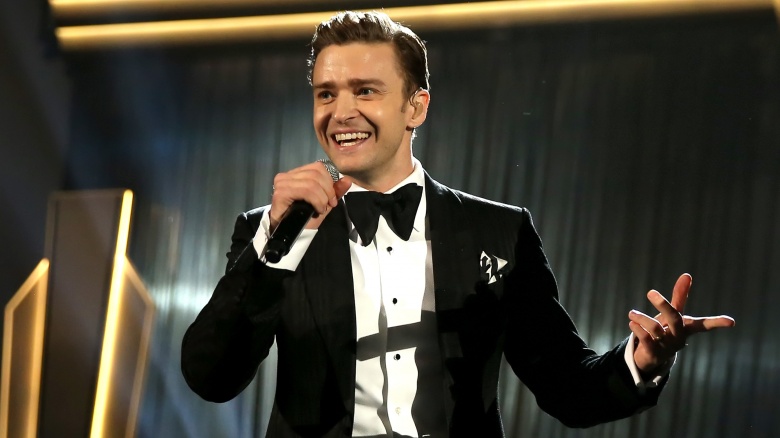 Getty Images
At a pre-Super Bowl concert in 2013, Hollywood Life reports that the now-married Timberlake said onstage, right before performing "Cry Me a River," that "Sometimes in life, you think you found the one. But then one day you find out, that she is just some b—h!" Of course, he denied that he was referring to Spears. In a tweet (via Glamour UK), Timberlake quipped, "Ok. I see you. Wouldn't disrespect ANYONE personally. Ever. #Relax #ItsBritneyB— I do love that saying though *with accent* #Respect."
He's still crying rivers in 2016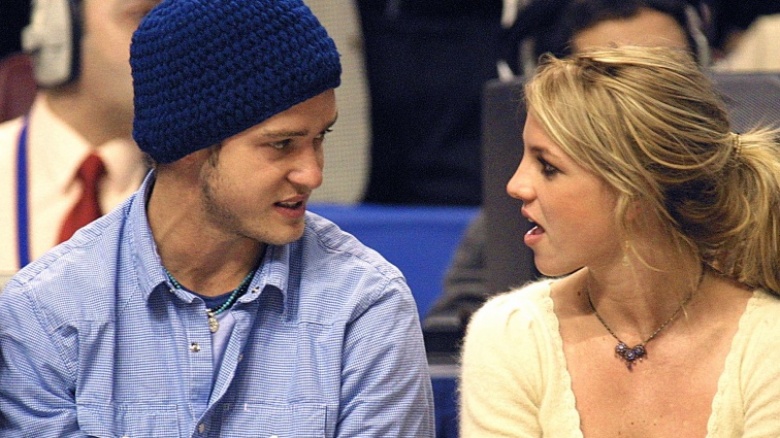 Getty Images
In August 2016, Timberlake supposedly shaded Spears yet again. When a Vanity Fair Italia writer asked if being "tormented" helps his art, Timberlake said, "It depends. In the past, suffering has helped me to compose. "Cry Me a River," he said, "was written in a moment of pain, as indeed the whole world knew."
Yes, JT. Everyone knows. Which means maybe, just maybe, you can finally stop talking about it.