The Truth About Alex Trebek And Pat Sajak's Relationship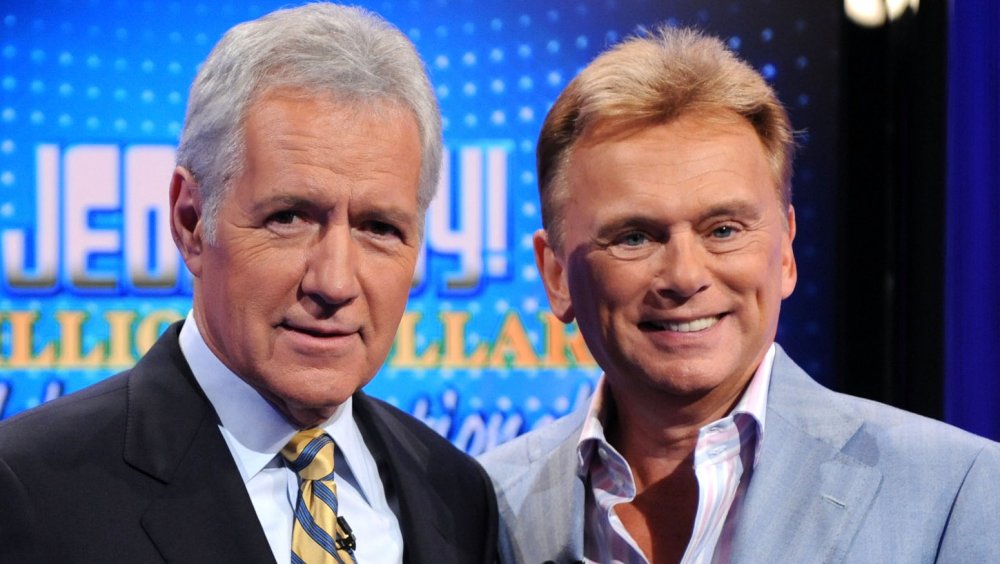 Amanda Edwards/Getty Images
Alex Trebek and Pat Sajak are both famous for the same thing: Being the longtime hosts of two of the most popular game shows on television. Trebek first popped up on Jeopardy! in 1984 and over the years "has become one of television's most enduring and iconic figures, engaging millions of viewers worldwide with his impeccable delivery of 'answers and questions,'" according to the show's website. 
As for Sajak, History notes that "[i]n 1981, Wheel of Fortune's creator, Merv Griffin (who also developed ... Jeopardy!, which debuted in 1964) tapped Sajak to take over hosting duties from Chuck Woolery for a network daytime version of Wheel." In the time since Trebek and Sajak first took on their hosting duties, the two have earned countless honors (like the many awards that both the Jeopardy! host and Wheel of Fortune host have won and been nominated for), set records, and enamored endless viewers.
Considering these two have so much in common, fans are surely curious if the two are friends or merely peers. Frankly, we're sure plenty of people would be shocked and disappointed if they turned out to be foes. So what's the truth about Trebek and Sajak's relationship?
Alex Trebek and Pat Sajak aren't exactly friends, but 'they're not enemies either'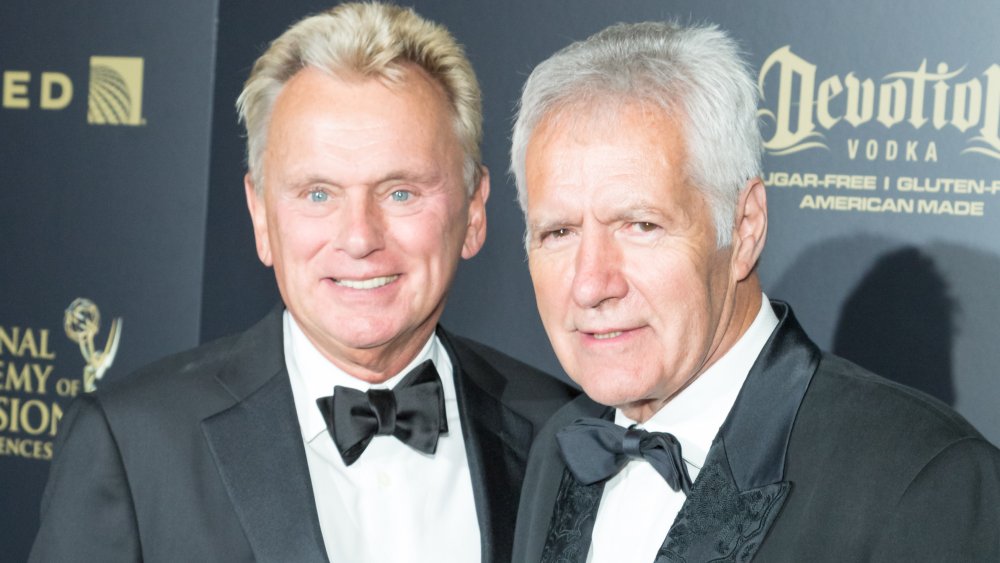 Greg Doherty/Getty Images
Considering the fact that Alex Trebek and Pat Sajak are two of the most iconic game show hosts on television, you might think that they are buddies. Unfortunately, that's not exactly the case. The Week noted in April 2013 that the pair "aren't friends," but added that "they're not enemies either." 
The Wheel of Fortune star explained the nature of their relationship to the outlet, saying, "We get along fine, but we're not in the same bowling league." Fair enough. Granted, we have to admit that we'd be thrilled if they did, indeed, lace up their bowling shoes each Thursday night to throw strikes and spares together.
That being said, while they may never play casual sports together, Sajak was willing to send out a message of support when Trebek revealed that he had been diagnosed with stage 4 pancreatic cancer in 2019. At the time, Sajak tweeted (via USA Today) that he and his family were "deeply saddened to hear of Alex Trebek's struggle with cancer."
"Our hearts go out to him and his family. But there is no one I know who is stronger and more determined, and I would never bet against him," Sajak continued. "We, and the entire country, are pulling for you, Alex."