The Real Meaning Of Cardi B And Megan Thee Stallion's Raunchy New Song WAP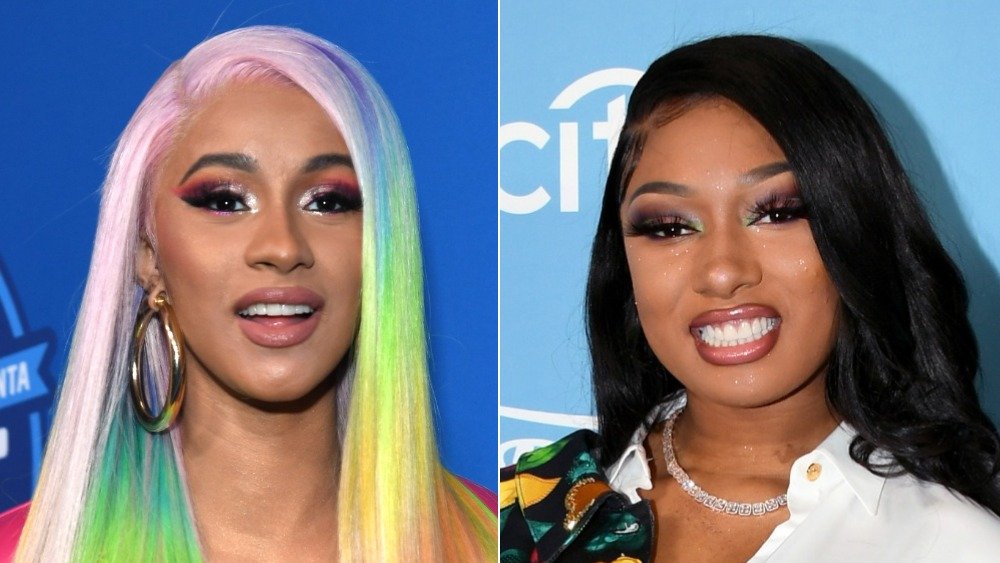 Kevin Mazur, Jon Kopaloff/Getty Images
If you had any doubt about the status of Cardi B's relationship with Megan Thee Stallion, the pair put all possible buzz of bad blood between the two to rest by releasing a song together in August 2020. While the rappers' fans are surely in love with "WAP," it turns out that there's more to the tune than you might have first suspected.
Granted, there's no doubt that the lead single from Cardi B's "long-awaited sophomore album" is a NSFW song. Entertainment Weekly pointed out that Cardi B "had to warn fans in advance ... that the lyrics to 'WAP' are so raunchy that YouTube asked her team to [use] a censored version of the song for the visual."
So what's so buzz-worthy about the song? Well, first of all, there's the video that features the duo "wander[ing] through a mansion, where lavish rooms are occupied by beautiful women, including some very recognizable cameos: Kylie Jenner, Normani, and Rosalía, to name a few," Rolling Stone explains. Beyond that, the main ladies deliver their own sensual performances while rapping: "I'm talkin' wap, wap, wap / that's some wet and gushy."
While that might give you a hint as to the meaning of the song, read on to find out what Cardi B herself has to say about the lyrics which might make you blush.
Cardi B warned fans about the 'nasty' nature of the song
When you listen to "WAP," it's obvious that the song is about, er, intimate relations. You know, sex! However, you might be wondering what those letters actually stand for. "Wet Ass P****," Cardi B explained while talking about her single with Megan Thee Stallion during an interview (via Hot 96.9 Boston).
"The song is really nasty. The song always been nasty," Cardi continued. "My verses and the hook has been the same since before Megan was there. So it just always been a nasty song and it's like, 'Who's saying more nastier things than Megan?'"
Cardi also talked about the task of bringing the song down a notch or two when it comes to nastiness, saying, "It was really hard for me to clean this song up." She then reportedly delivered some of the lyrics, rapping, "Now from the top, make it drop, bounce that big ol' booty." And if you've seen the video, you'll know that's exactly what she does in her oh-so-entertaining way.