The Truth About Queen Latifah And Jada Pinkett Smith's Friendship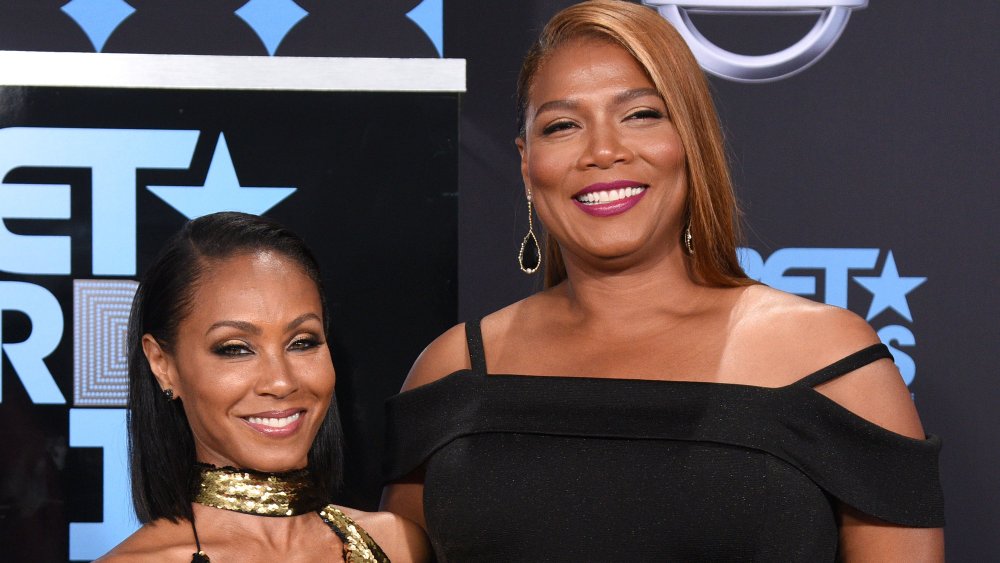 C Flanigan/Getty Images
From the sitcom A Different World, to movies like The Nutty Professor and Madagascar, to her Facebook talk show Red Table Talk, actress Jada Pinkett Smith has taken over screens both big and small. By the same token, rapper and actress Queen Latifah opened doors for female rappers while acting in hit shows like Living Single, films like Hairspray and The Secret Life of Bees, and her own talk show, The Queen Latifah Show. The two actresses joined forces in the 1996 film Set It Off, which was the beginning of their on screen friendship.
In the hit '90s film — which also starred Vivica A. Fox and Kimberly Elise — Pinkett Smith and Latifah appeared as friends who coordinate a bank robbery. 21 years later, Pinkett Smith and Latifah starred in Girls Trip, another feature film centered around Black female friendship. So what happened off screen in those two decades? An off screen friendship.
"Jada and I can have whole conversations where we haven't really said anything, but we've said a lot," Latifah told People in 2017. The actress also explained how their friendship after Set It Off involved a lot of peaceful girls' nights as Pinkett Smith got married a year after the movie came out and had children. "She invites me to a lot of girls' peace [get-togethers], like, 'La, come to the spa, chill out, find your Zen.'"
Queen Latifah and Jada Pinkett Smith met as teens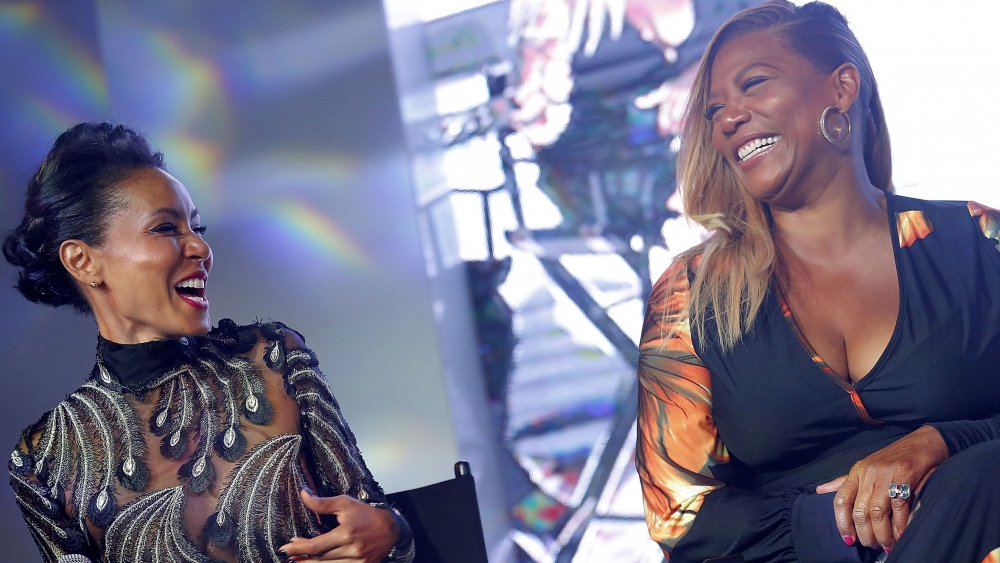 Jonathan Bachman/Getty Images
The story behind Queen Latifah and Jada Pinkett Smith's friendship begins long before the two actresses became on screen friends in 1996. While doing a press tour for their 2017 film Girls Trip, Pinkett Smith told People that she was just a teenager sneaking into a nightclub when she first met Latifah.
"It was in Baltimore at a club where she was performing. I'd never seen anyone like her before, this female rapper named Queen Latifah. I convinced the promoter to let me introduce her," said Pinkett Smith, who did end up taking the mic to introduce her soon-to-be longtime BFF to the stage. While reminiscing on the time, Latifah revealed she was only 17 at the time. "My mother was with me," she said."That's how young I was." 
Meanwhile, Pinkett Smith was only about 15. She recalled: "I had no business being in that club!" The actress' chance meeting was clearly fate, kicking off a lifetime of friendship.
Queen Latifah thanks the Smiths for her acting career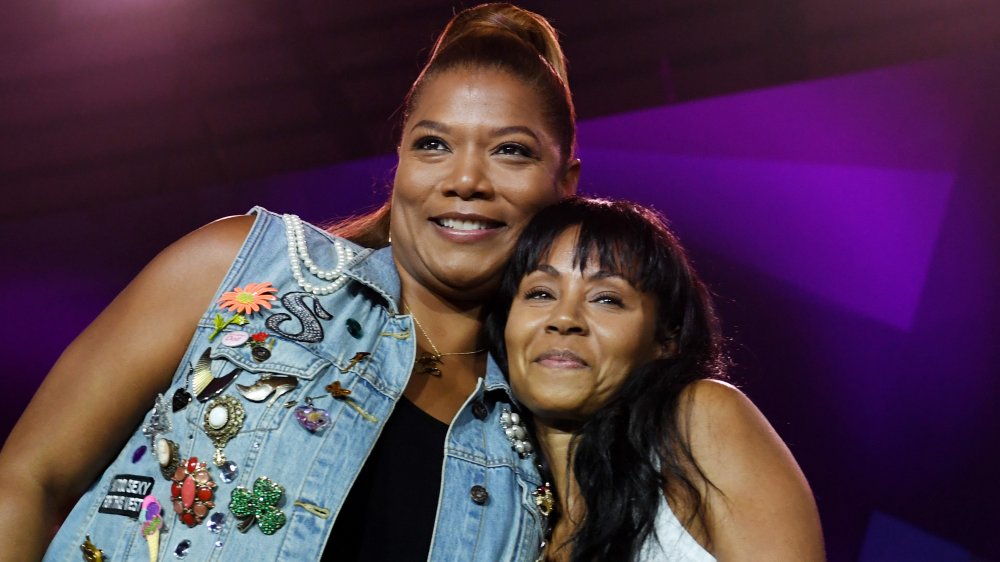 Paras Griffin/Getty Images
While Queen Latifah and Jada Pinkett Smith first shared the screen in 1996's Set It Off, their friendship runs much deeper than that. Latifah has been close the the Smith family for years, and even credits Will Smith with kickstarting her career on screen by giving the rapper her first acting job. "Will, of course, and Jada, have been there, like, my entire career. Anytime I do something or want to try something, I mean, Will is like [on it]," Latifah said in an interview with PeopleTV.
In 1991, Will Smith, a rapper-turned-actor himself, supported Queen Latifah by giving the rapper her first job on television on his show The Fresh Prince of Bel-Air. In the interview with PeopleTV, Latifah recalled that the director on the show at the time, Ellen Gittelsohn, taught her how to act and eventually was the director for Latifah's sitcom Living Single, which debuted in 1993.
After years of supporting each other's work, Latifah and Pinkett Smith hope to work together on screen again – hopefully, without a 20-year delay. "We can't wait another 21 years to do this. We've worked together a lot. She's produced me; I've produced her, but we can't wait 21 more years before we get on the screen," Pinkett Smith said in a red-carpet interview with E! News in July 2017. 
Only time will tell if the two are able to team up for another project in the foreseeable future.