Children's Services Investigating Anthony Weiner Amid Sexting Scandal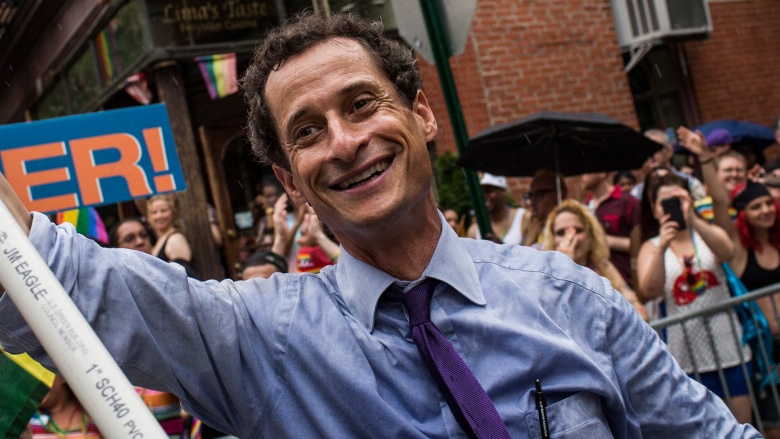 Getty Images
Anthony Weiner's sexting scandal just got even worse. The New York Post reported on Aug. 31, 2016 that the Administration for Children's Services (ACS) is investigating the former Congressman after he allegedly sent salacious photos to a woman, with his 4-year-old son in the background. ACS reportedly arrived at the New York apartment of Weiner and his soon-to-be-ex-wife, Huma Abedin, on Aug. 30, 2016.
As Nicki Swift previously reported, Weiner was caught sexting with a woman he met through Twitter on Aug. 28, 2016. One of the photos Weiner sent showed his shirtless body and crotch while his son, Jordan, lay next to him in bed.
In a subsequent report published by the Post, Weiner reportedly bragged via text about how he used Jordan to attract women. "Already at work. Being a chick magnet," Weiner allegedly wrote in one text exchange alongside a photo of Jordan sitting in a playground swing. "It's like a puppy. Chicks love cute kids and puppies." Weiner allegedly sent "at least nine photos" of Jordan to the woman, according to the Post.
This is the third time Weiner has been caught sexting with other women. He was forced to resign from Congress after his first scandal was uncovered in 2011. Two years later, his campaign for mayor of New York City fell apart when tabloids discovered he had been sexting yet again.
In the wake of this latest sexting scandal, Abedin—who is one of Democratic presidential candidate Hillary Clinton's closest political aides—announced she was separating from Weiner after six years of marriage. "After long painful consideration and work on my marriage, I have made the decision to separate from my husband," Abedin she said in a statement. "Anthony and I remain devoted to doing what's best for our son, who is the light of our life. During this difficult time, I ask for respect for our privacy."
The couple wed on July 10, 2010. Former President Bill Clinton officiated the ceremony.
In the wake of this latest scandal, Weiner—who earlier this year was the subject of a critically acclaimed documentary about his many scandals—was dropped from the NY1 political program Wise Guys.