This Is Why The Siesta Key Cast Wants Nothing To Do With The Jersey Shore Cast
When Siesta Key first premiered on MTV, viewers naturally compared it to Jersey Shore. Although Siesta Key takes place on a barrier island off the coast of Sarasota, Florida while Jersey Shore is primarily in Seaside Heights, New Jersey, both shows follow a group of friends living in a beach town, so no one could be blamed for assuming that they would be somewhat similar. 
But don't tell Siesta Key cast members Juliette Porter, Alex Kompothecras, Madisson Hausburg, Brandon Gomes, Kelsey Owens, Garrett Miller, or Chloe Trautman that. In fact, the Siesta Key cast doesn't support the Jersey Shore comparisons one bit, and they've been adamant in insisting that they are nothing like their predecessors at all. 
Their main beef with Jersey Shore? That the cast consists of full-time partiers. Ahead of the series' premiere in August 2017, the men and women of Siesta Key sat down with Page Six for a video and listed all of their grievances with people who think that they are anything like their northern counterparts. 
The Siesta Key cast says they aren't 'guidos'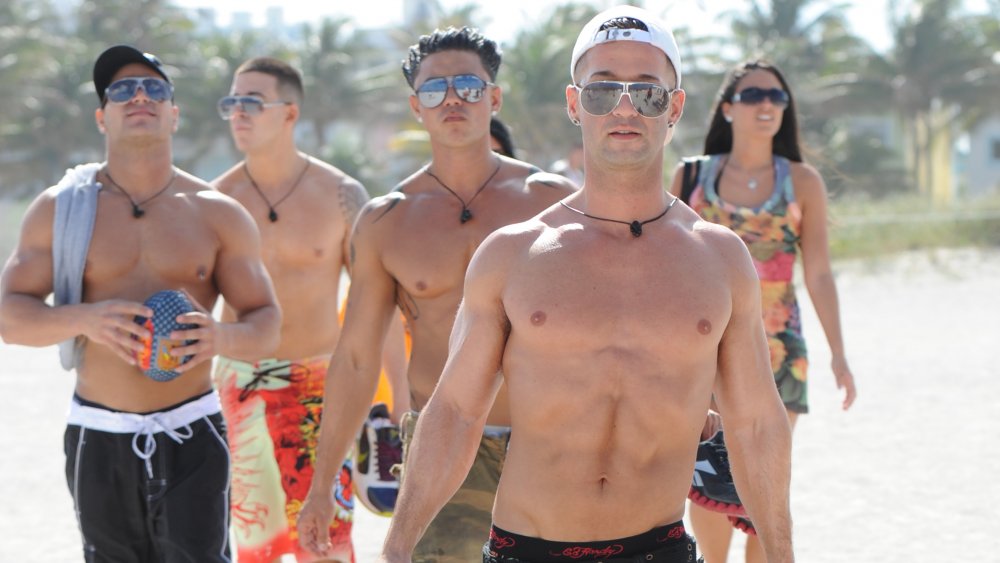 Larry Marano/Getty Images
The cast of Siesta Key seems to think that Jersey Shore — MTV's OG beachy reality TV show — is beneath them. Chloe Trautman, for example, said in a video interview with Page Six that she and her castmates don't drink "all day" like the Jersey Shore kids, and she was proud to report that the show would document them doing things other than partying. Alex Kompothecras, who is no longer with the series as of summer 2020, doubled down on her statement, noting that Jersey Shore was about following a bunch of "guidos" who all look alike, and that their cast was more diverse. 
Brandon Gomes also told YourObserver before the show premiered that he knew people would "pre-judge" the show, but that he was hoping people would be surprised by the final result. "Whenever you tell somebody you're going to be part of a reality TV show, all they think is it's going to be trash. But I just keep trying to tell them to wait until it airs. It's going to be classy," he said. The insinuation seems to be that other reality shows are in fact "trash" and not as "classy" as him and his Siesta Key friends. But of course, that's all subjective. 
But Siesta Key has also had some controversy
Just because the Siesta Key cast members insist their show is classier than other reality shows, such as Jersey Shore, that doesn't mean that the series is without controversy. For example, in June 2020, original cast member Alex Kompothecras, whose father is an executive producer on the show, was fired due to past racist comments he made on social media, per Us Weekly. MTV told the outlet at the time, "We've made the decision to cut ties with Alex and are editing the current season to minimize his presence. He will not be in future seasons of Siesta Key."
A lot of the drama in Season 3 was going to revolve around Alex and his girlfriend, Alyssa Salerno, welcoming their daughter, per Page Six. Although Alex will be cut from the second half of the season, Alyssa will still be in the show, so it will be interesting to see how the producers work out that balance. 
All reality shows and their stars tend to have a fair amount of controversy — so maybe the Siesta Key crew shouldn't have been so quick to judge the "guidos" in Jersey.