What Cat Ommanney From RHODC Is Up To Today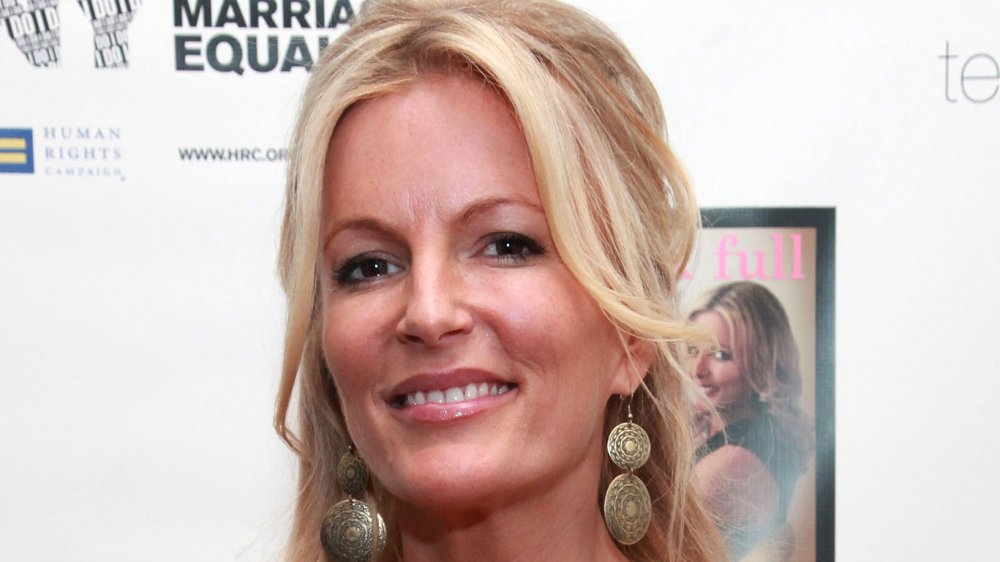 Astrid Stawiarz/Getty Images
Being a Real Housewives star isn't always easy, but some have it a whole lot harder than others. For Real Housewives of D.C. alum Cat Ommanney, her time on Bravo was especially rough, and she left with a bad taste in her mouth for reality television. The London socialite appeared on the one and only RHODC season that premiered in August 2010, and some fans might argue Cat was given the "villain" edit straight from the beginning. 
As a refresher, her tagline was "I'm here for a good time, not a long time," and given how she bailed from the United States following Season 1, the sentiment is pretty accurate. Perhaps Cat regretted bragging about her husband, Charles Ommanney, a then-White House photographer, and her claim that his pictures of Joe Biden and President Obama helped secure the 2008 presidential election. 
But that wasn't Cat's only flub. As recounted by the Daily Beast, the ex-reality star also showed up to a dinner party at cast mate Stacie Turner's home and sniffed a glass of wine before rejecting the drink. Since Turner is Black, many viewers believed the move was racist. She later added fuel to the fire when she made fun of Tyra Banks at another dinner party, and then complained that Obama didn't RSVP to her wedding and was therefore rude, per TV Guide. Yep, it was a lot. 
So is Cat as controversial today? Let's take a look at how she has been.
Charles and Cat Ommanney broke up
Although Cat Ommanney and her husband, Charles Ommanney, seemed OK on the Real Housewives of D.C., they ultimately split in 2010. The pair never welcomed children together, but Cat's two daughters from a previous marriage — Ruby and Jade — were close with Charles, as The New York Times noted. Cat told Parade about the split, "Obviously, my marriage fell apart and so my life has been completely turned upside down and inside out. I've had to do some major soul searching and I still am. Hopefully things will start to improve."
Charles, who moved to Miami after the divorce, expressed regret about the show. "I haven't seen it, but I've seen the previews and I made a promise to myself to not sit and watch my ex-wife," the esteemed photojournalist shared to the NYT."It's just too painful. "...I'd almost like to go and live in Katmandu. I have very few regrets in my life, but this is the one."
In response to Charles' claim, Cat told the Daily Beast, "Well, I'm kind of quite surprised, because it was actually his boss (at Newsweek) that asked me if she could put me up for the show. I didn't know what I was getting into. I hadn't heard of the show."
Ommanney also addressed her critics, telling the Evening Standard, "The fact that I was putting Tyra Banks down and mildly disappointed with Obama, it has nothing to do with color... I'm just not a big fan of Tyra Banks." 
Cat Ommanney expanded her family
Ultimately, Cat Ommanney knew that someone was going to get the mean girl edit on Real Housewives of D.C.., telling The Daily Beast, "I think there's always got to be a villain in any show. But I didn't imagine myself to be set up to be the villain. There's a lot of clever editing going on, because it looks like all my castmates don't like me, but I got to be good friends with most of them. I hope that will come out later in the show, and people will see the kinder, nicer side of me." 
It is unclear whether fan opinions about Cat have changed, although it is obvious she has moved on with her life. After returning to London, getting a divorce, and publishing a book in 2012, Cat spends most of her time in Mallorca, Spain, as seen on Instagram. She also welcomed another baby, Zara, in 2013.
Then there's Cat's new business, a lifestyle concierge for tourists visiting Mallorca. "Whether you're looking for your dream home, planning the perfect vacation, a day at sea, or simply the best table in town, my team and I can make it happen!" the ex-reality star states on the venture's website, Absolutely Mallorca. 
No matter how viewers might feel about Cat, it is nice to see she is doing ok now.