The Untold Truth Of Trump's Ex-Assistant Madeleine Westerhout
President Donald Trump's former Executive Assistant, Madeleine Westerhout, found herself at the center of a political scandal in August 2019 when she lost her job at the White House for oversharing personal anecdotes about the president and his family to the press. Among the more salacious revelations was her claim that Donald is displeased with Tiffany Trump's weight, and he doesn't like appearing in photos with her. Donald denied the assertion, tweeting at the time, "I love Tiffany, doing great!" However, he also defended Westerhout, calling her a "good person."
Westerhout, who eventually got promoted to director of Oval Office operations, will celebrate her 30th birthday in October 2020, and she hopes to start a new chapter with her tell-all memoir, Off The Record, released Aug. 11, 2020. "I was devastated after I lost my job," Westerhout told People about her reversal of fortune. "And I realized that I was nowhere near ready to jump into something new, and I wanted to take the time to process what happened. And I think this book reads almost like my diary."
Now that Westerhout is ready to tell her side of the story, it's fair to revisit the question: What do we truly know about Madeleine Westerhout? During her whirlwind tenure as the president's right-hand woman, she was called "Trump's gatekeeper," by The Washington Post, and former Press Secretary Sarah Huckabee Sanders was supposedly "terrified" of her, as Westerhout noted in her book. With all that in mind, let's take a closer look at Westerhout's life.
Madeleine Westerhout wasn't a Trump supporter... at first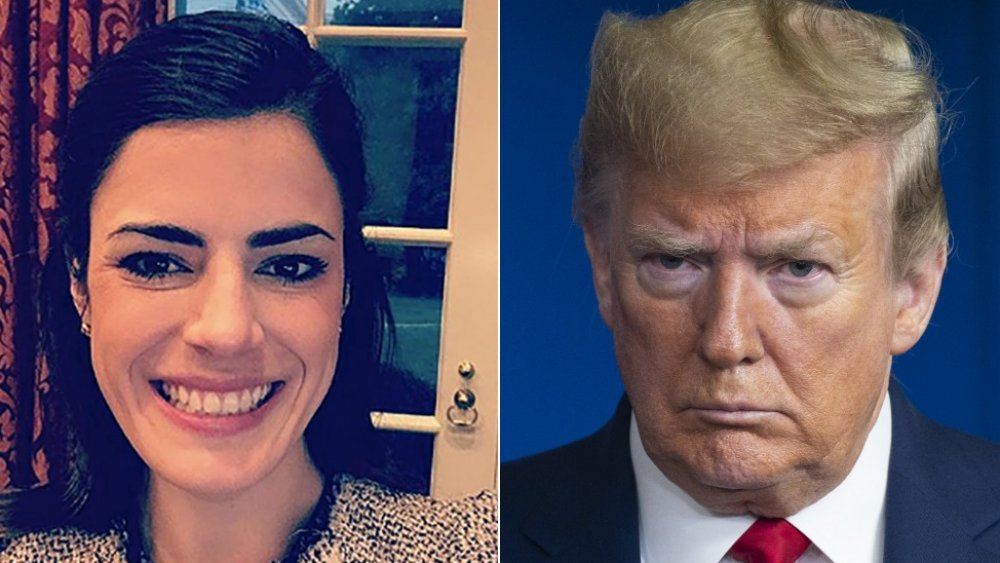 Scott Olson/Getty Images
Madeleine Westerhout joined the White House staff shortly after Trump's inauguration in January 2017. As a lifelong conservative, the former Soul Cycle instructor was excited to work for a Republican president...just not Trump. The Washington Post reported that Tim Alberta wrote in his 2019 book, American Carnage, that Westerhout was supposedly so distraught Trump won she burst into tears on election night.
But she pulled herself together. After spending several years working for the Republican National Convention and a stint with Utah Sen. Mitt Romney's presidential campaign, a position at the White House was too good an opportunity to pass up (and the reported $145,000 salary wasn't too bad either). Although the College of Charleston grad wasn't initially a fan of Trump, Westerhout came to love her job at the White House and became fiercely loyal to the president. Apparently, the feeling was mutual, as The Washington Post reported Alberta's claim that Trump used to call her "my beautiful beauty."
In fact, the two were so fond of each other that, Westerhout supposedly "bragged" to reporters that her relationship with Trump was closer than the one he has with his two daughters, Politico reported.
President Donald Trump still respects Madeleine Westerhout
Unlike other memoirs from former staffers, Madeleine Westerhout told People that her book is much more kind to the President. "I believe he loves this country, and he is doing everything in his power to keep the American citizens safe, and I just wanted to share with people the President Trump that I got to know," she relayed to the outlet. She was also very close with the whole Trump clan, claiming that Jared Kushner even told Ivanka Trump she was, "part of the family."
Although Westerhout no longer works in the White House, it looks like her new book did the trick and put her back in her old boss's good graces. "When I look at all of the Fake Books and garbage written about me, it's really nice to see a very smart and already wise young woman write an honest depiction of what went on at the White House during some extremely interesting and important times," President Donald Trump tweeted. "So many good stories by someone who, unlike most other so called writers, was actually there, and a part of the action – of which there was plenty. Go buy this book, a job well done!"
Westerhout also claims that she's now on speaking terms with everyone but Tiffany Trump, who didn't text her back after the ex-assistant apologized for leaking the anecdote about her weight. C'est la vie.
So will this new memoir rehab Westerhout's image? TBD.