Douglas Emhoff: Who Exactly Is Kamala Harris' Husband?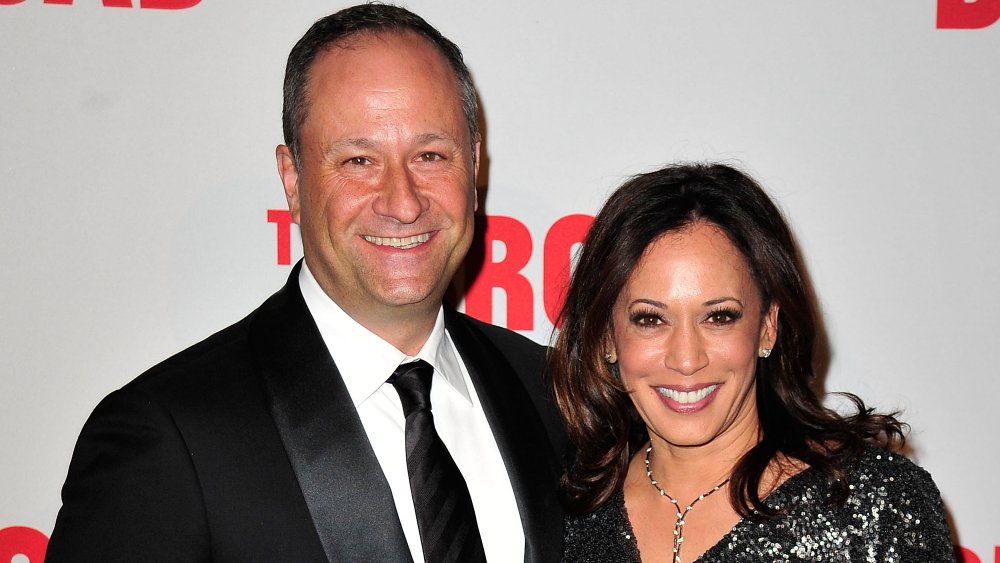 Jerod Harris/Getty Images
On Aug. 11, 2020, Joe Biden named Kamala Harris to be his running mate in the 2020 election, which, among other things, means that people will want to learn more about her personal life. Harris is married to Douglas Emhoff, who became an internet sensation when he jumped on stage to remove a protestor who interrupted his wife at a 2019 speaking event.
Aside from being a supportive husband, Emhoff is a partner at the law firm DLA Piper. He's also licensed to practice law in Washington, D.C., which would work out well if the family winds up having to make a big move in January 2021. The Emhoff family includes his son Cole and daughter Ella from his marriage to his first wife Kerstin Emhoff.
The Hollywood Reporter confirmed that Harris met her now-husband in 2013 on a blind date set up by a PR consultant named Chrisette Hudlin. She didn't meet Emhoff's kids Ella and Cole until she was sure that she was "in this for the long haul," writing for Elle, "As a child of divorce, I knew how hard it could be when your parents start to date other people."
Before moving to Southern California as a teen, Emhoff was born in Brooklyn, according to THR. After high school, he attended California State University-Northridge, where he obtained his Bachelor of Arts in Communication and Media Studies in 1987 (via LinkedIn). Immediately after, he enrolled in law school, ultimately earning his law degree from the USC Gould School of Law in 1990.
Douglas Emhoff and Kamala Harris had a short engagement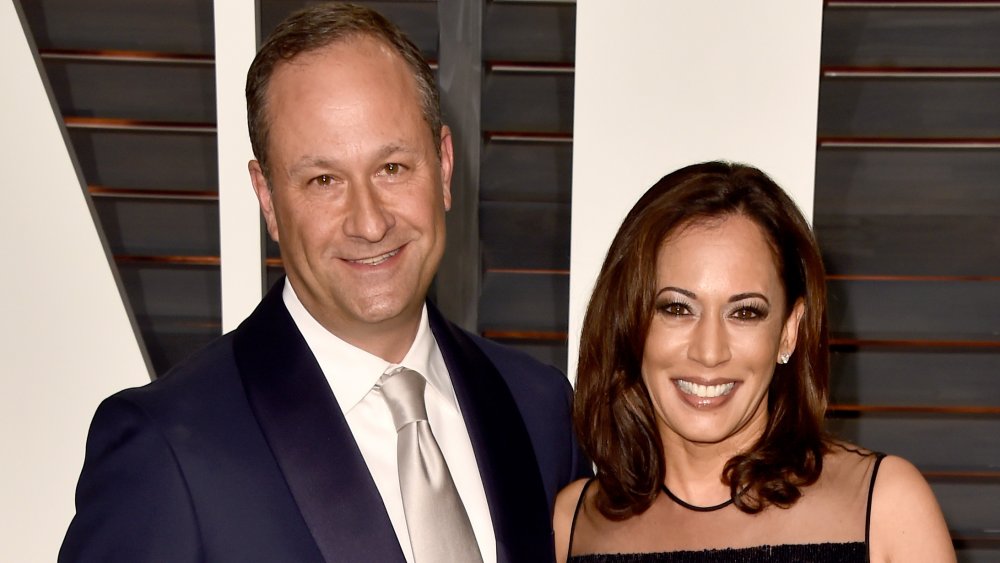 Pascal Le Segretain/Getty Images
In 2014, SFGate reported that Kamala Harris, who was attorney general at the time, got engaged to Douglas Emhoff after "about a year" of dating. The proposal was relatively low-key with Emhoff popping the question on March 27, 2014 at Harris' apartment. She told the outlet that her then-fiancé "has the best sense of humor" and is "incredibly smart." At the time, she said, "I don't believe in long engagements," guessing they would be married "within six months and it'll probably be intimate."
Harris was right about that one, since they tied the knot at the Santa Barbara courthouse in August 2014. The ceremony was conducted by the sister of the bride, Maya Harris, according to SFGate. Even though they opted for a courthouse wedding, the couple still added in some personal touches. There was a cellist playing music. They wrote their own vows and incorporated traditions from each of their backgrounds. At the end of the ceremony, they broke a glass to honor Emhoff's Jewish heritage. Harris also placed a flower garland around his neck, in honor of an Indian wedding tradition. And then they went back to normal life, instead of embarking on a honeymoon.
At this point, it seems like Emhoff is the most supportive spouse he could possibly be, based on his social media activity about his wife's political aspirations (more on that in a minute). But hopefully, as the campaign continues, the public will get to know more about him beyond being just a famous husband.
Douglas Emhoff is a proud Instagram husband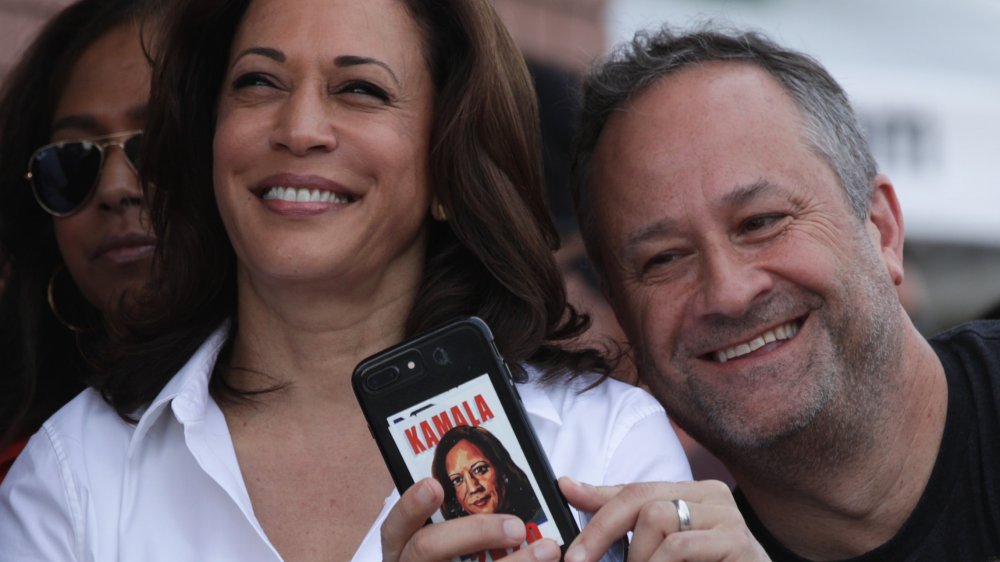 Alex Wong/Getty Images
There's no doubt that Douglas Emhoff is an accomplished person in his own right, but in addition to being a successful lawyer and an involved father, he is also the ultimate Instagram husband. No one is more supportive of Kamala Harris and her political aspirations than Emhoff. He sums up his roles rather succinctly in his Instagram account bio, which says, "Dad. @kamalaharris Hubby. Lawyer."
Emhoff often uses social media to demonstrate how much he supports Harris. In March 2020, he posted a photo of a graphic that read, "A woman's place is in the White House," and wrote, "I had this sticker on my phone most of @kamalaharris's campaign. One day, hopefully soon." After Harris dropped out of the race to be the Democratic nominee in December 2019, Emhoff shared a photo of himself embracing his wife, writing, "I've got you @kamalaharris. As always."
Aside from sharing photos posing with Harris as a couple, he's solidified his role as her biggest fan with many other social media posts. In one October 2019 Instagram, he proudly held up an issue of Time with Harris on the cover. He even posted a photo posing with a cardboard cut-out of his wife while she was away on the road, which he has actually done on more than one occasion. Emhoff's support for Harris is nothing short of infectious. His photos and those sweet captions add some lightheartedness during the chaotic year that is 2020.