Married At First Sight: Details About Brett And Olivia's Relationship
Every season of Married at First Sight has a villain of sorts, and in Season 11, that person is arguably a cast member named Brett. It is a shame, if only because of Brett's match, Olivia, who is so dedicated to the process and willing to dive into marriage. But Brett and Olivia's relationship on Married at First Sight has seemingly been doomed from the start. Although the experts sometimes get a win when it comes to their matchmaking skills, there are other times when they are just way, way off. (Um, can we say Ryan and Jessica from MAFS Season 2?) It seems like another one of those cases. 
To refresh your memory, Brett is a 35-year-old techie from Gretna, La. He told the experts that he was cheated on by his ex-fiancée and then went on to date 45 women in a row, forcing the show to label him the "Serial Dater" in his premiere intro package, per The Cinemaholic. Olivia, per her Lifetime bio, is a 30-year-old who works at a comprehensive stroke center and hasn't had time to date, hence going on the show to help assist in finding someone ready for a commitment. Why the experts ever matched a "serial dater" with someone as sweet as Olivia — her chyron during the premiere read "Sugar & Spice" — fans will never know. Although, it is making for one juicy MAFS season. 
Want to know more about this seemingly mismatched pairing? We spill the tea below.
Brett doesn't seem ready to settle down
Brett had fans worried from the start, mostly because he seems like a big flirt. Flirting is not a bad thing, of course, but his moves seem to make the women around him uncomfortable while he remains unaware. Viewers got a taste of this when Brett showed off his signature move while tux shopping — a wink and a "call me" hand gesture, according to Screenrant. He repeated the action to a waitress in another scene, and at his bachelor party, he made castmate Henry's friend, Kristen, visibly uncomfortable with his flirting. This doesn't seem like the actions of a soon-to-be-married man, right?
As if that weren't enough to make you worry about Olivia's heart (and time that he might be wasting), Brett's feelings about intimacy and physical attraction are also questionable. "I'm really attractive so I'm confident that it will be fine," Brett said when talking to relationship expert, Dr. Viviana Coles, about intimacy with his new wife, per Screenrant. Alrighty then!
Brett dug the hole deeper when chatting to Olivia's friends bout his intentions. Coming off a bit self-involved and naive, he told Olivia's matron of honor that he thinks marriage will be "simple" and that his biggest fear about this MAFS journey is that "[his] contacts will dry out before [he] get back to [his] room to put drops in," as TV Insider noted. Any expert (or non-expert) could see that maybe Brett isn't quite ready to dive into marriage.
Olivia was not impressed with Brett's behavior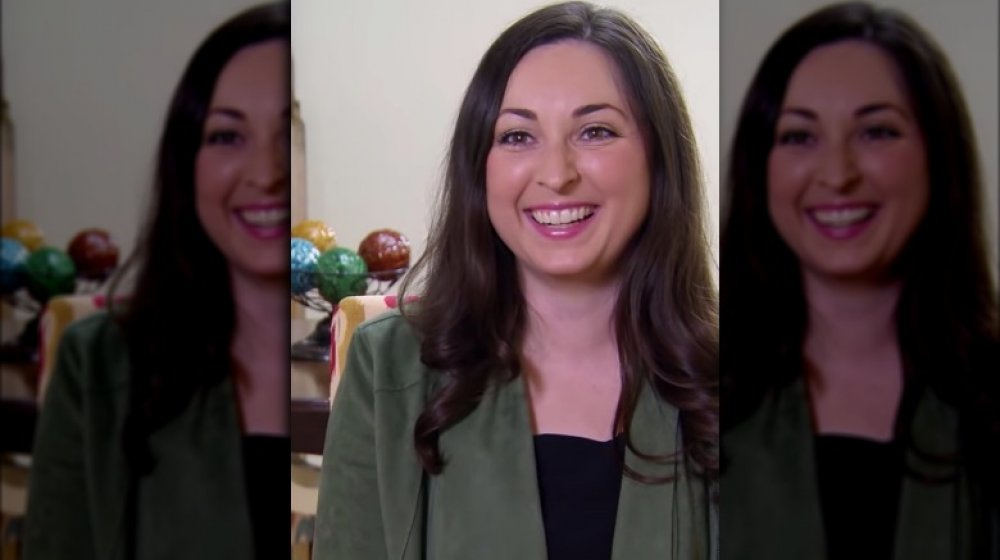 Lifetime/TLC
It's not clear whether Olivia and Brett are still together as the show is still airing as of this writing, and Olivia's Instagram is still private. But it's probably safe to say that things will crumble as the season goes on. The evidence? Olivia wrote in a blog for Us Weekly on July 15, 2020, that she watched the premiere, and was appalled at some of the things Brett said and did. She noticed that his family was skeptical, making her wary, too. "As for Brett, his dad did not seem thrilled and his siblings didn't have much to say — the looks on their faces say it all," she penned. "They all seemed shocked that he would even consider getting married given his dating history."
She continued, "It sounds like looks are everything to Brett, and the flirting ... eek! Some of the things Brett says are so shocking to me. He sounds like a playboy. I feel so bad for Kristin as Brett clearly made her feel so uncomfortable. Brett doesn't appear to be into the experiment based on the bachelor party." 
Only time will tell how these two make out, but based on appearances, it's going to be one rocky relationship journey to get to happily ever after.