The Truth About Timothee Chalamet And Saoirse Ronan's Relationship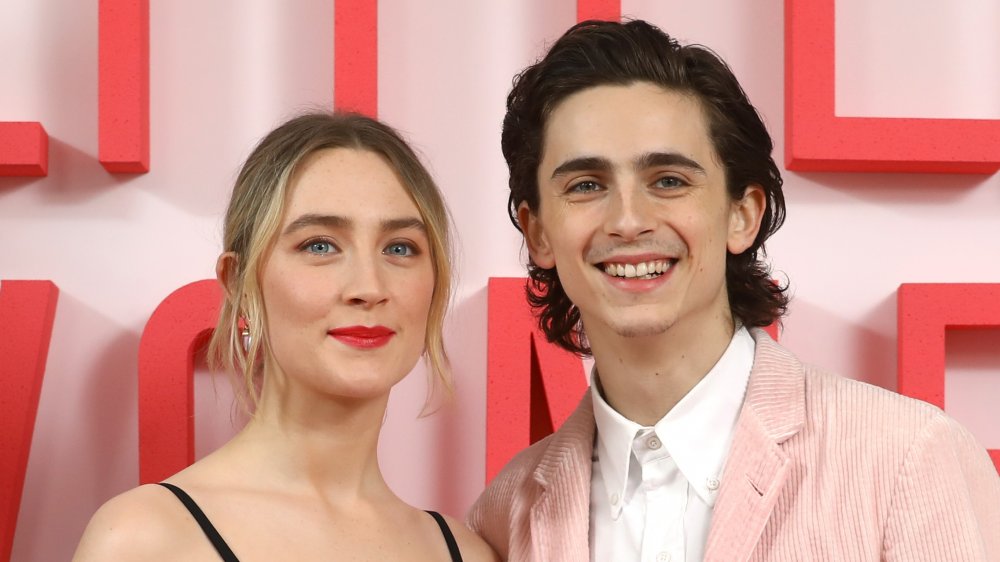 Tim P. Whitby/Getty Images
Timothée Chalamet and Saoirse Ronan have starred in a couple of pretty beloved movies together. Taking part in director Greta Gerwig's Lady Bird and Little Women, Chalamet and Ronan built a beautiful friendship and have nothing but lovely things to say about each other — when they're not breaking each other's hearts on screen, that is.
In Lady Bird, Ronan portrayed the title character who briefly romances Chalamet's Kyle. In turn, Chalamet portrayed Laurie in Little Women while Ronan played Jo. In both movies, a romance turns sour for the characters, something they joked about with Entertainment Weekly in 2019 when promoting Little Women. "I love that in Lady Bird, you broke my heart," Ronan quipped to Chalamet during the interview. "In Little Women, I got to break your heart." To which Chalamet jokingly replied, "Yes, that's true. Then I married your sister."
Off-screen, though, the two are friends who seem to enjoy working together. "He keeps me on my toes — I'm never quite sure what he's going to do next," Ronan told EW of Chalamet. "That only progressed more and grew more. It helped that we do have a very natural rapport with each other."
Ready for more sweetness? Let's dive deeper into this adorable friendship.
Timothee Chalamet is so 'grateful' for Saoirse Ronan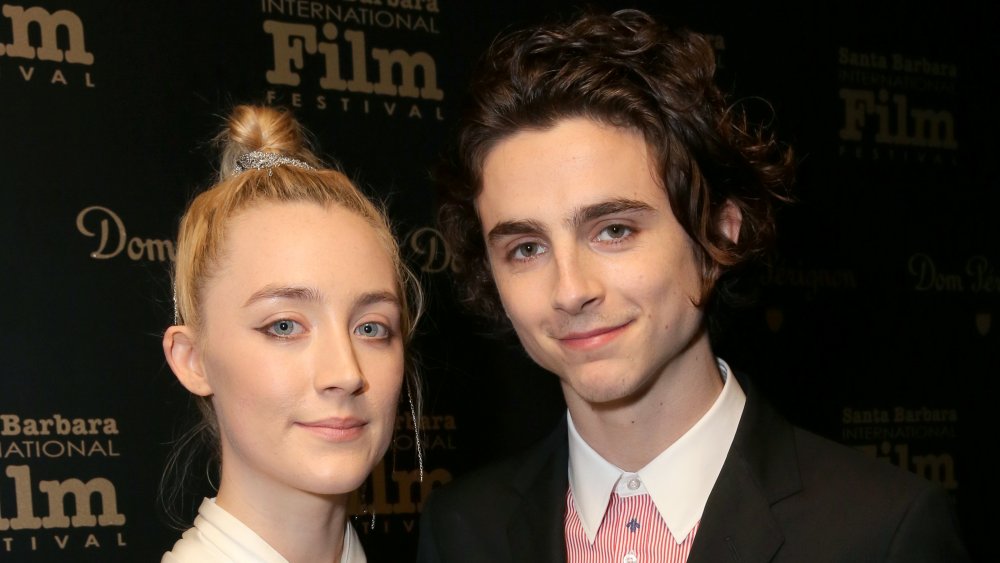 Rebecca Sapp/Getty Images
Timothée Chalamet and Saoirse Ronan's friendship can be traced back to when they were both cast in Lady Bird, marking their first film together. They've also filmed Little Women side by side and will take to the screen together again in Wes Anderson's The French Dispatch. As two of the most well-liked actors of their generation, it's only fitting that they continue to star together in these beautiful films — especially considering they work so well together.
"It's so rare with Saoirse — I'm so f***ing grateful to get to work with her," Chalamet told Entertainment Weekly in 2019. He added that when he's older and writes a book about his life, he might just have to dedicate a chapter to Ronan. "A chapter of Saoirse," Chalamet declared. 
Ronan seems just as pleased to work with Chalamet, though she has a more humorous take on it, even telling Access Hollywood in 2019 that when girls ask her about "Timmy," as she affectionately calls him, she tries to gush about his acting but ends up telling him about his dreamy eyes. Truly nothing but love between these two! 
As for whether a romance could blossom down the line? We're ruling it out at this point, as Ronan is rumored to be dating her Queen of Scots co-star, Jack Lowden, while Chalamet has been linked to actor Eiza González. Before that, the Call Me by Your Name star was romancing Lily Rose-Depp.