Did Chris Brown's Accuser Try Setting Him Up?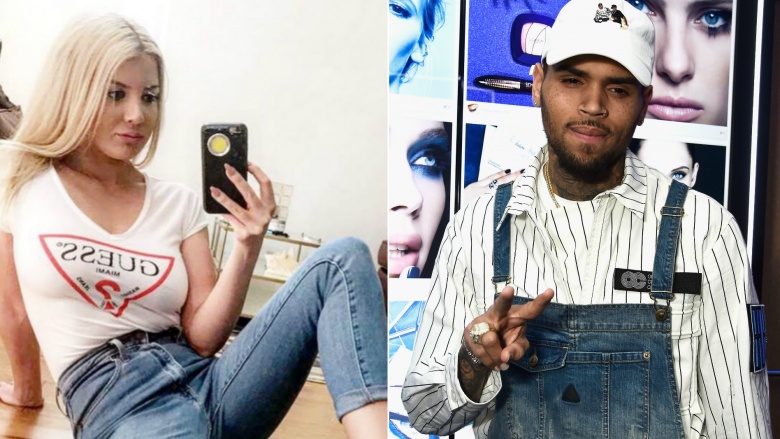 Getty Images
Chris Brown's insane arrest this week just got a little crazier.
Breezy was arrested for allegedly threatening a woman named Baylee Curran with a gun on Aug. 30, 2016, but emerging details are increasingly sketchy. Brown had an hours-long standoff with police on his Los Angeles property, with the Los Angeles Times reporting that "at least half a dozen people exited the home" when detectives entered the premises, and "a few of them [were] holding their hands behind their heads as police patted them down." A law enforcement source told the newspaper a duffel bag that had apparently been tossed out a window contained evidence connected to the case. Brown was taken into custody and released shortly before midnight on $250,000 bail.
Since then, Curran has spoken to almost every imaginable media outlet, including the New York Post, Entertainment Tonight, E! News, and TMZ, and now her past has come back to haunt her online.
Page Six reports that Curran was a suspect in a theft at the Plaza Hotel in New York City in 2013, in which a woman had a purse and its contents stolen, and that there's still a warrant out for her arrest in the Big Apple. The victim of the alleged theft told the paper, "She is literally blacklisted from places in LA because of her bad reputation attacking and stalking girls." Curran denied the accusations.
Meanwhile, TMZ obtained text messages allegedly from Curran to a man named Safari that insinuate she may have tried to set Brown up. "Hey safari don't you know this freak Chris brown is kicking me out of his house because I called his friend [sic] jewelry fake can you come get me my Uber is messing up if not I'm going to set him up and call the cops and say that he tried to shoot me and that will teach him a lesson I'm going to set his a** up. Lol come get me."
The site noted that Brown's attorney, Mark Geragos, is still trying to verify the authenticity of the messages, but noted that Safari claimed Curran previously tried stealing a watch from him, which may give him vindictive motives to set her up. (Are you tired yet?)
Also worth noting is that despite her insistence on her Instagram account that she "never wanted this," Curran seems to have been chasing fame for a while. TMZ reports she was a former pageant queen stripped of her Miss California Regional title in 2016 for failing to show up at community appearances as well as allegedly lying about nude photos. Curran has yet to return her crown to pageant officials.
After Brown was released from jail, he dropped a new song, so it appears that everyone involved in the brouhaha has been using it for their own promotional gain in one way or another.