NFL Players Who Are Sitting This Season Out Due To Coronavirus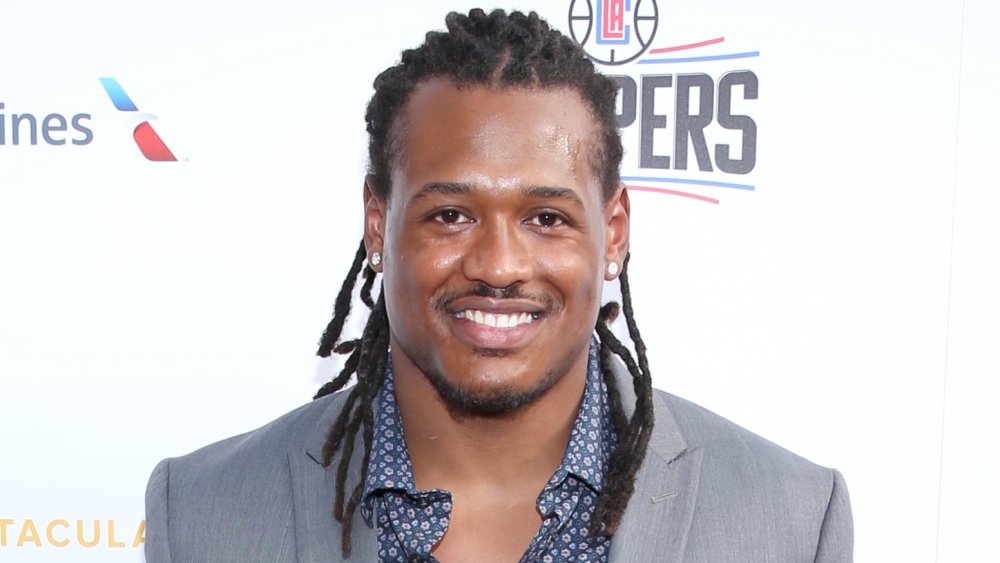 Phillip Faraone/Getty Images
Much like it's done to every other industry, COVID-19 has left professional sports scrambling to figure out how to operate during a deadly pandemic. The NBA created an isolation zone in Orlando called the "Disney Bubble," and as of mid-August 2020, celebrated the three straight weeks without a player testing positive. It wasn't always that great.
After watching other professional sports leagues that started seasons earlier struggle with forming a plan, then seeing 95 of its own players test positive for the novel coronavirus at what was supposed to be the start of the preseason, the NFL braced for the inevitable — some players just aren't going to hit the field during a pandemic. At the same time, several high-profile players, including 2019 Super Bowl MVP Patrick Mahomes, created the #WeWantToPlay social media campaign calling on the NFL to address their concerns and to agree to their list of safety protocols.
So the NFL decided to let players opt-out of the season. Per CNN, any player who voluntarily opts out will forego their salary for the year and receive a $150,000 advance from next year's contract. If any player is medically found to be high-risk for COVID-19, "they will receive a $350,000 stipend that does not count as a salary advance." When the Aug. 6, 2020 opt-out deadline passed, 67 players took the NFL up on its offer. Let's try a socially distanced huddle to discuss the NFL players who are sitting the 2020 season out due to coronavirus.
The Chicago Bears defense is a lot lighter now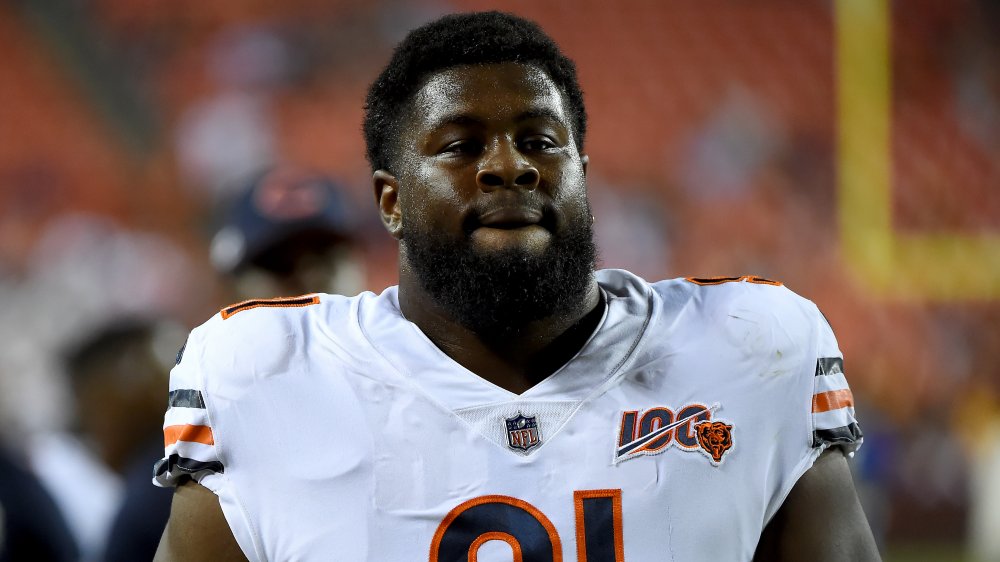 Will Newton/Getty Images
The Chicago Bears are entering the 2020 season with a gaping hole in the middle of their defense after their starting nose tackle Eddie Goldman decided to opt-out. Once called the "anchor" of the Bears' defense by the team's general manager Ryan Pace (via ESPN), the 6-foot-3, 320-pound lineman is one of the league's best-run stuffers.
Per Pro Football Talk, Goldman, a second-round pick by the Bears in 2015, reportedly told the team he had "health concerns." His teammates took the news the best they could.
"Man. Eddie's a huge part. Huge, huge, role to this defense," Goldman's teammate, inside linebacker Danny Trevathan said (via NBC Sports Chicago). "To have him not here, we're definitely missing a key part. But I think the guys that they brought in are going to have to step up. They're going to have to step up and it's our job to push them each day to get to that level of play. Because it's going to be a key factor." 
The New York Jets lost a defensive star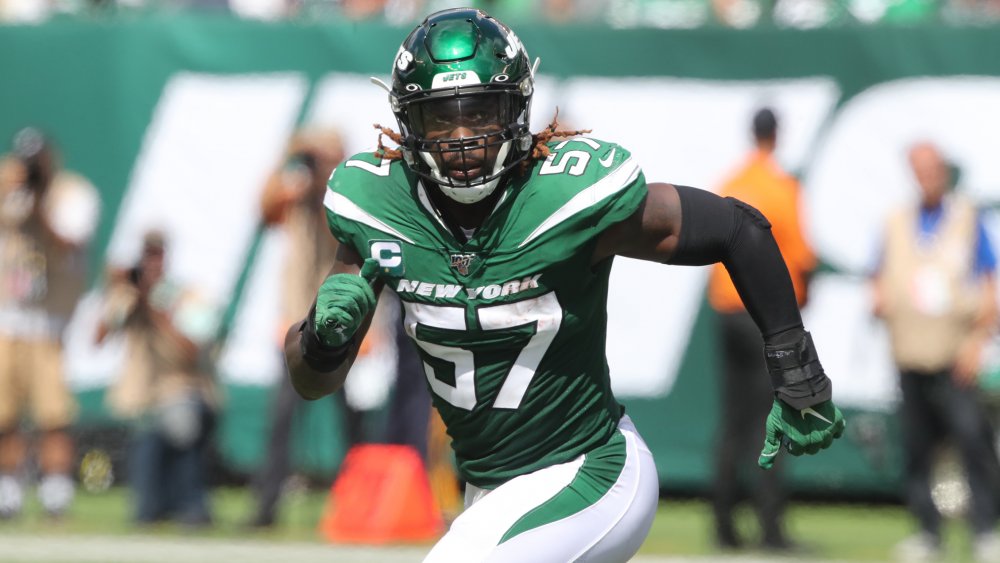 Al Pereira/Getty Images
On July 25, 2020, the New York Jets traded disgruntled young star, safety Jamal Adams, to the Seattle Seahawks. Less than two weeks later, another All-Pro player — inside linebacker C.J. Mosley — decided to opt-out. According to the New York Post, Mosley spent "a little more than a week" at training camp before announcing his decision.
"Because of COVID, my family is my support system with my son. I didn't want to risk that obviously," Mosley said. "Just looking at the big picture, for me, I want to make sure I'm mentally and physically the best person I can be so I can be that leader I know I can be."
Bradley McDougald, who signed with the Jets in the offseason, called Mosley a "baller," and stressed the team needs to quickly move on and not dwell on the loss of two key players. "Well, it already hit us and we can't feel sorry because our opponents won't feel sorry for us — it is next man up," he said (via Sports Illustrated). "And that the man behind [us] this great opportunity to show up and, you know, possibly change his career."
COVID-19 slowed down the Kansas City Chiefs offense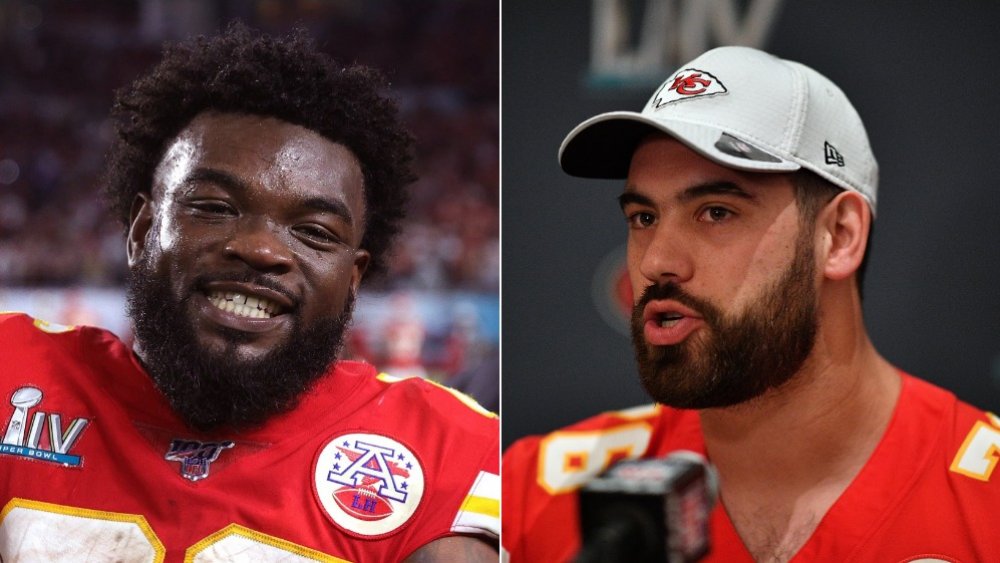 Tom Pennington/Max Brown/Getty Images
After racking up 711 combined yards during the 2019 season, the Kansas City Chiefs expected a "big jump" in 2020 for their starting running back, Damien Williams (above left). "When he shined, he shined at a level that helped us get over a hump in a few games — and obviously helped us in winning the Super Bowl," Chiefs running backs coach Deland McCullough said in July (via Pro Football Talk).
Later that month, Williams opted out, citing a singular reason: his mother's recent stage four cancer diagnosis. Although he stated that she told him she supported "whatever decision" he made, Williams called his mother his "rock" and his "everything." "Football is my life, especially coming off a championship and wanting to do a repeat — which, you know, I know they're gonna handle that. But at the end of the day, this was something personal," he explained to SiriusXM NFL Radio
The offense had already taken a hit when starting right guard Laurent Duvernay-Tardif (above right) became the first NFL player to opt-out. The offensive lineman and medical school graduate worked as an orderly in a Montreal long-term care facility during the pandemic, and what he saw there shaped his decision. "Being at the frontline during this offseason has given me a different perspective on this pandemic and the stress it puts on individuals and our healthcare system," he tweeted, adding, "If I am to take risks, I will do it caring for patients."
New England Patriots are #1 again... in the wrong category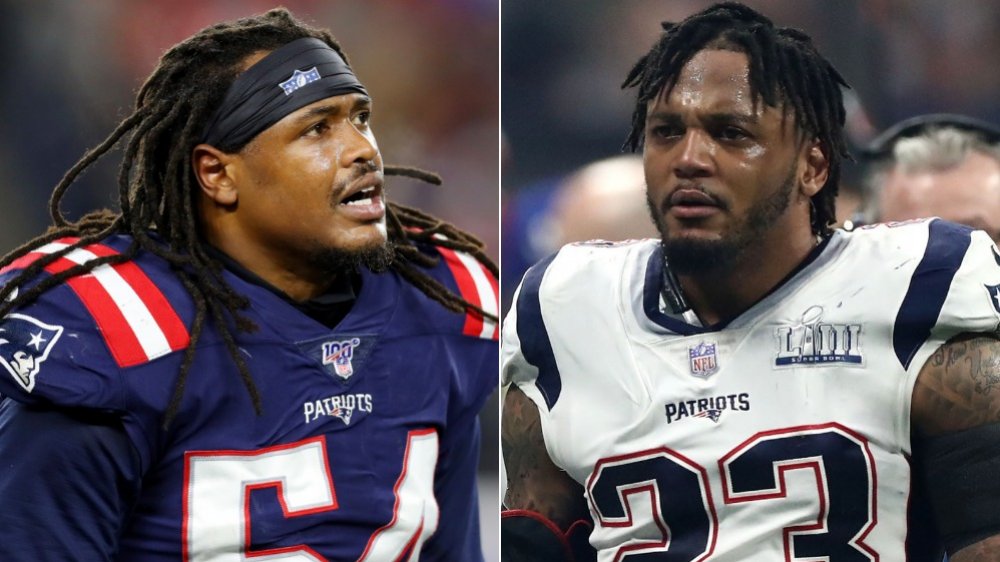 Billie Weiss/Getty Images
No other team was hit harder than the New England Patriots with a record eight players deciding to opt-out. Those players include linebacker Dont'a Hightower, safety Patrick Chung, offensive tackle Marcus Cannon, running back Brandon Bolden, tight end Matt LaCosse, fullback Danny Vitale, receiver Marqise Lee, and offensive lineman Najee Toran.
Nicknamed "Mr. February" by Patriots head coach Bill Belichick for his big plays in Super Bowls, Hightower (above left) announced his decision on Twitter. "This wasn't an easy decision or one I made lightly, but I do feel it's the best decision for my family at this time." Patrick Chung (above right), another stalwart of the Patriots' defense, opted out due to family concerns. "I have a girlfriend that's pregnant, a baby girl coming soon, my son has a little asthma, my dad is 75 years old. I just felt like this was the best decision for my family to keep everyone safe," he said on CBS This Morning. 
But Patriots Nation need not worry just yet — at least, according to ESPN reporter Adam Schecter who tweeted that "an NFL executive" told him, "You know Bill [Belichick] masterminding all of this somehow." Exactly how? That's unclear, although Fox News seems to think the legendary, but shifty coach will use the depleted roster to fully restructure the organization in the wake of ex-franchise star Tom Brady's exit. 
The Denver Broncos offensive line took a big hit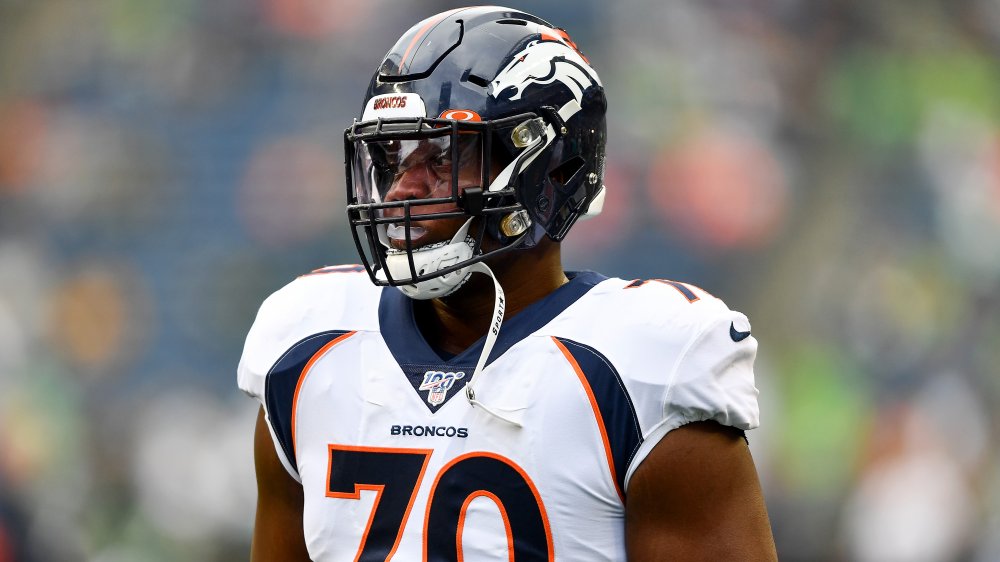 Alika Jenner/Getty Images
Prior to the 2019 season, offensive tackle Ja'Waun James signed a massive 4-year $51 million deal with the Denver Broncos to help shore up its offensive line. A year later, he decided to opt-out. "After continuous conversation with my family over the past couple weeks about the NFL figuring out the plan for the 2020 season, I've decided to opt-out," James said in a Twitter statement. "It is tough, but the right decision. There's just too much unknown about this virus & about plans handling it going forward. My wife & I were blessed with our newborn son May 22 & he's now my top priority."
James went on to say that one of his family members was hospitalized with the coronavirus and what he witnessed was "just not worth risking the health of my loved ones." According to ESPN, the Broncos brass was aware that James was considering opting out for weeks.
""The opt-out option is a player's choice and a player's right, and we'll respect that if a player decides to do that," Broncos president and CEO Joe Ellis said, adding, "That's absolutely, 100% their right, inherently. I've got no objection to that at all and would be supportive of that if that's what somebody wants to do."
The Green Bay Packers lost a much needed target for Aaron Rodgers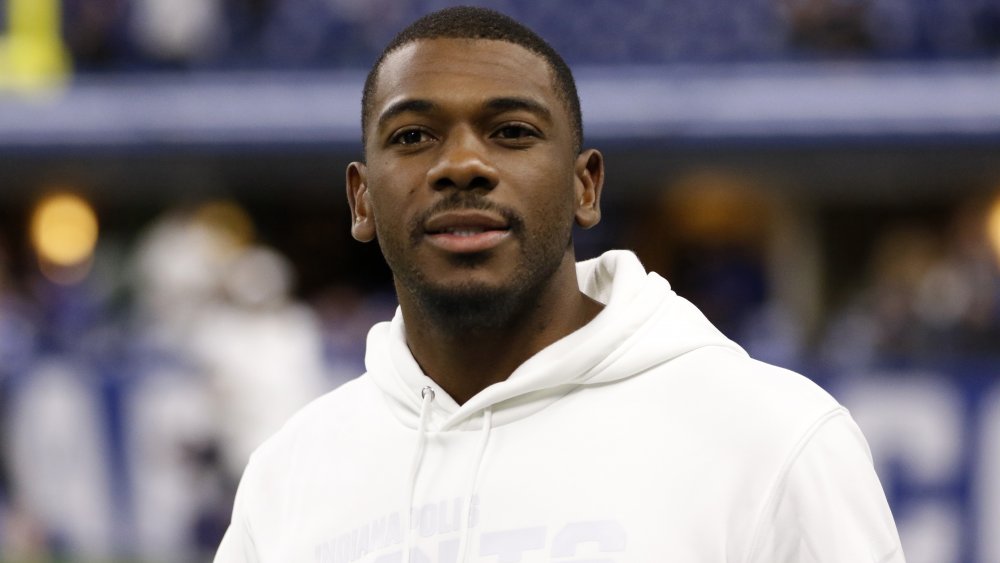 Justin Casterline/Getty Images
Despite having one of the greatest quarterbacks in the history of the game in Aaron Rodgers, the Green Bay Packers always seem to be thin at wide receiver. That's why the team signed former Carolina Panthers and Indianapolis Colts wide receiver Devin Funchess to a one-year, $2.5 million deal prior to the 2020 season to take over the No. 2 spot behind their star receiver and Pro Bowler Davante Adams.
Unfortunately for Aaron Rodgers, Funchess won't be taking the field in 2020. "My closest family members have experienced the life-threatening impact of COVID-19 first hand and for their own safety and my own safety, I've decided to opt-out of the upcoming NFL season," Funchess wrote in an Instagram post. "This was not a decision I took lightly but it's what is best for my family and myself at this time."
According to Packers Wire, Funchess was the only Packers player to opt-out of the 2020 season.
The Buffalo Bills defensive line is down a veteran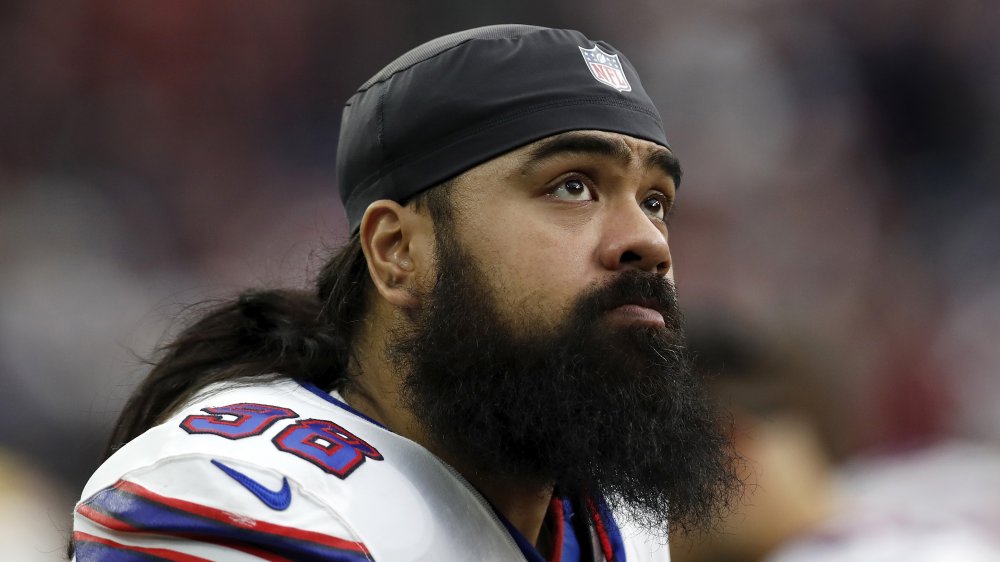 Tim Warner/Getty Images
The Buffalo Bills' defense got a lot lighter when their 6'2", 315 pound starting defensive tackle, Star Lotulelei, was the first Bills player to opt-out of the 2020 season. He signed a 5-year, $50 million deal two years prior (via ESPN). He hasn't missed a game until now.
According to Bills Wire, Lotulelei has four children and was found to have a heart condition due to a viral infection prior to the 2013 NFL Draft. The outlet speculates these issues were central to his decision. Luckily for the Bills, second-year defensive tackle Ed Oliver is waiting in the wings after an outstanding season where he was selected to the All-Rookie team. The team also welcomed Lotulelei's former teammate, defensive tackle Vernon Butler, after the Carolina Panthers chose not to re-sign him prior to the season. 
"I'm ready," Butler told The Buffalo News. "I came in ready. I hate that Star won't be with us this year, that's my guy. I wish him the best of luck, and I'll play with him next year." However, Butler understands Lotulelei's decision. "Some players have (underlying) conditions," he continued, adding, "If I was them, I would do the same thing because Covid's no joke. And when you think about it, your life, you've got to worry about that. Football will be here."
The New York Giants' young stars lost a valuable protector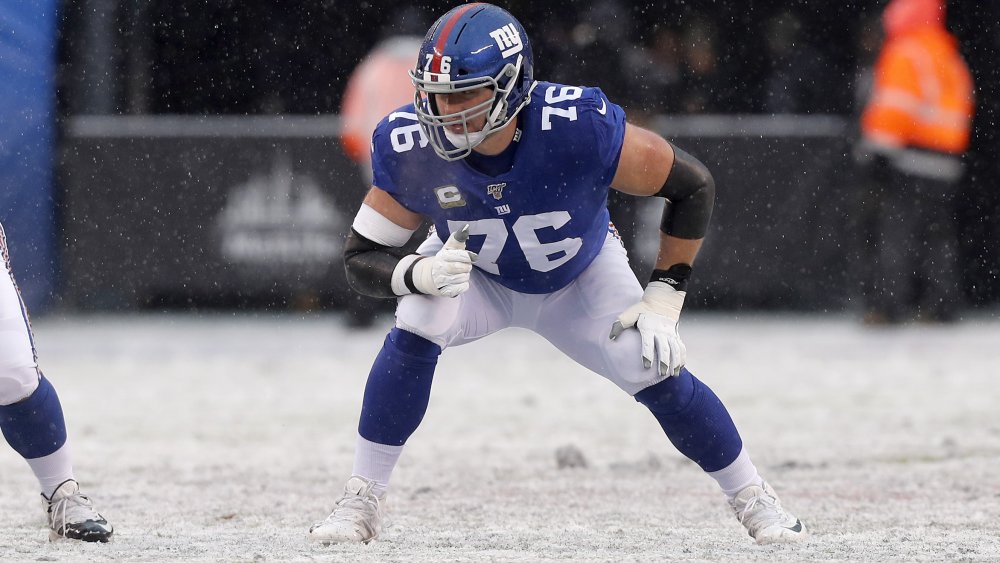 Jim Mcisaac/Getty Images
With a young running back and even younger quarterback, the New York Giants need all the offensive line help they can get. Unfortunately, they will be without the services of tackle Nate Solder. And for very good reason. Solder is a cancer survivor. His son is a cancer patient, as of this writing. Taking the field was never an option.
"My family and I have been praying, wrestling, and listening to God about our current circumstances and whether it is best that I play football this season," Solder said in a Twitter statement. "Our primary goal is to pursue God and listen to the Holy Spirit in everything we do. As hard as that can be and as daunting as what He asks us to do can seem, we have come to believe, trust, and wait on the Lord. That is why we have chosen to pause for this season."
Citing his family's health concerns and announcing he has a newborn child, the two-time Super Bowl champion explained that "our children's health and the health of our neighbors come before football." He added that he understands how even being allowed to make this decision was a "privilege." Solder is in the middle of a 4-year, $62 million dollar deal he signed after seven seasons with the New England Patriots.
The Minnesota Vikings support this new player's decision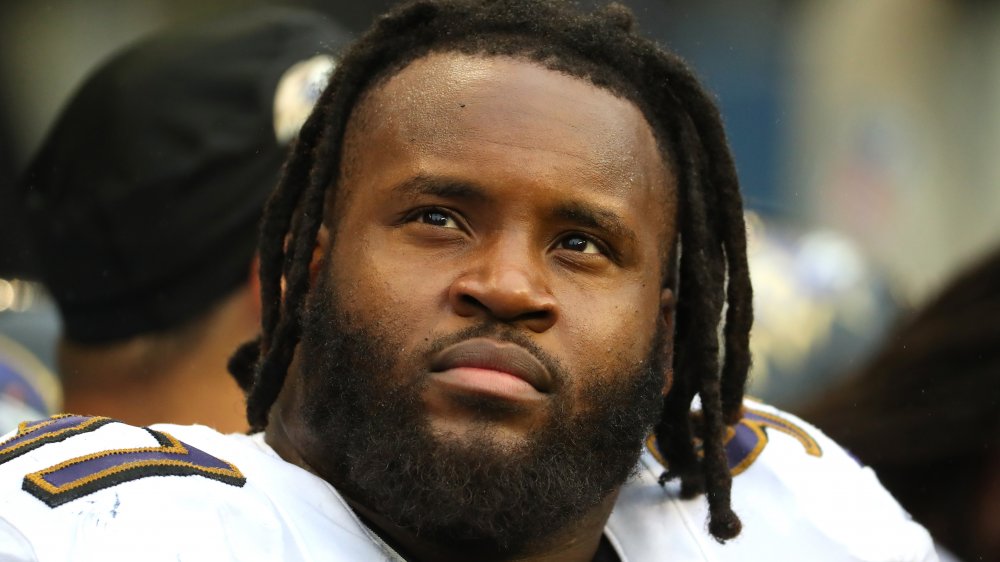 Abbie Parr/Getty Images
During the NFL's 2020 free agency period, the Minnesota Vikings signed defensive tackle Michael Pierce to a three-year, $27 million deal to shore up the interior of its defense. He won't play his first down for the team until 2021 after deciding to opt-out. According to Inside The Vikings, the 340-pounder told NFL Network's Albert Breer that he has asthma and suffered pneumonia a few years ago.
"It's hard, especially, not knowing my coaches and teammates that well," Pierce told Breer. "It's hard emotionally. And from a pure football standpoint, I was starting to ascend. It hit me hard. But at end of the day, what's worse? Missing the season, or playing eight games and winding up on a ventilator?"
Losing a prized free agent for the season would be tough for any team, but the Viking's leadership fully supports his decision. "It just wasn't safe for him to play," head coach Mike Zimmer said. "Really, honestly, if a player doesn't think he's safe and should do this, I'm with him 100 percent." General manager Rick Spielman stated that the "organization puts the health and safety of our players first," and Pierce has their full support. "With him opting out, I've told him, 'We respect your decision for that, and we want to make sure that your health and safety always comes first," he added.
Larry Warford made it easy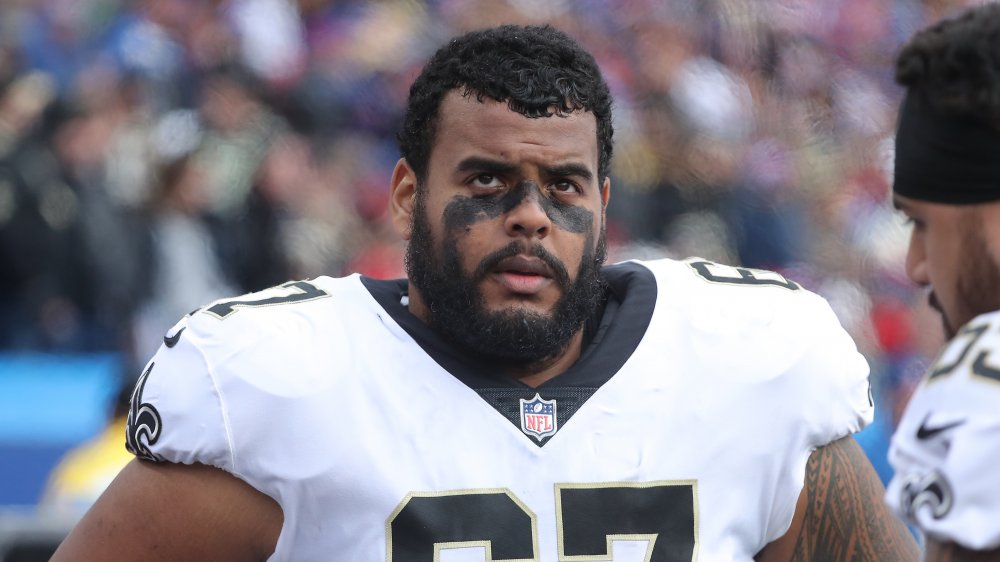 Tom Szczerbowski/Getty Images
Ex-New Orleans Saints guard Larry Warford, who was released by the team after the 2020 NFL Draft, chose to opt-out without signing with a new team, despite fielding "multiple offers," ESPN's NFL Senior Insider, Adam Schefter tweeted. He added, "Warford is looking to start a family and will continue to train and revisit playing in 2021," .
According to ESPN, the Saints released Warford to clear $7 million in salary-cap space and to make room for their 2020 first-round draft pick Cesar Ruiz. Per Saints News Network, Ruiz is playing for his father, who died after being hit by a car while he was helping another motorist change a flat tire on a South New Jersey highway. Ruiz was 8 years old at the time. 
"This whole entire experience is dedicated to that whole situation, that tragedy," Ruiz said during the NFL scouting combine (via the Los Angeles Times). "I still do it, every night, every day, I think about it. If my dad was here to see what I'm doing, he would be mind-blown. So I'm still playing for my dad, I still play through my dad, my dad still lives through me. And that's how it will always be."
NFL officials are opting out as well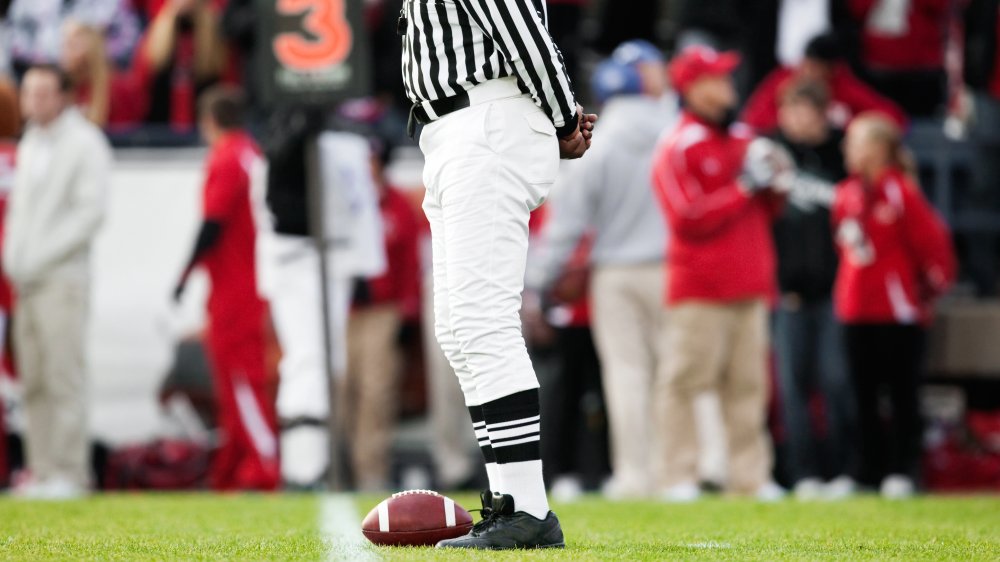 Shutterstock
Not only are players opting out, but NFL referees are as well. According to the NFL.com, the NFL Referee Association (NFLRA) and the league reached an agreement to put that plan in place. The agreement states that "any game official who takes a leave of absence will receive a payment of $30,000," and their job will be protected in 2021.
Any official who doesn't opt-out but contracts COVID-19 during the season, "the test and illness will be treated as an injury sustained while performing a league-sanctioned or required activity" and they will receive injury pay and their medical expenses covered. If any referee shows signs or symptoms of COVID-19 while performing their duties, their "medical expenses, lodging, and travel expenses will be covered by the NFL."
"There is nothing more important than the health and safety of our members," NFLRA Executive Director Scott Green said. "Although there will undoubtedly be some risk for our officials, we are pleased to have finalized a plan with the League that provides additional benefits and protections during this unprecedented season."
Deion Sanders offered up his hot take that nobody wanted
Frederick Breedon/Getty Images
NFL players opting out was sure to cause hot takes on social media. However, nobody expected an NFL legend to bash players for worrying about their health. That legend was "Prime Time" himself: 2x Super Bowl champion and 8x Pro-Bowl selection, Deion Sanders.
"All Players OPTING out in all sports PLEASE BELIEVE the game will go on without u," Sanders wrote on tweeted, adding, "This is a business & don't u EVER forget that. There's NO ONE that's bigger than the game itself. Only the ref, umps & officials are that important that u can't play without them. NOT YOU! #Truth." It didn't go over well. The former cornerback, who was an NFL employee when he made the comment, ended up doing his own opt-out — from his role as a commentator from NFL Network. But not before getting summarily trashed by current and retired players. 
"You act like we said to cancel the season because we opted out," Miami wide receiver Allen Hurns tweeted in response. "I want the season to go on & for it to be safe for all my brothers. I did what's best for me & my situation, this ain't got anything to do with nobody else. I'm at peace knowing I did what's best for my family." Benjamin Watson, who recently retired with the New England Patriots added, "Would the players that actually thought the game would stop because they opted out for health concerns please stand up? .... smh #NobodyThoughtThat."
Jack Del Rio's has 'personal views' over player opt-outs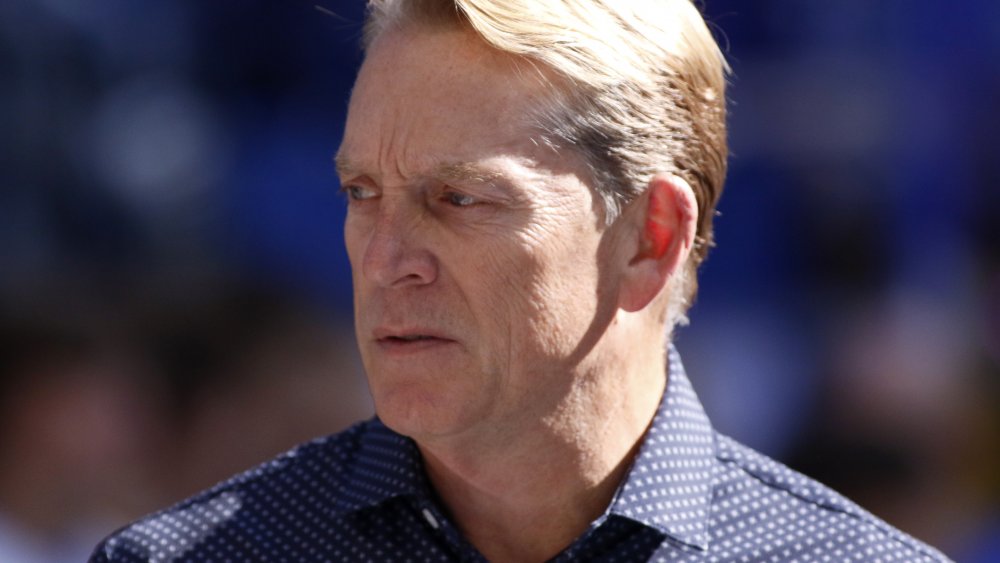 Justin Casterline/Getty Images
How can we say this lightly? The Washington Football Team had an eventful offseason. After hiring a whole new coaching staff, the team (formerly the Washington Redskins) finally changed its name amid threats of losing millions in sponsorship dollars from Nike, FedEx, and PepsiCo (via Newsweek).
You'd think the team would keep a low profile in the media from then on, but Washington's new defensive coordinator, Jack Del Rio, made it clear that he is not a fan of players opting out. "I have personal views that would probably not sit well with my professional occupation right now," Del Rio said during an interview with The Athletic (via NBC Sports Washington). "I think I'll just leave it like that."
Del Rio didn't elaborate on those personal views, but he shot off a tweet that shed some light on those views. Responding to a Sports Illustrated article that said the NFL's priority in 2020 is the health and safety of the players, Del Rio offered up an opinion you've probably seen on Facebook a few times. "I think most players understand the risk of playing the game of football," he tweeted, adding, "The priority is not trying to be perfectly safe .....if so perhaps you should never drive your car."