This Is Bruce Springsteen's Favorite Song He Ever Wrote
George Pimentel/Getty Images
We may receive a commission on purchases made from links.
When it comes to the canon of American literature, many people will argue that among names like Zora Neale Hurston, John Steinbeck, James Baldwin, and Flannery O'Connor, the name Bruce Springsteen is one quintessential to the list. While Springsteen — or "The Boss," as many fans refer to him reverently — might be a musician as opposed to a traditional fiction writer, his songs have encapsulated a type of longing, wistful roaming, and deflating hope in (and the deconstruction of) the American dream. To people around the world, his songs are much more than songs — they're epic poetry. 
Over the years, some of Springsteen's songs have stirred up a bit of controversy. Case in point? Rolling Stone noted that Springsteen's classic song "Born in the USA" has "become an election-season go-to for politicians who don't seem to get the biting critique behind the song's ostensibly jingoistic title and chorus." That being said, other Springsteen songs have helped define American music in the 20th century. But out of the hundreds of songs Springsteen's recorded, does "The Boss" have a favorite? The answer, it seems, is ... maybe.
Bruce Springsteen listed his favorite songs on 'The Late Show'...or, at least, tried to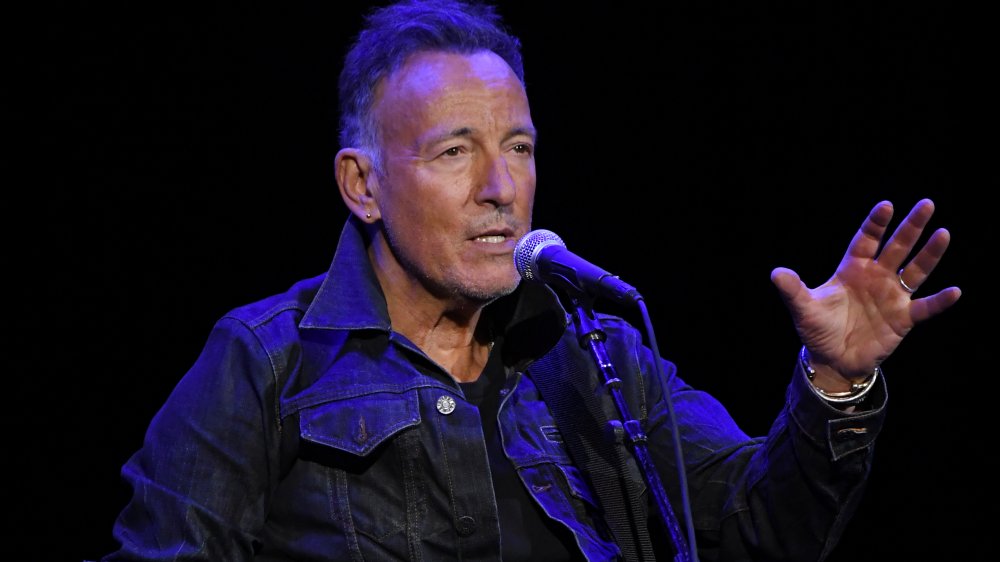 Mike Coppola/Getty Images
In a 2016 interview with comedian and late-night host Stephen Colbert on The Late Show, Bruce Springsteen sat down to discuss the release of his memoir Born to Run, which was published the same year. During the segment, Colbert asked the singer-songwriter to name his top five favorite songs out of his entire catalog. Though "The Boss" needed a minute to come up with his picks ("that's a tough one," he said at the time), he eventually was able to settle on a few — sort of.
"I'd have to put 'Born to Run' up there," mused Springsteen, referring to a song that many have argued is one of his greatest. After listing the track "The Rising," — which Springsteen recorded in the wake of the 9/11 terrorist attacks in New York City — he then cited "Thunder Road" and "Nebraska," due to the fact that they're two he frequently plays with members of the E Street Band, his long-standing collaborators and backup musicians.
However, when it came to the final slot for Springsteen's top five faves, the musician seemed to falter. And so, in classic form, the talk show host decided a bit of improvisation might help narrow things down for the famed musician.
Bruce Springsteen needed a little help from his fans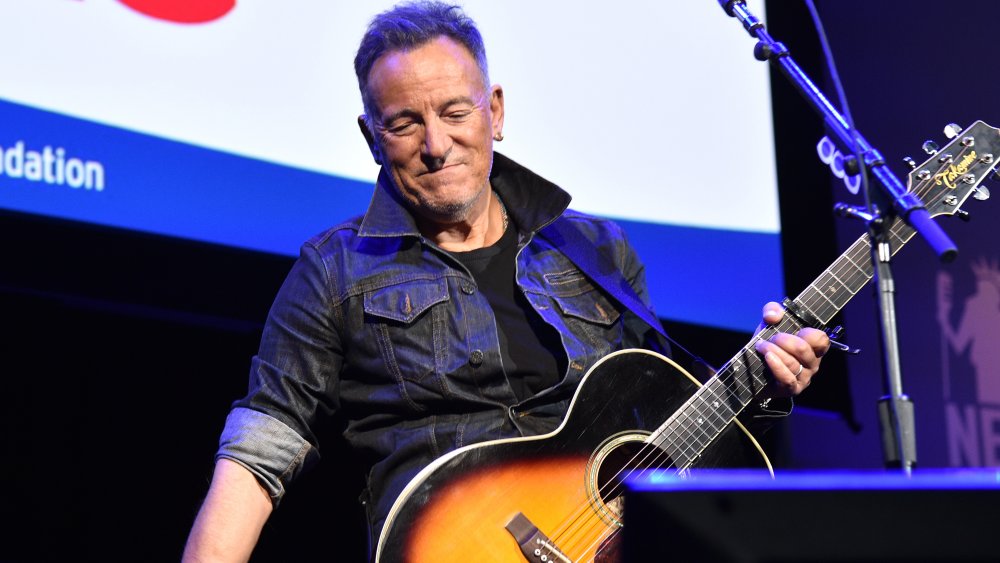 Bryan Bedder/Getty Images
After failing to pick his fifth favorite song, Bruce Springsteen (with prompting from Late Show host Stephen Colbert) turned to the audience to figure out which of the many, many songs over his decades-long career deserved the last slot. Amid suggestions and contributions from the audience, "The Boss" finally settled on his 1975 track "Jungleland" — only to immediately take it back and instead replace it with the slightly lesser-known 1978 tune "Racing in the Street."
Though Springsteen didn't elaborate on which out of the five was his absolute favorite, Colbert certainly had something to say. "These are everybody's top five, by the way," the comedian joked. While it seems that, in the end, Springsteen doesn't have a specific favorite song out of the hundreds he's recorded since his debut album in 1973, one thing can be said for certain: No matter what his — or your — favorite Springsteen single is, it's safe to say that it's probably a true American classic.