Rihanna Got A Tattoo To Solidify Her Love For Drake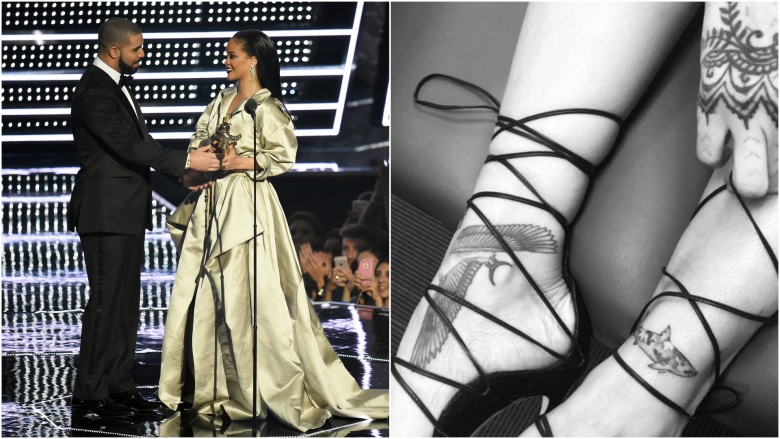 Getty Images
It looks like Rihanna and Drake may be the real thing. The "Work" singer just got a tribute to her on-again-off-again beau tattooed on her enviable bod.
RiRi went to Bang Bang Tattoo in New York City and got a camo shark inked on her ankle. Why is that significant? It's the same shark Drake held in a selfie with the chanteuse during a trip to the Toronto Aquarium they embarked on earlier this summer, People reports.
It wasn't the only PDA move Rihanna made to show her love for Drizzy. In a heartfelt Instagram post, she thanked her family, fans, and peers for her MTV Video Music Awards Video Vanguard Award, and she included a special note for her bae, writing, "@champagnepapi your speech was so touching and I love you for that. All in all....Best night ever!!! I'm a lucky girl!!! To God be the Glory!"
She also smooched him onstage in Miami this week and got cozy with him in a club. The public moves are new for Rihanna, who has tended to keep her romance with Drake on the down-low, even dodging a kiss from him at the VMAs, but sources tell Page Six that it's actually Drake, not Rihanna, who kept their relationship from getting too serious in the past. An insider dished, "She's always been into him. It's him, not her, who has been backing off the relationship."
In case all that isn't cute enough for you, a spy said that the couple also had a special guest with them in Miami this week. "Drake's father [Dennis Graham] was there and has given his blessing to the relationship. As they were snuggling up, Drake's dad was standing on a banquette behind them hugging them."