How Much Money Did Juanita Vanoy Get In Her Divorce From Michael Jordan?
Jonathan Daniel/Getty Images
Before Michael Jordan became a championship-winning NBA legend and league MVP, he was just a basketball player trying to prove his worth with the Chicago Bulls. His NBA story starts in 1984, when he was drafted, but his romance with his first wife, Juanita Vanoy, started shortly after, in 1985. The two met through mutual friends and had their first date after a Bulls game at a local Bennigan's restaurant, according to The Washington Post. They wed in a Las Vegas chapel in 1989 — Vanoy then taking Jordan as her last name — and had three children together: Jeffrey, Marcus, and Jasmine.
Vanoy played the supportive wife figure to Jordan for years. She shared their origin story in a 1992 interview, noting that after eight years together, things were still going well with them. When Jordan first retired from basketball in 1993 — right after his dad was killed — he said he wanted to spend more time with his family, according to The Washington Post. "It's time to be a little bit unselfish," he said. However, Jordan never really slowed down, instead moving to baseball rather than basketball. Vanoy continued to support him throughout the career change and during his eventual return to basketball.
In 2002, however, she started paperwork to file for divorce, and her payout for the split was absolutely massive. Let's take a closer look at the financials surrounding their breakup.
Michael Jordan's divorce is one of the most expensive in sports history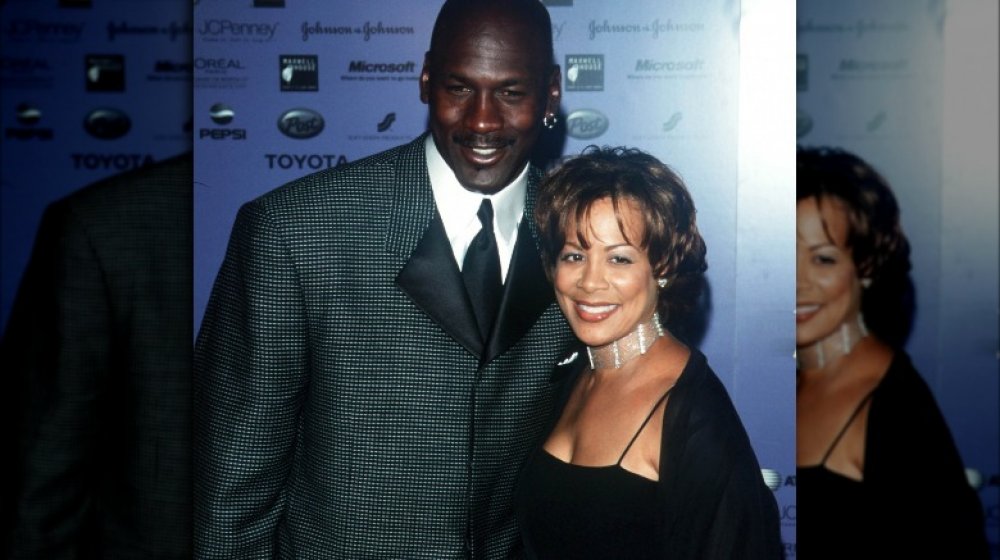 Evan Agostini/Getty Images
After 17 years of marriage, Juanita Vanoy and Michael Jordan finalized their divorce in 2006. Vanoy originally filed paperwork in 2002 but the two temporarily reconciled, according to People. 
A statement from their lawyer read at the time: "Michael and Juanita Jordan mutually and amicably decided to end their 17-year marriage. A judgment for dissolution of their marriage was entered today. There will be no further statements." In the settlement, Vanoy reportedly received $168 million from Jordan, according to Chicago Business., which referred to the split as "one of the most expensive divorces on record." 
Vanoy went on to live a quiet life, telling Chicago Business in 2013 that she downsized the way she lived and had a newfound respect for women such as Oprah and Hillary Clinton. Women who "have gone through adversity and come out of it, maybe not unscathed but without bitterness," she said. Vanoy also revealed that she had more time to spend on her favorite things: Bikram yoga, collecting art, and travel. 
Jordan went on to marry model Yvette Prieto, with whom he has twin girls. The family lives in South Florida, where Jordan is now truly and officially retired.