The Weirdest Things About The MyPillow Guy Explained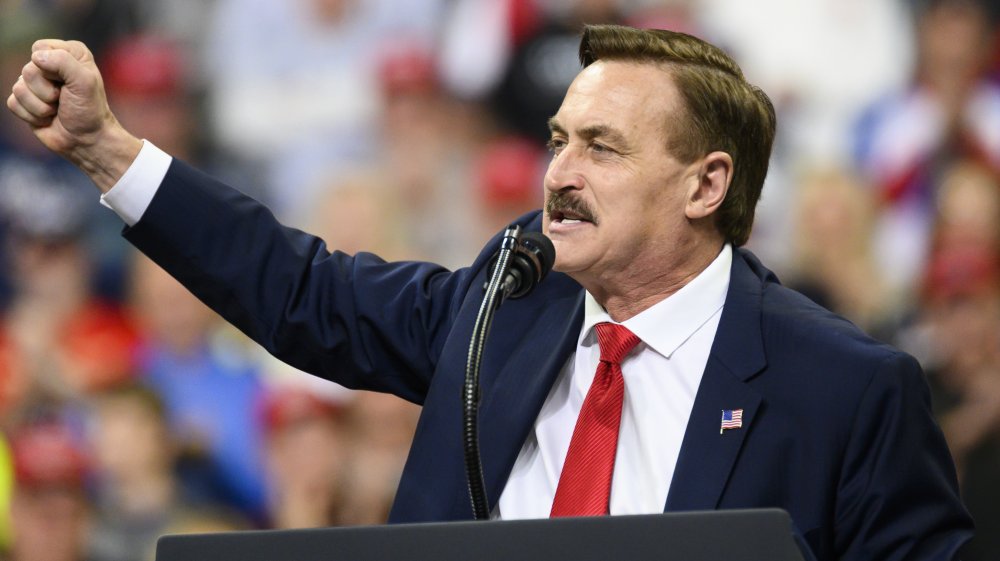 Stephen Maturen/Getty Images
President Donald Trump and MyPillow CEO Mike Lindell, regularly referred to as "the MyPillow guy," have a close relationship. While it might seem strange for the President to be close pals with a guy previously known for his wacky infomercials, according to Business Insider, the pillow dealer first connected with President Trump when he was tapped to be an example of American entrepreneurship for an early event campaign. The two bonded after that, with Lindell even making a surprise appearance at an official coronavirus briefing in March 2020.
In addition to being a pillow entrepreneur, Lindell is on the board of Phoenix Biotechnology, a company that he said created the "cure" to the coronavirus. His views on the unproven treatment caught the attention of media outlets, and of course the President. 
However, many didn't fall for the mystery treatment, including CNN's Anderson Cooper. In fact, during an interview with the MyPillow guy on August 18, 2020, Cooper called Lindell "a snake oil salesman," per The Hill. "You could be in the Old West standing on a box telling people to drink your amazing elixir that there's no proof [of]," he added. 
While that was definitely not on anyone's 2020 bingo card, there are even more weird things about the controversial businessman. 
The MyPillow guy said his drug dealer cared about him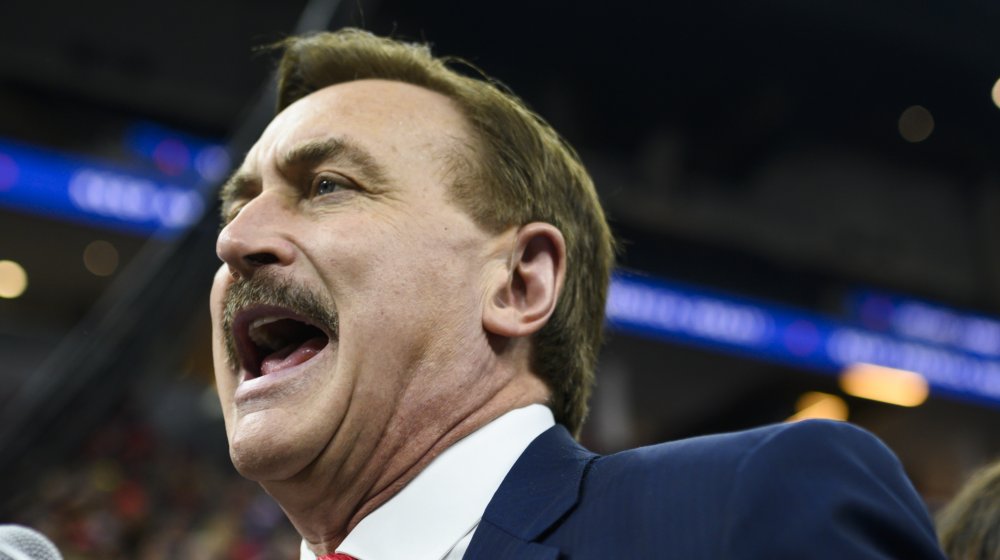 Stephen Maturen/Getty Images
When entrepreneur Mike Lindell founded MyPillow Inc. in 2005, he was actively abusing crack cocaine. Yes, the now multi-millionaire — worth $300 million as of August 2020, per Celebrity Net Worth — was a crack addict. He discusses his rags-to-riches tale often as an inspirational tale, and he even wrote a book in 2019 about his life, titled What Are the Odds? From Crack Addict to CEO. In a 2017 interview with Bloomberg, the MyPillow guy praised his former drug dealer, Ty, for choosing to stop selling him drugs after a 19-day binge. 
"I don't want any of your people selling him anything until he goes to bed," Ty told another dealer, according to Lindell. The business refusal apparently touched his heart. He said, "I was like, 'Wow, drug dealers care!' That's what it felt like, this incredible intervention."
Speaking of interventions, Lindell claims that the idea for MyPillow came to him in a dream from God. He woke up after the dream in the middle of the night and feverishly wrote MyPillow all over the house. Lindell became a devout Christian after getting sober, and he also believes God directly chose Donald Trump to be U.S. president, per People. He says he could potentially enter politics himself one day.
Nothing is too weird to be true with the MyPillow guy!