Inside Kristi Noem's Relationship With Donald Trump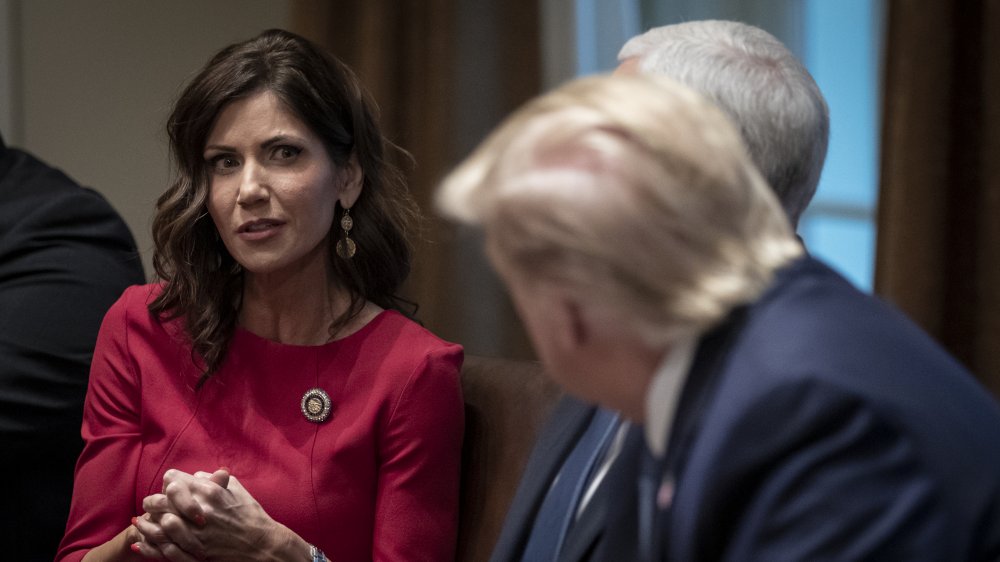 Drew Angerer/Getty Images
There was speculation during summer 2020 that President Donald Trump was considering replacing Vice President Mike Pence on the ballot with South Dakota governor Kristi Noem before the upcoming election. As of late August 2020, Pence's job still seems safe, but why are Noem and Trump so close anyway? The South Dakota legislator is a firm Trump supporter and has consistently supported his agenda — so much so that she might be his ticket to getting on Mount Rushmore. Yes, really.
In 2018, it was reported that Trump's aides made calls to the Republican governor's office to ask about the procedure of getting more presidents on the monument and brought it up again when she met Trump in the Oval Office. Noem told reporters, "He said, 'Kristi, come on over here. Shake my hand.' I shook his hand, and I said, 'Mr. President, you should come to South Dakota sometime. We have Mount Rushmore.' And he goes, 'Do you know it's my dream to have my face on Mount Rushmore?'" She added, "I started laughing. He wasn't laughing, so he was totally serious."
From then on, Noem knew how to please the president. On July 4, 2020, Noem introduced Trump to a crowd in front of the monument, complete with fireworks, and compared him to Theodore Roosevelt. The New York Times reported that she also brought him a four-foot replica of Mount Rushmore that included his likeness.
Kristi Noem fueled rumors that she wanted to be VP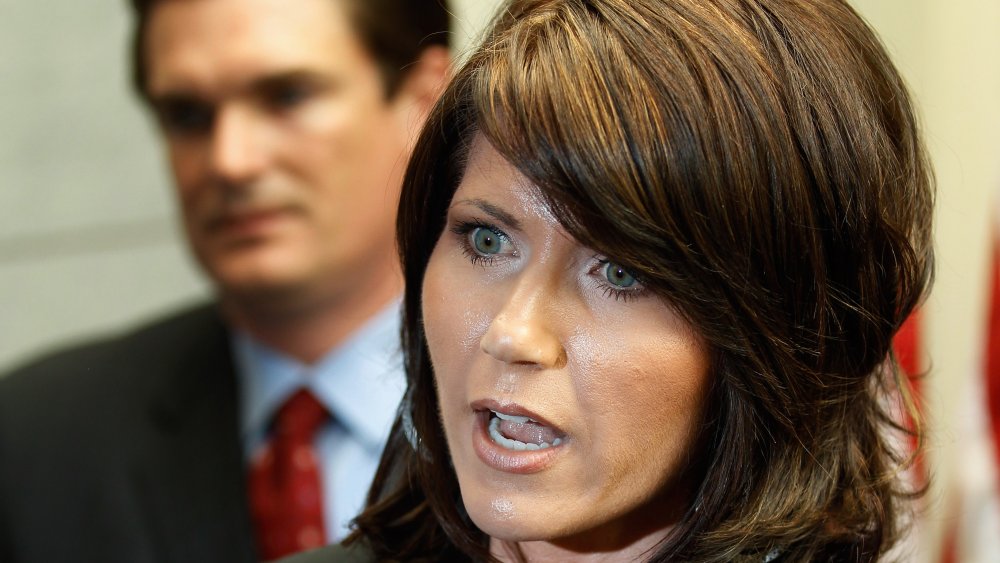 Chip Somodevilla/Getty Images
By playing to the president's long-standing desire to be on Mount Rushmore and publicly defending Donald Trump's agenda, Kristi Noem fueled rumors that she was gunning for the vice presidency in the 2020 election. But the New York Times reported the South Dakota governor returned to the White House to visit with Mike Pence and assure him that she only wanted to help Trump win the election and had no desire to work in the White House. 
That doesn't mean she's not aligning with the president on all sorts of policies, though. Like Trump, Noem thinks that the science is "clear on schools" and that they should all reopen after closing for coronavirus. She also turned down the extended pandemic support for people unemployed due to COVID-19.
In mid-August 2020, Noem said in a statement, "South Dakota's economy, having never been shut down, has recovered nearly 80 percent of our job losses. [It] is the only state in the nation that didn't have extended benefits kick in because our insured unemployment rate has been the lowest in the nation." She added that her state was "fortunate" to not have to accept the extra financial support for South Dakota residents.
Kristi Noem is close with Donald Trump, but has no desire to run for president herself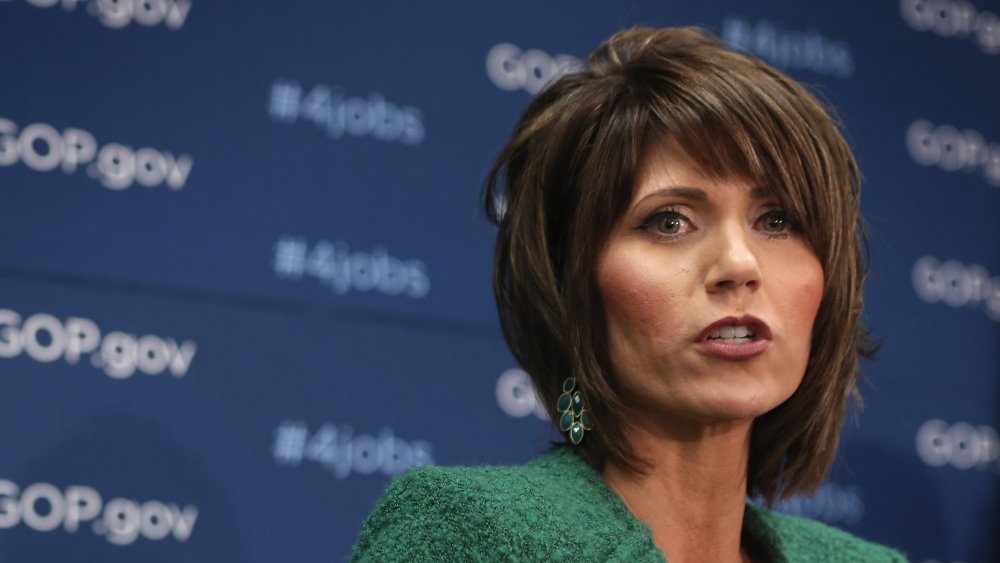 Alex Wong/Getty Images
If nothing else, Kristi Noem is obviously someone to watch when it comes to conservative politics. After an article came out about her possibly vying for a role in the Donald Trump administration in the New York Times, the South Dakota governor's communication director called it a "bizarre attempt to generate palace intrigue."
But her supporters hope she changes her mind, with some even wondering if she'll run for president in the future. However, the governor claims that she has no interest in national politics — when asked if she wanted to run for president in 2024, she said, "No, I do not" — so you might not want to hold your breath.
Noem is slated to speak on behalf of Trump at the Republican National Convention in August 2020. Whether she has more political ambition other than governor, she's the type of leader who definitely has Trump's ear, so it wouldn't be a total surprise to see her visiting the White House again going forward. Whether it's coronavirus, government spending, or admiring Mount Rushmore, Noem and Trump are definitely allies.