Marilyn Manson Says BFF Johnny Depp Was 'Crucified' In Divorce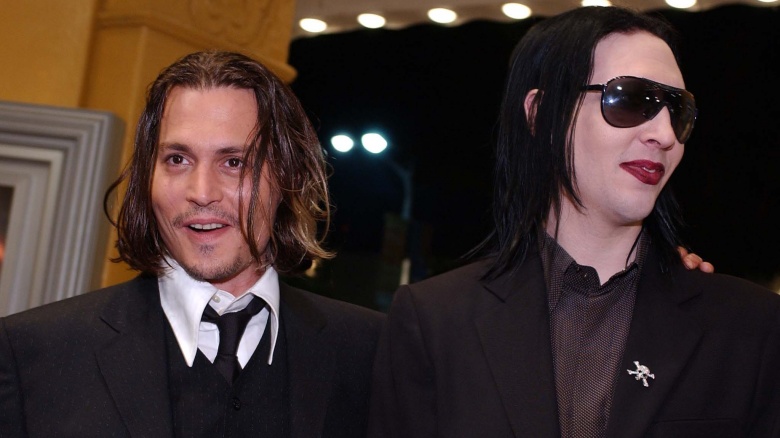 Getty Images
Johnny Depp's pals continue to defend the actor against domestic abuse allegations from ex-wife Amber Heard.
Marilyn Manson told The Daily Beast that Depp, 53, was severely mistreated by the press in the wake of the split. "Johnny is one of the nicest people that I know—to the extent where it's almost heartbreaking how kind he is to his friends, and everyone around him. I know that he was completely crucified—unjustly," Manson, 47, said. Strong words coming from a self-proclaimed Antichrist Superstar, no?
"I would stand by him on anything. As my friend, I know that he's handling it the best he can and he's a great dad, too..." Manson added. "Of course I think that all of it was bulls**t, and I think that he is a great person. I wouldn't agree with any of it if someone were to put me on the stand and ask me what I know, or what I've witnessed."
Depp's loyal friends don't stop at Manson. Comedian Doug Stanhope wrote an essay for The Wrap in May 2016 that accused Heard of blackmailing Depp. "[Heard promised] to leave [Depp], threatening to lie about him publicly in any and every possible duplicitous way if he didn't agree to her terms," Stanhope, 49, wrote. "Blackmail is what I would imagine other people might put it, including the manner in which he is now being vilified."
Heard sued Stanhope for defamation of character, but TMZ reports that Heard dropped the lawsuit against the comic as part of her settlement from her divorce with Depp. In the settlement, Depp donated $7 million to charities of Heard's choice.