The Truth About Louis DeJoy And Trump's Relationship Explained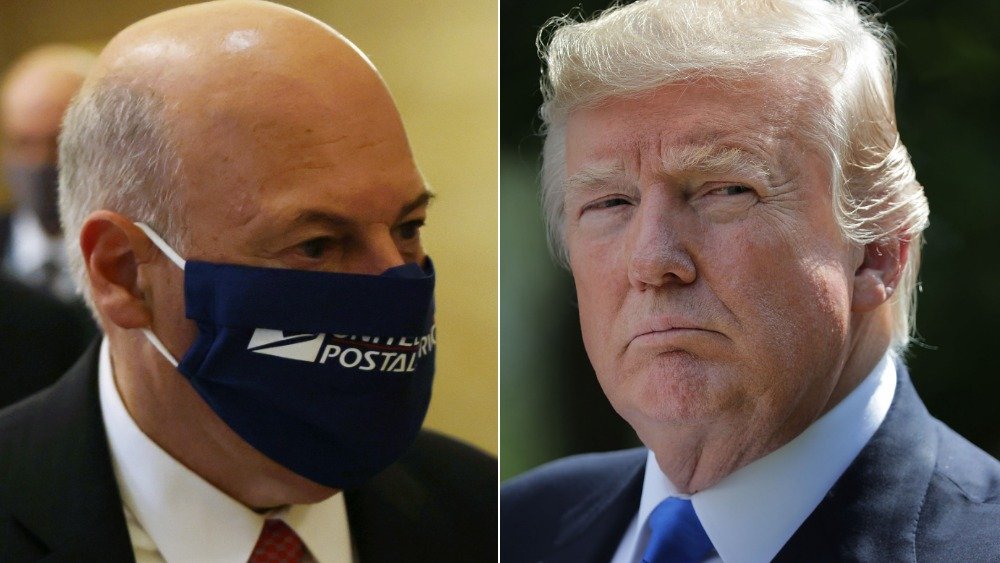 The United States Post Office — established by founding father Benjamin Franklin and perhaps the country's favorite government agency with a 91 percent approval rating, according to a March 2020 Pew Research Center survey — is having quite the turbulent summer. And the timing, as well as the key players involved, are being called into question.
USPS Postmaster General Louis DeJoy, who was appointed under President Donald Trump in June 2020, testified to the House Oversight and Reform Committee on Aug. 24, 2020, regarding cost-cutting changes he has made since taking the position, according to The Washington Post. Under DeJoy, the USPS has cut overtime pay, removed mail-sorting machines and mail collection boxes throughout the U.S. (this image is making the rounds), and reorganized key leadership, The New York Times reported. Meanwhile, President Trump has attacked the institution more than 70 times on Twitter, as CNN noted. 
The changes have sparked concern ahead of the presidential election on Nov. 3, 2020, in which mail-in voting is expected to surge due to coronavirus-related concerns. In fact, 34 percent of Americans reported they want to vote by mail, per CNN. Meanwhile, Trump continues to bash mail-in voting, citing fraud, though there are few cases of U.S. mail-in voter fraud, as the Brennan Center for Justice pointed out. 
Amid all of this controversy, some people are asking: Who exactly is new hire Louis DeJoy, and how does he know Trump? Well, let's take a closer look. 
Louis DeJoy has donated to Trump's campaign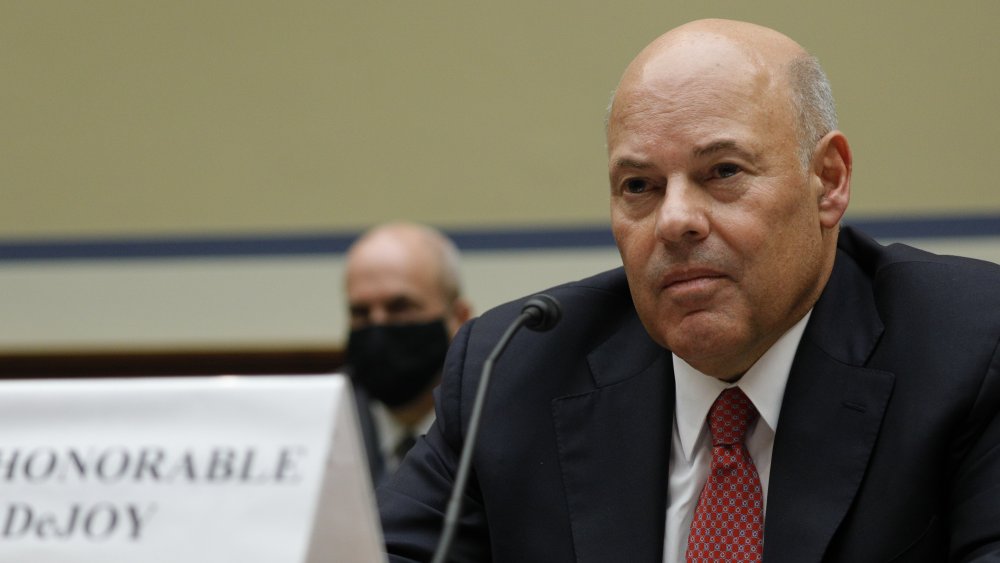 Pool/Getty Images
Some might argue that Louis DeJoy is an interesting pick for postmaster general ahead of the 2020 election. During his questioning on Aug. 24, 2020, for example, he said he didn't know the price of a postcard, as ABC News noted. "I'll submit that I know very little," the man in charge of the United States Post Office said about postage stamps, according to the outlet. DeJoy is also a former CEO of XPO, a company that does business with the postal service, according to The New York Times.
Outside of the USPS, DeJoy is a major Republican donor. Before becoming postmaster general, he was a deputy national fundraising chairman for the GOP and, since 2016, he has donated $1.2 million to President Donald Trump and nearly $1.3 million to the Republican Party, per The New York Times. He also has a personal history with President Donald Trump. Case in point: Mr. Trump reportedly attended a 2017 fundraiser at Mr. DeJoy's 15,000-square-foot mansion in North Carolina at a property known as "the Castle," according to the NYT.
However, DeJoy maintains he doesn't know Trump very well. "I've never spoken to the president about the Postal Service, other than to congratulate me when I accepted the position," DeJoy said to the Senate Homeland Security Committee, per the New York Post. As for Trump's take on DeJoy? "He's a fantastic man; he wants to make the Post Office great again," Trump previously said, according to the outlet.