How Jennifer Lopez And Alex Rodriguez's Relationship Is Going During Quarantine, Per A Human Design Expert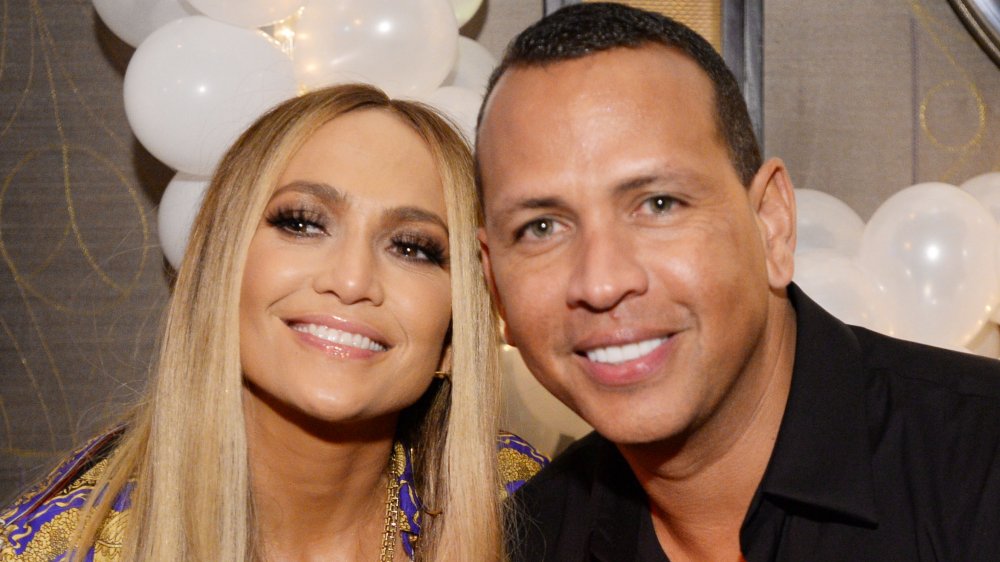 Andrew Toth/Getty Images
Jennifer Lopez and Alex Rodriguez have seemingly found their perfect match in each other. After originally meeting in 2005 and starting a relationship in 2017, according to Harper's Bazaar, they're now one of the most famous celebrity couples in the world.
That's why fans were thrilled when the duo got engaged in March 2019. However, due to the coronavirus pandemic and resulting social distancing measures that were implemented in order to keep people safe, the pair decided to postpone their wedding. "I'm a little heartbroken because we did have some great plans ... but I'm also like, you know what? God has a bigger plan and so we just have to wait and see," Lopez told Hoda Kotb on Today in May 2020. "Maybe it's going to be better. I have to believe that it will be."
In the meantime, Lopez and Rodriguez have been spending time with their blended family — both have children from previous relationships — getting funky with a dance party, enjoying cuddles, and hanging out at the beach. So does that mean that everything is perfect for the pair despite having to put off their wedding? Paige Michelle, an expert in human design and celebrity relationships, gave Nicki Swift some exclusive insight into how JLo and A-Rod are doing during quarantine.
Quarantine has 'probably shed light on the biggest ways' JLo and A-Rod 'are different'
Paige Michelle explained the nature of human design, saying that it's "a personal life roadmap based on [a person's] birth information, essentially a blueprint that helps us achieve satisfaction, success, and peace faster." When it comes to Lopez and Rodriguez, they're "both Manifesting Generators," meaning that they are "similar in a lot of ways, but quarantine has probably shed light on the biggest ways in which they are different, and affected how they view their wedding and priorities."
For instance, Lopez "has a Defined Heart Center, which means she is very certain in what she wants and is very confident. However, she also has an Undefined Identity Center," so "she doesn't have a strong sense of identity and she uncovers who she really is through her relationships in a trial-and-error sort of way. Ultimately, [she's] seeking to be in the place where she is 'loved.'" 
Michelle believes Lopez "has found that sense of home and identity with [Rodriguez] and his Defined Identity Center." The former athlete "is clearer on what he wants due to the influence of her Defined Heart Center because he is undefined." In turn, he "lets her standout front and be the star of the show."
As for their life in quarantine, since Lopez is "naturally playful and hilarious but also extremely introverted," she's "most likely getting the best of both worlds right now being at home with her man and her family." However, that doesn't mean that everything is perfect.
The pair may be experiencing both 'emotional roller coasters' and an 'emotional connection'
"The only potential sticking points that may have come up during quarantine may be that [Alex Rodriguez] is an Emotional Authority," human design and celebrity relationships expert Paige Michelle told Nicki Swift. "In Human Design, the 'Authority' is how we make our decisions." Apparently, this means that Rodriguez "is naturally more emotional" than Jennifer Lopez and "has consistent highs and lows."
On the other hand, Lopez "is known to be emotionally reactive, making in the moment decisions. Due to her Undefined Emotional Center, she absorbs and amplifies the emotions of those around her," including her partner's, so his "emotions can rub off on [her] and make her even more emotional than she is used to being." 
While that could lead to some sticky situations, Lopez is aware of her nature, and being with Rodriguez "has taught her the value of letting your emotions in the moment be your decision-maker." Again, although this "may lead to some tension and emotional roller coasters that the two aren't used to facing in their relationship," it "also creates an emotional connection." 
Basically, by postponing their wedding, these two are "leaning into the uncertainty, enjoying this time together, focusing on the areas where they need to compromise, and not feeling the pressure to make something happen right now." That makes sense since they're already "at home" with one another and have the rest of their lives to indulge in their happily-ever-after.