Lara Trump: The Untold Truth Of Eric Trump's Wife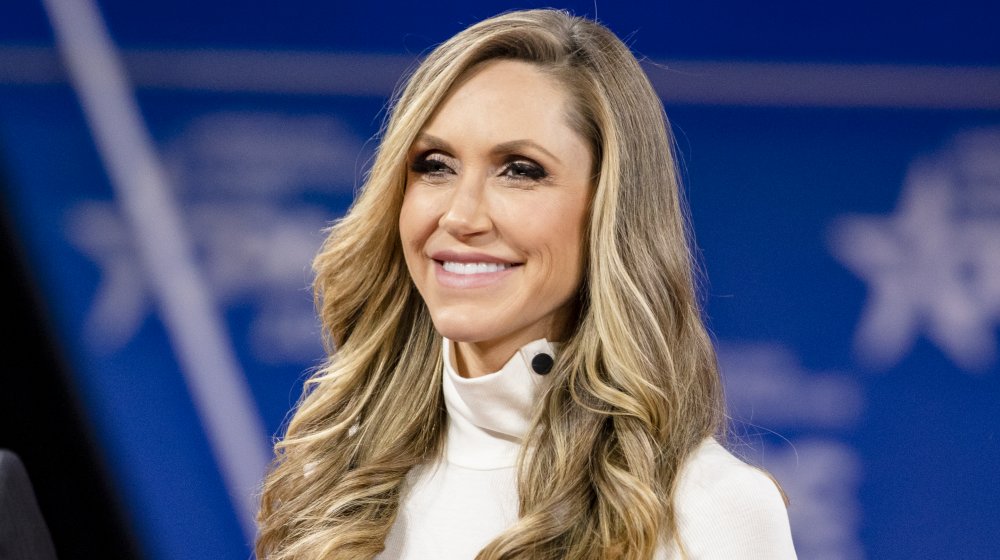 Samuel Corum/Getty Images
Lara Trump — wife of President Donald Trump's son Eric Trump — currently serves as senior advisor on her father-in-law's re-election campaign, and her career trajectory into politics is actually a little bit similar to Donald's. Here's everything you need to know about Lara and her life up to now.
Born Lara Yunaska in 1982, the future daughter-in-law of the president of the United States started her life in North Carolina. She went to college at North Carolina State University where she majored in communications. Lara then went to New York's French Culinary Institute before hopping around a few different career choices. According to Town and Country, she spent time as a personal trainer and as a producer and coordinator on Inside Edition — pivoting her TV career into politics, similar to how the president did himself.
Lara also worked alongside her husband in his charitable endeavors. Lara and Eric actually met under quite normal circumstances in 2008. In 2016, Lara told Fox and Friends, "We met here in New York. Actually, we were both out one night with friends and being, probably, the two tallest people in the room was really helpful. I think we spotted each other across the room. So I was immediately intrigued, and hopefully Eric felt the same way."
Their 2014 nuptials were a lavish affair at Mar-a-Lago in South Florida, according to Town and Country. Lara wore two different dresses, and the bride and groom shared a massive pink-and-white wedding cake with their guests.
Lara Trump has worked for the president since 2016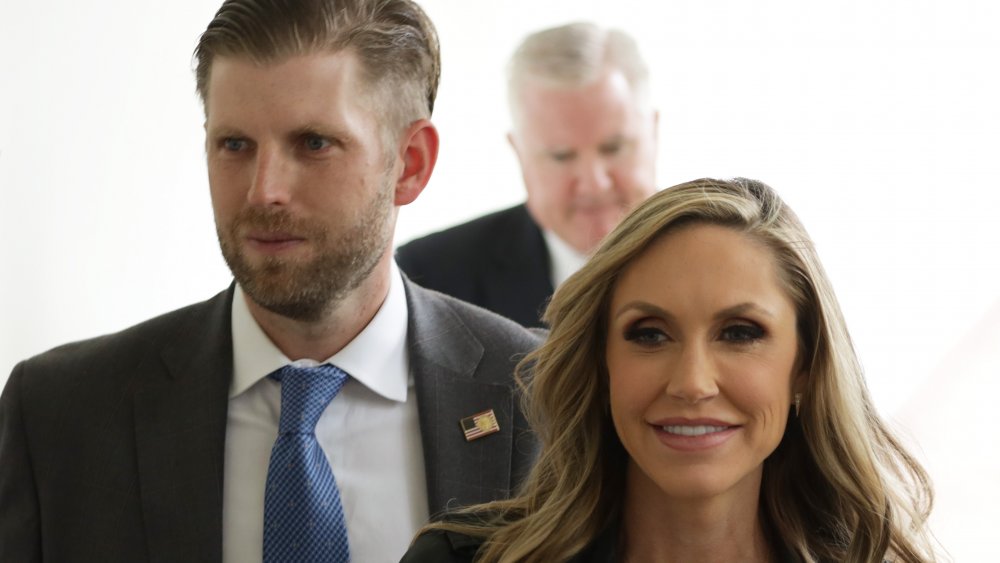 Alex Wong/Getty Images
After Lara Trump married Eric Trump, she settled in to help her father-in-law Donald Trump with his 2016 campaign. She left her job at Inside Edition and took on the Trump-Pence Women's Empowerment Tour. She's now working on the re-election campaign as a senior advisor. Lara was brought into that consulting role by the campaign's digital vendor, Giles-Parscale, in 2017, according to AP News. 
During the 2020 re-election cycle, Lara has been a very visible member of the team. After the Democratic National Convention in August 2020, Lara told Weekend Today that the event projected such a "depressing vision of America." Of the then-impending Republican National Convention, she said, "Ours will be hopeful and inspirational and patriotic. We want people at the end of our four days to be reminded that America continues to be the greatest, most exceptional nation in the world."
Lara has been there every step of the way for President Trump's journey to and in the White House. And she's game to help however she can. "I never knew her to say no a single time," counselor to the president Kellyanne Conway told the Raleigh News & Observer in 2017. "'Can you work the phones for fundraising?' 'Can we send you and your colleagues in Women for Trump to the four following states?' 'Will you sit on a bus for hours?' Lara never said no."
Lara Trump's two kids are her mini-mes
When Lara Trump isn't busy with her campaigning duties, she's busy being mom to her two kids with husband Eric Trump. Their first child, Eric Jr. (who goes by his middle name Luke), was born in September 2017, and their second child, Carolina Dorothy, was born in August 2019. Lara is constantly showing her kids off on Instagram, and both of her little ones are her mini-mes. Eric, who currently serves as executive vice president of the Trump Organization, is also quick to show off his two blond-haired children on Instagram — including snaps of them playing at the White House.
And if their house wasn't full enough, Lara and Eric also have a couple dogs that they spoil and share pictures of on Instagram. The pups are showered with love, and one of them even lucked into his forever home with the Trump family, when Lara shared that she originally only planned to foster him but ended up keeping him for good.