How Melania Trump Reportedly Tried To Snub Ivanka At Trump's Inauguration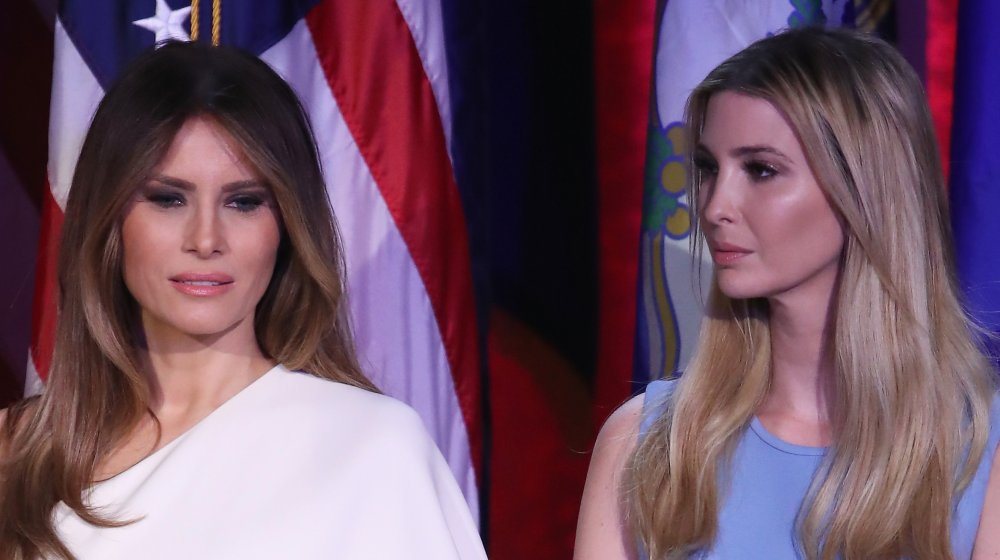 Mark Wilson/Getty Images
Ever since President Donald Trump won the 2016 presidential election, there have been rumors that the first lady Melania Trump doesn't get along with her husband's eldest daughter, Ivanka Trump. Much of the supposed discord reportedly has to do with Ivanka and her husband, Jared Kushner, trying to assert their power in the White House a little too strongly. "[Ivanka] treated the private residence as if it were her own home," author Mary Jordan wrote in her June 2020 unauthorized biography about Melania, The Art of Her Deal. "Melania did not like it. When she and Barron finally moved in, she put an end to the 'revolving door.'" And Ivanka calls Melania "The Portrait" due to how little she speaks, as Jordan claimed in the book.
Of course, Melania and Ivanka have shrugged off the feud rumors in public, with both praising the other. The first lady's Chief of Staff, Stephanie Grisham, told The Atlantic in April 2019 that Ivanka and Melania have always had a "close relationship."
But just when you thought the tension had simmered, a new claim surfaced about the pair in August 2020. This time the rumor came from the book, Melania and Me, a work written by Melania's former friend and advisor, Stephanie Winston Wolkoff. As Winston Wolfkoff alleged in her book, Melania tried to snub Ivanka on a very important day — Trump's inauguration in 2017. Here's what she had to say.
Did Melania Trump plan 'Operation Block Ivanka'?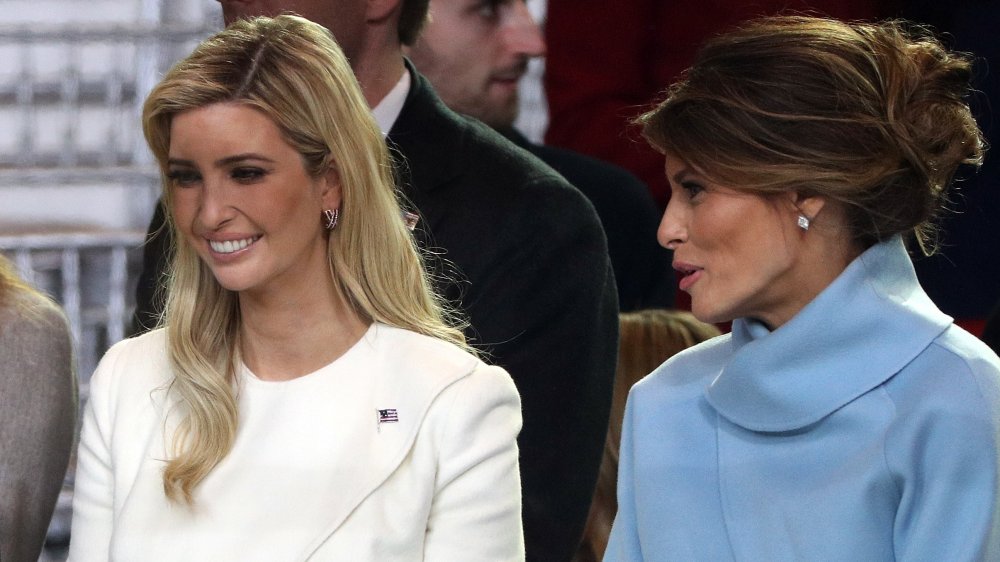 Patrick Smith/Getty Images
For those who've never heard the name before, Stephanie Winston Wolkoff is a former producer of the Met Gala who was tasked by the Trumps to help plan President Donald Trump's inauguration. But instead of organizing what should have been an exciting day, Winston Wolkoff claims she spent most of her time trying to help Melania Trump minimize Ivanka Trump's presence at the event. "It was Donald's inauguration, not Ivanka's," Winston Wolkoff penned in Melania and Me, per an excerpt in New York magazine's The Intelligencer. "But no one was brave enough to tell her that. Melania was not thrilled about Ivanka's steering the schedule and would not allow it. Neither was she happy to hear that Ivanka insisted on walking in the Pennsylvania Avenue parade with her children."
The tension supposedly intensified when Ivanka texted Melania a picture of former President Barack Obama with his family on inauguration day, trying to build a case for her clan to be front and center at the ceremony."It is nice to have family with him for this special moment," Ivanka texted, per Winston Wolkoff. As a result, Melania supposedly enlisted Winston Wolkoff in "Operation Block Ivanka," even rearranging the seating at the swearing-in ceremony so Ivanka's photo-ops would be limited.
"Yes, Operation Block Ivanka was petty," Winston Wolkoff wrote, per The Intelligencer excerpt. "Melania was in on this mission. But in our minds, Ivanka shouldn't have made herself the center of attention in her father's inauguration." 
Winston Wolkoff's book is out on Sept. 1, 2020.