The Truth About Chadwick Boseman And Lupita Nyong'o's Relationship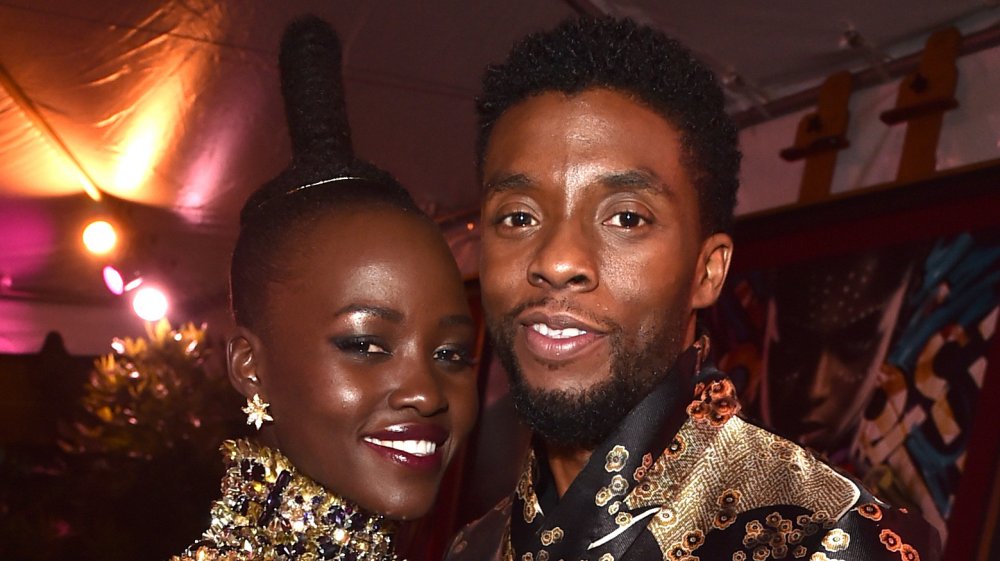 Alberto E. Rodriguez/Getty Images
In the wake of 43-year-old actor Chadwick Boseman's death from colon cancer on August 28, 2020, millions have taken to social media to express their grief and condolences as they honored the star's legacy. Known for his wide-ranging roles, Boseman portrayed Marvel's Black Panther and historical icons Jackie Robinson and Thurgood Marshall during his brief, but impactful, career. Hollywood celebrities and public figures were quick to pay their respects as they celebrated how Boseman's on-screen representation broke ground for the Black community. 
But it would be remiss to speculate that some of Boseman's former co-stars who have remained silent so far — like Boseman's Black Panther castmate Michael B. Jordan — aren't also mourning the loss of the man who made King T'Challa a bonafide film icon. The same goes for actress Lupita Nyong'o, who starred alongside both Boseman and Jordan in the record-breaking 2018 Marvel movie as Nakia, a spy for the Kingdom of Wakanda and T'Challa's former partner. 
Considering how Black Panther — an action blockbuster helmed by a predominantly Black cast, imbued with deep-rooted themes related to the Black experience, like systemic oppression, Black excellence, and Black agency — became a cultural touchstone, the on-screen chemistry between Boseman's T'Challa and Nyong'o's Nakia was just as much of an impressionable standout for movie-goers. But how did this translate to their relationship off-screen? Let's take a look. 
Chadwick Boseman and Lupita Nyong'o's chemistry sparked a fandom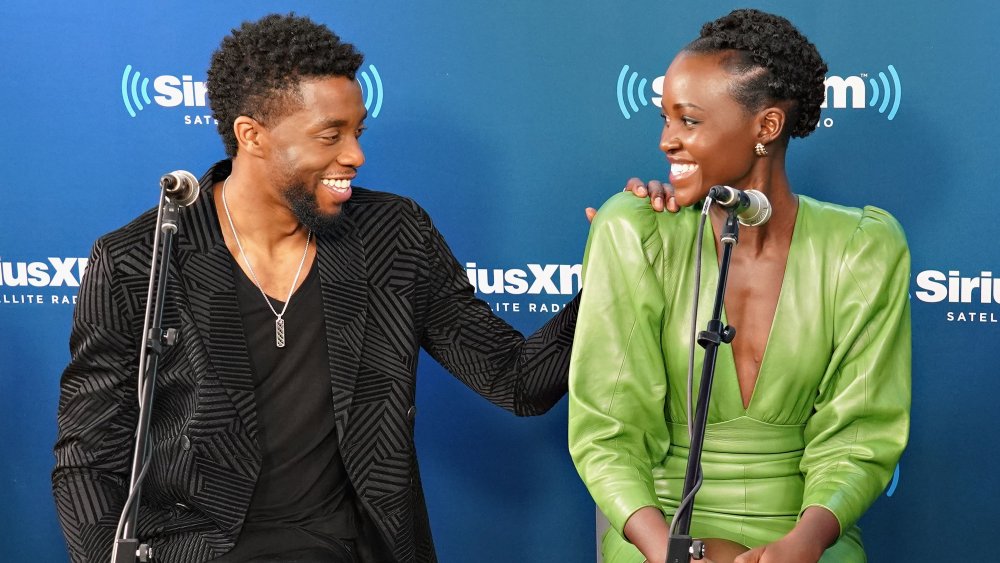 Cindy Ord/Getty Images
While fans worldwide might have swooned over the romance between Chadwick Boseman's T'Challa and Lupita Nyong'o's Nakia in Black Panther, which led many to publicly express hope that the two would actually date in real life, a romance never came to fruition. After all, Boseman began dating Taylor Simone-Ledward, whom he eventually married, in 2015, and Nyong'o has made it a point to keep her personal life out of the media spotlight. But despite the lack of a romance, the pair made their emotional connection evident as they discussed the overall legacy of Black Panther as a historic cultural moment for people of color.
In a 2018 interview with The Atlantic on the importance of Black Panther, Nyong'o put it best when it came to the world of Wakanda as a nexus of Black excellence for both the movie's characters and actors. "We, too, have been plagued with these unfortunate images that diminish us," said Nyong'o of Hollywood's longstanding history of racism. Boseman later added that, as a sort of antidote, "Wakanda is a birthplace, a center" to combat that history. And the link between Boseman and Nyong'o in that shared vision is what, in the end, made it real for all of us.
Nicki Swift expresses condolences for the loved ones of Chadwick Boseman and, alongside the millions also in mourning, we hope he rests in power — Wakanda forever!