Barack Obama Posts Touching Tribute To Chadwick Boseman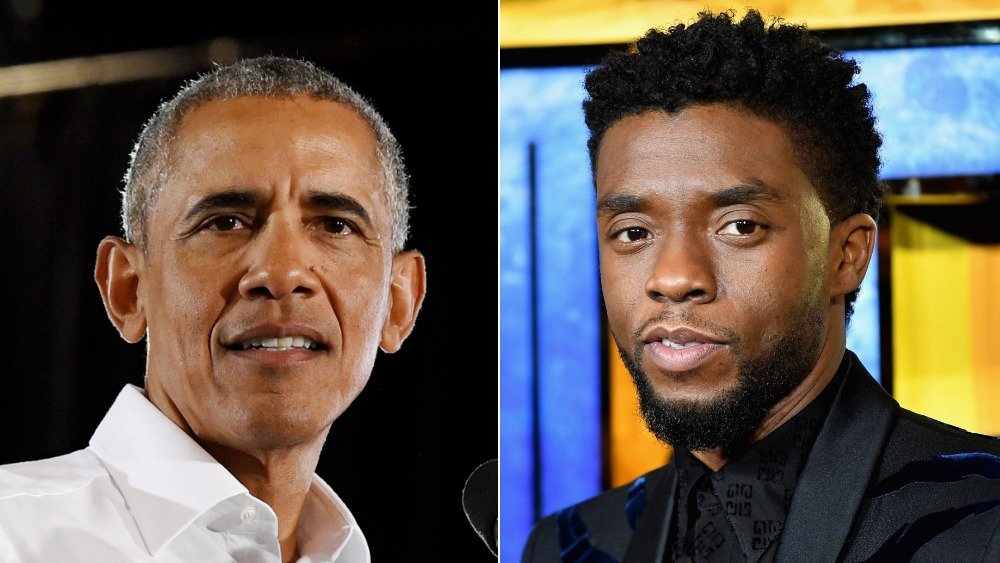 Ethan Miller, Gareth Cattermole/Getty Images
The announcement of Chadwick Boseman's tragic death on August 28, 2020 was met with a wave of sad tributes from around the world. Celebrities, political figures, and fans alike have mourned the 43-year-old Black Panther star, from Denzel Washington to Don Cheadle. His former co-stars are particularly heartbroken — Mark Ruffalo called working with Boseman the "highest honor," while Chris Evans wrote that Boseman was "special. A true original... I'm endlessly grateful for our friendship." Boseman's Marshall co-star Josh Gad even took to Instagram to share a video in tears.
It seems Boseman made an equally strong impression on people he only met briefly, including former President Barack Obama. The two crossed paths long before Boseman stepped into his career-defining role as T'Challa, and like many, Obama took to social media to express his thoughts on Boseman's sudden passing. Here's how they met and what Obama had to say about Boseman's death.
Barack Obama and Chadwick Boseman met at the White House years ago
Chip Somodevilla, Albert L. Ortega/Getty Images
Former President Barack Obama shared a moving statement about Chadwick Boseman's death on Twitter. He revealed that Boseman visited the White House to work with children while he was playing Jackie Robinson in the 2013 movie 42. 
"You could tell right away that he was blessed," Obama wrote. "To be young, gifted, and Black; to use that power to give them heroes to look up to; to do it all while in pain — what a use of his years."
Obama's tribute to Boseman echoes the actor's own words at the 2019 SAG Awards, where Black Panther won the award for cast in a motion picture. In his acceptance speech, Boseman addressed questions about whether the film had changed the industry, saying: "To be young, gifted, and Black... We know what it's like to be told there's not a screen for you to be featured on, a stage for you to be featured on. We know what it's like to be the tail and not the head. We know what it's like to be beneath and not above."
He continued, "That is what we went to work with every day. Because we knew... that we had something special that we wanted to give the world."
Obama also retweeted a photo that Boseman originally shared at the time of his White House visit. Boseman wrote in the original tweet, "Thanks for your service and for your advice."
Chadwick came to the White House to work with kids when he was playing Jackie Robinson. You could tell right away that he was blessed. To be young, gifted, and Black; to use that power to give them heroes to look up to; to do it all while in pain â€" what a use of his years. https://t.co/KazXV1e7l7

— Barack Obama (@BarackObama) August 29, 2020