The Truth About Doja Cat's Ex-Boyfriend, Johnny Utah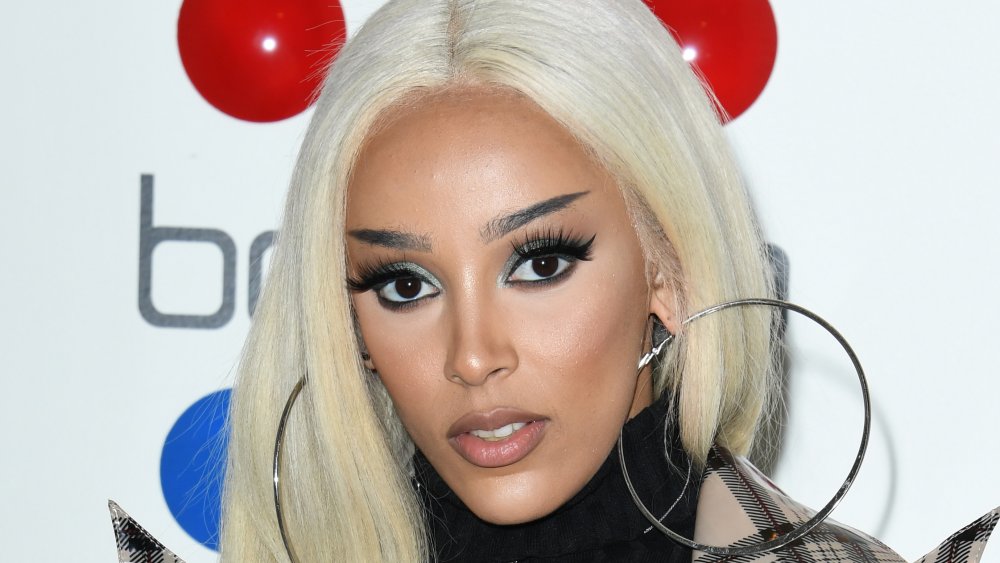 Jon Kopaloff/Getty Images
Doja Cat has been having a great year when it comes to her career, but she's made some changes in her personal life, too. According to an Instagram Live from February 2020, she broke up with her boyfriend, fellow musician Johnny Utah, who also goes by JAWNY. 
Doja Cat explained the split to fans (via PopBuzz): "Everything is ok. I unfollowed my ex-boyfriend and everything is ok. We have been cool. Nothing weird going on. No drama, or weird s*** going on. S**t just didn't work out." 
According to a since-deleted Instagram Live with Utah and Doja Cat (which lives in infamy via Reddit), these two met after Doja Cat discovered JAWNY's music on YouTube in 2019. "I found his music video for "Honeypie," and I didn't like the song," she revealed. Utah jumped in, "She hated it. She hates the song. She didn't like the song at all." Okay then, so if her affinity (or lack thereof) for his music wasn't the issue, what was the real problem?
Johnny Utah had a good pick-up line for Doja Cat
Doja Cart explained that even though she wasn't necessarily into Johnny Utah's music, she was into JAWNY's vibe. She said in an Instagram Live (via Reddit) that she liked the way he "moved" and the pants he was wearing when she discovered him online. 
"I went to his YouTube video and [then] commented on his Instagram and I was like, 'I love you baby.'" They began commenting back and forth on each other's Instagram pics, and Utah even admitted that he was waiting for her to post a new pic so that he could add a funny comment to make her like him. 
On one picture, he commented: "Hey girl, I just showed this pic to my little cousin and I told him that we're together. Don't make me look like a liar now. He looks up to me." After that comment earned more than a thousand likes, the two connected in a bigger way. 
There you have it, folks. Love in the modern age — at least for a while. 
Jawny is trying to make it big, with or without Doja Cat
Johnny Utah (aka JAWNY) is an indie musician who's built a notable online presence. He posts his music videos and updates on YouTube and clocks roughly 100,000 followers on both YouTube and Instagram. That fan base appears to be fueling professional success, judging by a June 2019 selfie featuring a black duffel packed with success. 
Utah explained the snap in his caption: "Ok so every conference call I have with my managers I end each and every time by saying 'let's get the f**king bag boys!'" — meaning let's make money. "Today they told me to go check my mail. I'm not crying [you're] crying." Utah said his manager sent him the bag along with a note congratulating him on first "million." It's unclear if his team was literally talking about cash or just putting that vibe out into the universe with a cute joke playing on Utah's mantra. 
Regardless, Utah has big plans for his career and his relationship with Doja Cat, who is a rising star herself, likely helped his cause. Though it didn't work out between these two up-and-comers, it will be exciting to see what they both do next.