Machine Gun Kelly Has A Strange Plan For His VMA Moonman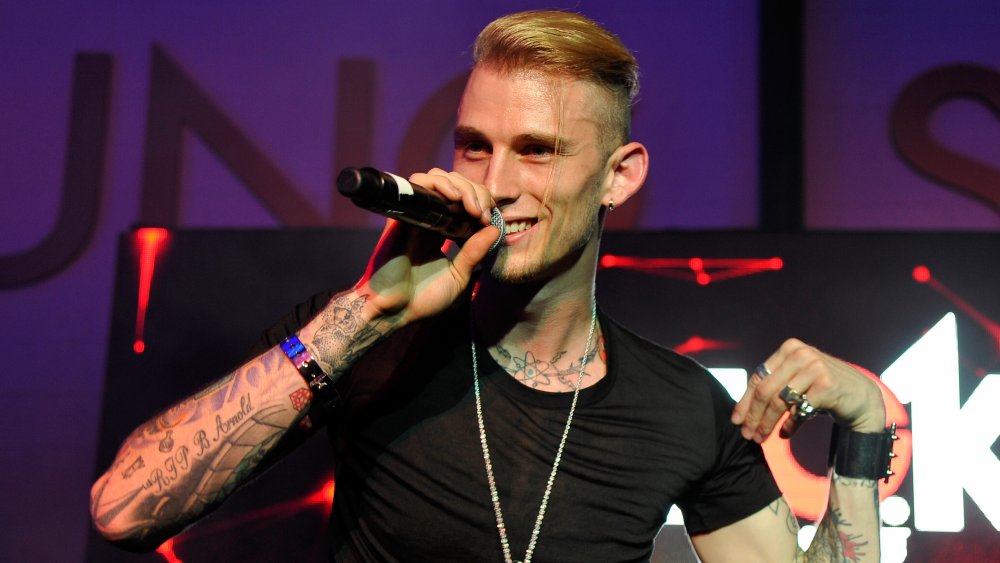 John Sciulli/Getty Images
It might only be the beginning of 2020's long-running MTV Music Video Awards, but for rapper/singer Machine Gun Kelly, it's already one for the books. In a triumphant win announced during the award ceremony's Brooklyn-based pre-show, the performer nominated for Best Alternative song/vid was announced as the category's ultimate pick for the track "Bloody Valentine," making him the first artist to nab a coveted, de facto iconic Moonman for this year's installment. 
Released in 2020 and featuring Blink-182 drummer Travis Barker (who also served as producer for the pop-punk single), "Bloody Valentine" is a musical departure from Kelly's prior work. The track also features MGK's current girlfriend, severely underrated actress Megan Fox, as a leading player in the critically hailed music video. The video is a pink-infused subversive take (not to mention an incredibly joyous romp?) on the captor-captive psychological horror genre. And according to Machine Gun Kelly's response to his VMA win, it's the term "pink," and nothing else, that is somehow key in regard to what the rapper-singer has planned for his MTV statuette. 
So, what exactly is Machine Gun Kelly planning to do with his own personal man on the moon? Believe us when we say the following: It's something you'd never expect, even from the performer who once, as he told Complex in 2012, more or less lived for 15 hours in a bonafide poop aquarium. 
Machine Gun Kelly's plan for his VMA trophy is out of this world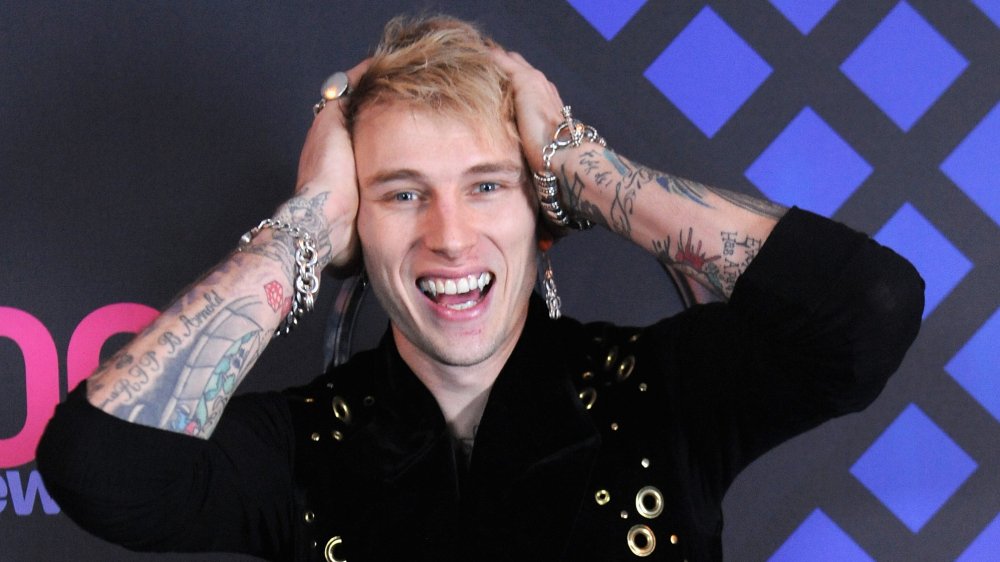 Brad Barket/Getty Images
After scoring the first VMA statue for Best Alternative in the first win of the night, rapper/pop-punker Machine Gun Kelly minced no words and offered up no hesitation when asked what he planned to do next. After posing for the cameras and giving his Moonman a kiss — all while wearing a suit that has reinvented the color pink — the "Bloody Valentine" winner told reporters that it would be installed in a coffee shop he recently opened in his hometown Cleveland, with a bit of a makeover twist.
"I mean, gotta spray paint it pink, and then probably... I want to put it in the coffee shop that we just opened up in Cleveland," Machine Gun Kelly said, referring to the cafe he opened in 2019. "I want like everyone who comes in to get coffee to acknowledge that one of their own got a Moonman."
While the artist's plans for his Moonman statue might be a bit out-of-the-box, it's on-par with the historic significance of the Best Alternative category award win. As SPIN noted, the Best Alternative category's inclusion in this year's VMAs is a first in 22 years — the last time the category appeared in the award show's line-up was in 1998, with iconic punk outfit Green Day winning for their bare-bones acoustic number "Good Riddance (Time of Your Life)."