Kylie Jenner Gets A Promise Ring From Tyga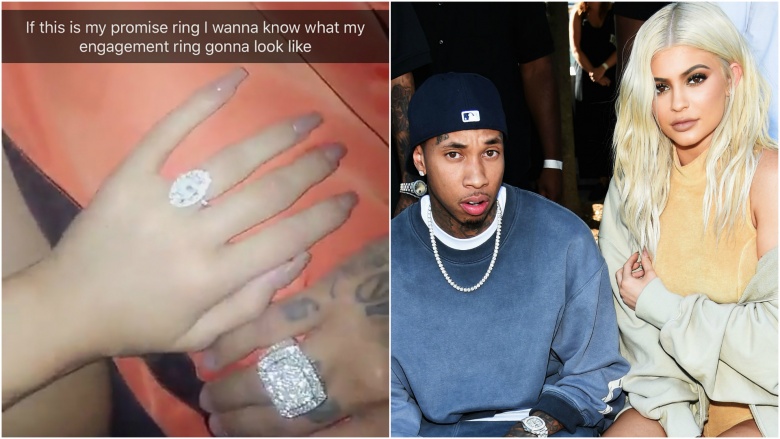 Getty Images
The good news: Kylie Jenner and Tyga aren't engaged. The bad news: she may want to be someday, if her social media is to be believed. (Just kidding. It's a free country.)
Jenner, 19, said the giant rock she's been sporting on her all-important finger is a promise ring from her 26-year-old rapper beau. She humbly wrote on Snapchat (via Us Weekly), "If this is my promise ring I wanna know what my engagement ring is gonna look like."
The couple have come a long way since they began dating more than two years ago. In May 2016, the pair broke up briefly, with sources telling Us Weekly that the exes weren't even speaking. They reconciled the following month, with Tyga moving in with Jenner, who began referring to him as her "husband."
It's unclear how Tyga paid for the promise ring, considering he seems to be in a constant state of financial trouble. After a series of evictions and vehicle repossessions, the self-proclaimed King Gold Chains may not have much money left. Brian Warner of Celebrity Net Worth told Page Six, "I would estimate [Tyga] has about $1 million in cash in the bank, but everything else is on credit."
Warner also pointed out that Tyga used to have a net worth of roughly $5 million, meaning he's been spending more money than he's been taking in over the last few years. If that's the case, Jenner will be lucky if he can afford a cubic zirconia when they decide to settle down.