The Real Reason Brooke Burns And Bruce Willis Broke Up
It's been more than 15 years since actors Brooke Burns and Bruce Willis made headlines, but celeb-watchers are still wondering what transpired between these two. Back in 2003, The Baywatch star and the Die Hard action hero fell fast for one another, and many thought they'd be headed down the aisle. They glammed it up on red carpets together, and Burns even spent time with Willis' kids from his marriage to actress Demi Moore. They basically looked like a perfect Hollywood match, but after only nine short months, the duo unexpectedly called it quits.
Why are we still talking about them today? Well, celebrity breakups make for the best kind of gossip, right? Think about it: Fans are still shipping Brad Pitt and Jennifer Aniston, and they called it quits around the same time. Here's why this seemingly solid relationship of the early aughts all of a sudden came to a halt. 
Bruce Willis and Brook Burns grappled with baggage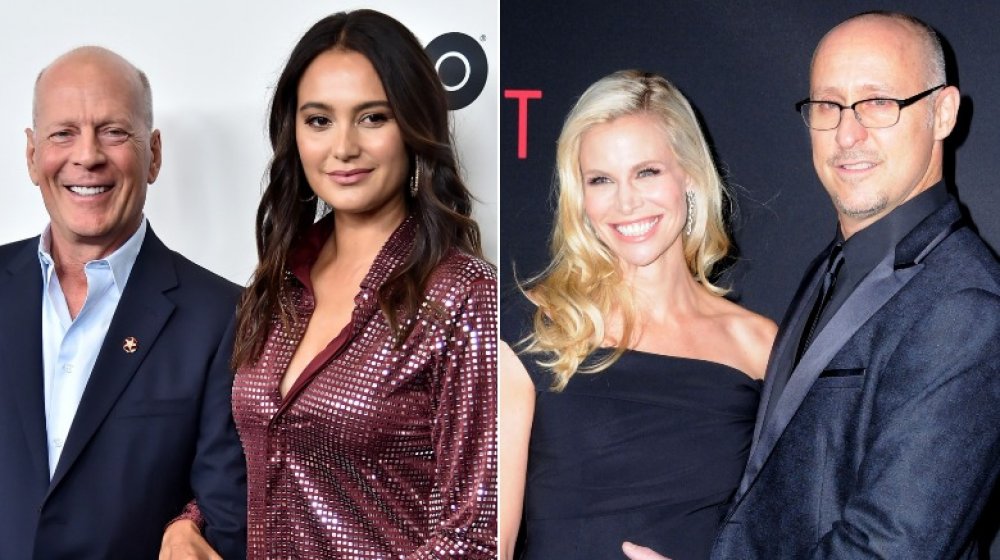 Theo Wargo, Barry King/Getty Images
When Bruce Willis and Brooke Burns suddenly called it quits in 2004, insiders said distance was to blame. "It's very difficult to maintain a relationship when they're 3,000 miles apart," a source close to the couple told People, insisting that the exes "remain friends." However, there may have been other factors that fueled this high-profile, short-lived romance. In fact, both parties were grappling with both literal and figurative baggage.
It's worth noting that Burns and Willis connected after enduring divorces. People reported that "Willis and Burns quietly started dating [in 2003], after her 2002 divorce from Nip/Tuck actor Julian McMahon," with whom she has a daughter. Willis and Demi Moore divorced in 2000, after about 11 years together, so bachelor life and co-parenting his three daughters was still relatively new to him, too. Perhaps the romance between Burns and Willis became a rebound relationship that simply sailed its course. 
After their breakup, Willis went on to date another model and actress, Emma Heming, whom he married in 2009. They have two daughters together. As for Burns, she tied the knot in 2013 with filmmaker Gavin O'Connor, and they welcomed a daughter together as well. Even though Burns and Willis' fast relationship didn't work, it looks like all's well that ends well for these Hollywood exes.
When it comes to his exes, Bruce Willis tries to 'shun drama'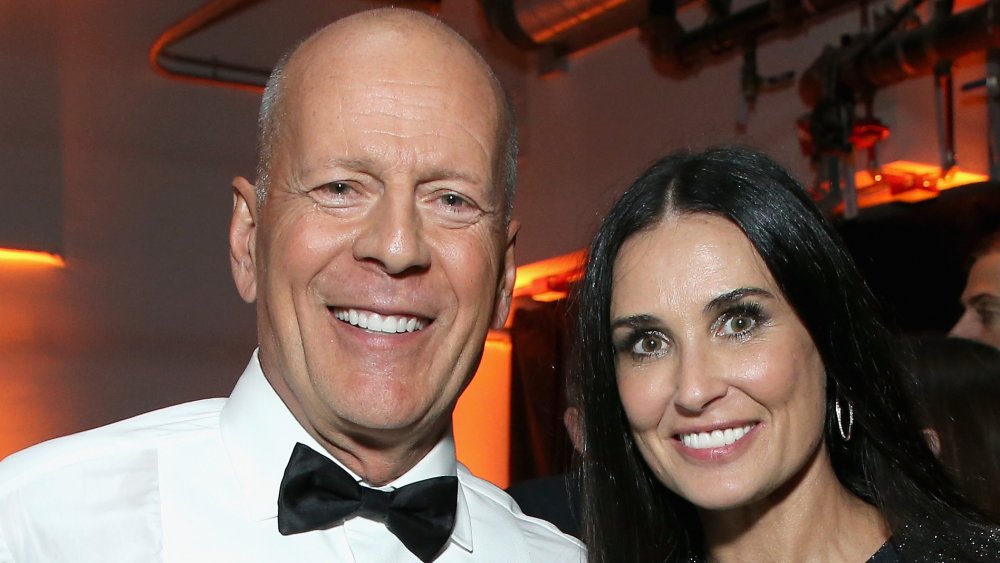 Phil Faraone/vmn18/Getty Images
Although co-parenting was new to him at the time, Bruce Willis is now a parenting pro. In fact, he and ex-wife, actress Demi Moore, have been isolating together throughout the coronavirus pandemic, and judging from the pictures their daughter, Tallulah, posted on Instagram, everything is going just fine. Willis' current wife, Emma Heming, who initially was not holed up with her husband and his ex, even liked and commented on the blended family shenanigans: "Lookin good squad." 
Everyone getting along is just part of Willis and Moore's parenting code. "Sometimes I have to resist the urge to speak. I learned it from dealing with my kids," he said in an interview. "That's my number one rule. It applies in life. But it's more about being a father. I'd rather hear what they have to say. You learn more by listening. And this stuff is just a matter of not equating drama with actions that will help them. Teach them to shun drama." 
From the looks of his past relationships, including his romance with Brooke Burns, Willis seems to shun drama in all aspects of his life.